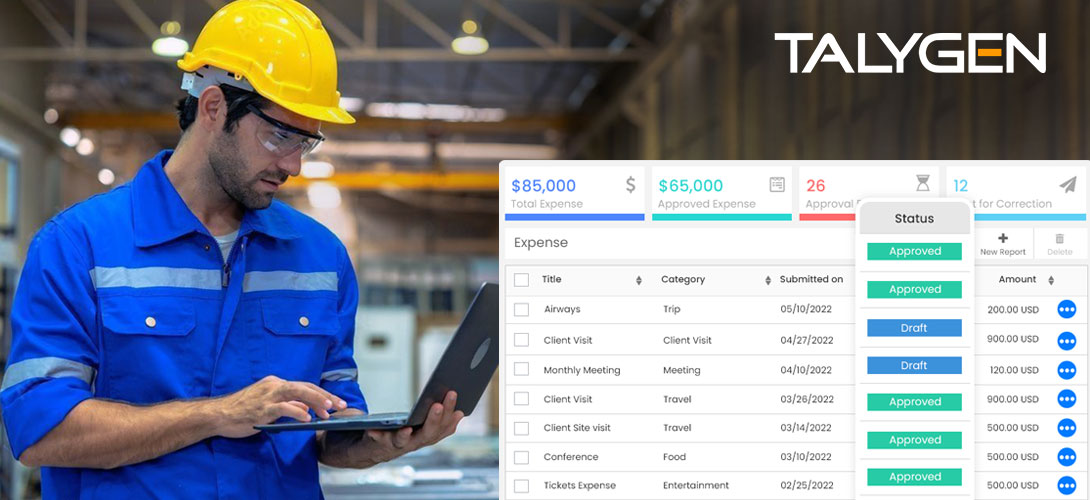 In the construction industry, managers need to know the expenses of various projects. This information is important since it helps the company know how much money should be spent on future projects. In the past, this was done via pen and paper. However, it is much more efficient to keep track of this information using an online expense tracking system. When construction companies use project expense trackers, they can seamlessly upload expense reports, get reimbursed for these funds, and set expense limits. Talygen is an example of an online expense tracker that includes all of these features.
Overview of Talygen's Online Expense Tracking Features
One of the main benefits construction companies can gain from using Talygen's online expense tracker is that users can seamlessly upload expense reports. After spending money on expenses, users can create a report and upload it to the system. When creating a report, the user can designate the type of expense and how much money was spent. Expenses can also be uploaded in bulk. The expense report can either be created in Talygen or uploaded through an Excel file. Users can also attach images of receipts to their expense reports. Once an expense report has been uploaded to Talygen, it can be approved or denied by management. If an expense is approved, the user will get reimbursed. These reports can be viewed from the central dashboard.
Another way that construction companies can benefit from using Talygen's project expense tracker is by setting expense limits. Senior managers set the expense limits. The expense limits can be set when the company is trying to save money or has a more limited budget. The manager is notified if an employee goes above the set limit for an expense. Setting expense limits can help save the construction firm money.
Another feature of Talygen's online expense tracking software is the ability to set multi-level approval workflows. These workflows can be adjusted in a manner to best fit the construction company's needs or structure. The workflows can also be adjusted to alert and flag users when certain expenses are overdue. Setting these workflows can help make the construction company more organized and productive.
Another way that Talygen's project expense tracker is helpful for construction companies is its mobility. Talygen can be downloaded as a mobile app for iOS and Android in addition to being available as a desktop app. Users can check and upload expense reports while in the field. Using the mobile app to upload expenses can help improve company productivity. Managers can approve or deny expense reports even when they are out of the office. The overall expenses of the company can easily be tracked in real time.
Other Talygen Modules
Talygen's online expense tracking software also works alongside Talygen's other modules. Managers can use modules such as customer relationship management, time tracking, document storage, and employee management to enhance the construction firm's productivity. Talygen can also integrate with third-party software systems like Microsoft Outlook, Microsoft Dynamics, DropBox, Google Drive, Twilio, Trello, and QuickBooks. The integration with various modules and third-party software systems helps construction companies complete projects in a timely manner. Having all of this software in a central location can help employees do tasks more quickly and be more productive.
Conclusion
Project expense trackers are a valuable resource for construction firms to use. When construction companies have a robust online expense tracking system in place, employees can quickly and easily track various expenses. Talygen is one of the most efficient online expense trackers on the market. Talygen can help construction firms be more organized and productive. For more information on Talygen's online expense tracking software, visit www.talygen.com/Online-Expense-Tracking-System to speak with a product representative.