Tuesday, January 17, 2023 | Resource Scheduling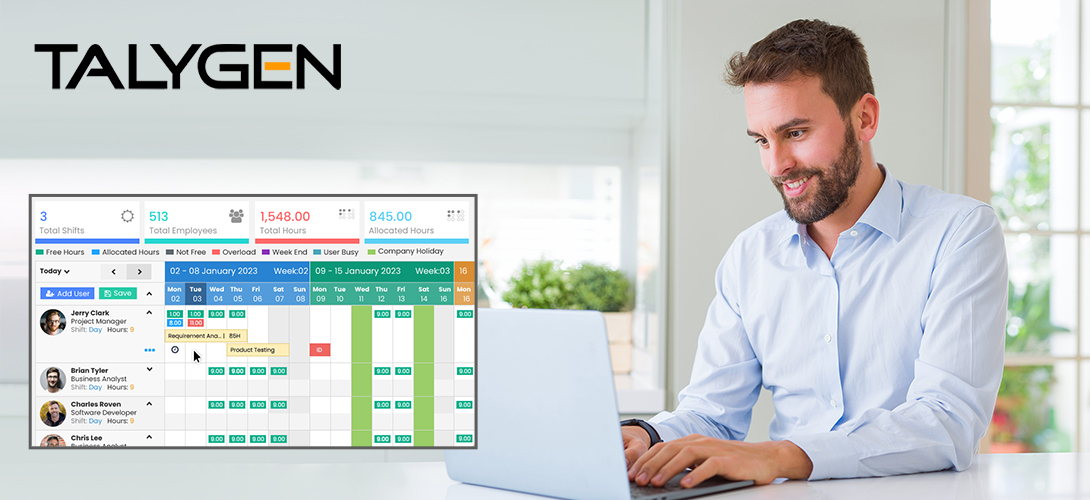 Every year, thousands of projects come and go with different deadlines and required expertise. Sometimes businesses have enough resources to manage things, and sometimes there is a shortage of resources that impacts project completion.
Businesses often face an unbalanced relationship between supply and demand of resources. These issues can potentially become even worse with the shift to remote work infrastructure. With the increasing popularity of remote work, it has become more difficult for managers to track, manage, and schedule resources properly.
Resource planning and scheduling software has emerged as a helpful solution due to its intuitive features and ability to automate business processes. Resource scheduling software has proven to be a blessing for businesses hoping to get optimal utilization out of their resources.
Let's take a look at the highlights of resource scheduling software!
What is Resource Scheduling Software?
Resource scheduling software is web-based software used to plan, schedule, track, foresee, and optimize resources for better utilization and to ensure maximum productivity. The software features intuitive functionalities, including advanced visual resource planning, quick resource scheduling, calendar views, a comprehensive centralized dashboard, and more. Using resource scheduling software reduces workloads and ensures operational efficiency.
Let's explore 4 reasons you should invest in resource scheduling software for your business:
Get a Clear Picture of Your Business Resources
When employees are working remotely, disruptions in the flow of communication or information can create problems amongst the entire workforce. These disruptions can disturb the balance of resource scheduling and increase the chances of task repetition, conflicts, misunderstandings, and more. This negatively impacts operational efficiency, project deadlines, and business ROI.
This is where, a cloud-based resource scheduling software can be a great help. It features centralized smart dashboard and data-rich presentation via Gantt charts, and Kanban boards. The software provides real-time updates of your resources, includes, day-off's, availability, unavailability, occupied status, and lot more on single screen. It keeps every employee record on centralized dashboard that results in a clear picture of business resourcing. Alongside, it eliminates miscommunication and human-error.
Peace of Mind
Having complete information about current and upcoming projects is necessary for all team members, whether they are remote or on-site employees. Staying updated with current information and future plans will assist businesses in preparing for projects and scheduling resources accurately. Resource scheduling software lets you stay updated with all information and strategically plan resources for your current and upcoming projects.
Some software is equipped with built-in resource forecasting and visual planning functionalities to simplify resource planning. These softwares allow you to schedule resources and create backups for the future so that no unplanned incident can hamper your projects or deadlines. They allow employees and employers to stay updated with projects and other details at a glance.
Better Utilization of Resources
Resource scheduling software is one of the best tools to accurately utilize resources. It lets you optimize resource scheduling. The software helps you identify which employees are occupied or available. This makes it easier for employers to schedule the right resource for the right job at the right time. Furthermore, resource scheduling software minimizes overburdened or underutilized employees.
By employing automated resource scheduler software, any business can improve their resource scheduling and better control productivity. As a result, businesses can optimally utilize resources and ensure high operational efficiency.
Eliminate Paperwork
‍
Resource planning and scheduling software is cloud-based software that eliminates manual paperwork and helps you easily adopt a digital workflow. Employers do not need to spend hours creating lengthy spreadsheets and tracking resources daily. Those processes result in a great deal of wasted time and effort that could be invested in other core operations. Resource scheduling software automates your scheduling process and reduces workload. Most importantly, it is also a cost-effective solution as businesses can reduce their stationary expenses every month.
These are a few of the reasons why you should consider using resource scheduling software. A resource scheduling software can simplify scheduling and help you make the most of your resources.
If you are planning to choose the best resource scheduling software for your business, Talygen is an excellent choice. Talygen is a renowned business management automation solution with resource planning and scheduling software that includes built-in functionalities to cater to businesses of all sizes. Talygen features task scheduling, performance reviews, a centralized dashboard, and more. To learn more about Talygen, visit our website.