Wednesday, February 01, 2023 | Resource Scheduling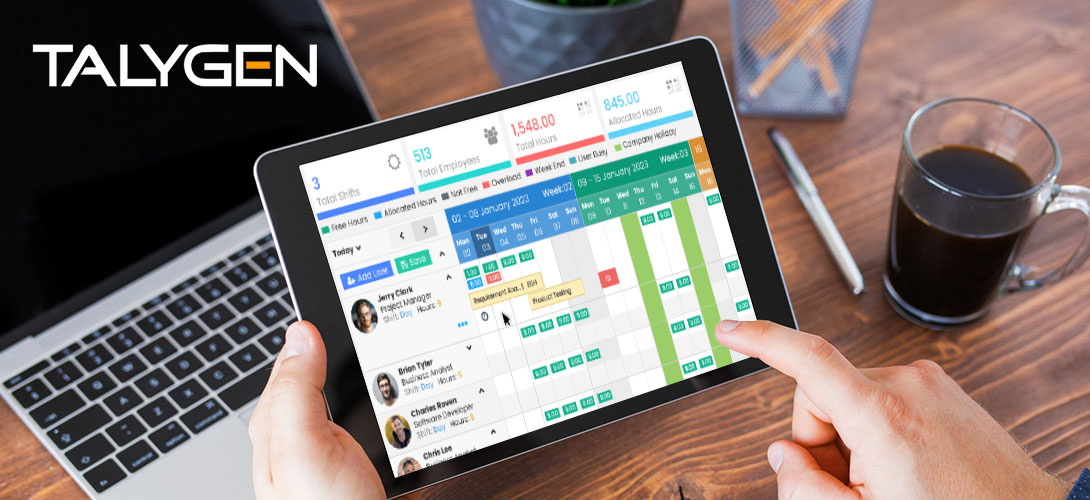 A reliable resource scheduling tool is all that an organization demands to maximize its efficiency and enhance productivity. Resource scheduling tools are web-based solutions that can simplify resource management and maintain the balance between the existing capacity and market demand. They provide a clear picture of the entire resource pool, including which resources are occupied and available for what time.
If you are also facing problems of not getting the availability of your resources – you need a reliable resource scheduling tool. It can help you keep a sharp track of resources and build a strategic estimate for better resource utilization.
Let's learn about the top five online resource scheduling tools that can keep your staff and projects organized.
1. Talygen
With an industry-leading performance in resources management, Talygen is one of the best online resource scheduling tools that assist users in staying on top of projects, tracking time, and billing clients all in one location. It contains time tracking and billing features that make managing resources evenly among your projects easier.
In addition, Talygen has many fully-functional features that will keep you organized, such as the ability to define task durations and communicate back and forth with other users while working on a project. To help predict future resource requirements, priorities, warnings, and task templates are offered. It is possible to switch between weekly, biweekly, and monthly periods.
Users can access a seven-day free trial with fewer functionalities and consider paid options with unlimited clients, project templates, integrations, live time reports, and many more advanced features for their business enhancement.
Features of Talygen's Resource Scheduling Software
Resource data management
Visual planning
Streamline rescheduling
Directly assign tasks to users
Centralized dashboard
Drag-and-drop scheduling
2. Hive
Hive is a resource scheduling software system created for users by users. Hive provides a combination of project management tools with great resource management functionality.
This all-inclusive, user-friendly project resource scheduling tool includes time-tracking and resource-planning features. With an expansive range of different layouts, including Gantt, calendar, Kanban, portfolio, and table views, resources can be scheduled, assigned tasks, and laid out.
Hive is a simple, seamless, and intuitive platform to accelerate resource management. However, a downside of using Hive is that the mobile app is not as functional as the desktop website.
3. TeamDeck
TeamDeck is a project resource scheduling tool aiming to simplify the resourcing process for project managers and human resource managers. The software features various functionalities, such as time tracking, online timesheets, and leave management. Furthermore, the software assists employees in managing their time-offs, availability, and time tracking. It is software designed for all-sized businesses. However, a disadvantage of using TeamDeck is that the user interface can be somewhat complicated to navigate.
4. Resource Guru
Resource Guru is a simple and effective resource scheduling software designed to simplify scheduling people, assets, and other resources. It facilitates a drag-and-drop scheduler that saves a lot of time for project managers and prevents over/under booking to keep the resources in control.
With Resource Guru, you can get real-time resource utilization details and several other metrics that keep you managing resources and workflow productivity. However, some companies may hesitate to use Resource Guru as their resource scheduling software because some users may find it difficult to search for information within the application.
5. Saviom
Saviom is a real-time resource scheduling software that provides a customized dashboard to maintain a balance between the resource workforce. The software is accessible in varied views, including Gantt charts and Kanban boards. It makes it easier for project managers to get a snapshot of resource utilization and can monitor who is working on which project.
Saviom provides data-rich visibility to discover resource shortages and accurately adjust priorities. It can help your business streamline resource scheduling and ensure operational efficiencies. However, a disadvantage of using Saviom is that the user interface is somewhat outdated compared to other resource scheduling software systems.
Resource scheduling software can greatly help utilize resources better and enhance productivity. If companies want the best and most efficient resource scheduling software, they should use Talygen.
To get more details about the most powerful and affordable resource scheduling tool for your business, contact the Talygen team at www.talygen.com/registrationnew/step2.