Monday, July 27, 2020 | Expense Tracker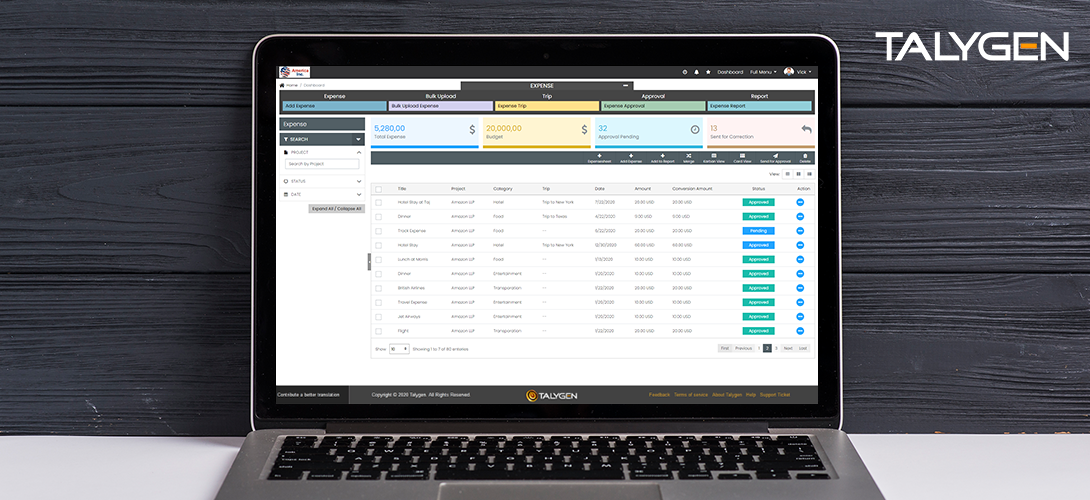 One of the most important areas of business management, where start-ups and entrepreneurs find themselves scratching their heads, is expense tracking.
An expense tracker is more of a necessity than a luxury nowadays. The smallest, as well as the biggest, expenses are easily monitored, reported, logged, processed, and shared using modern expense trackers.
Startups have very tight budgets. It's essential for entrepreneurs to keep track of all their expenses precisely and in real-time.
There are many expense tracker apps available in different mobile app markets. Here are the top 5 expense tracking apps for entrepreneurs that can very well simplify their expense tracking and reporting hassles in just a few clicks.
1. Talygen's Expense Tracking App
Talygen, a global leader in business management automation, offers an intuitive expense tracker app for all kinds of startups around the world. This expense tracking app is available on all leading platforms, namely Android, iOS, and Windows.
Talygen's online expense tracking app has integrated a lot of productive functionalities, such as easy expense reporting, custom expense limiting, future expense entries, real-time expense monitoring, and so forth, to simplify expense tracking for entrepreneurs.
The application empowers entrepreneurs for organizing their expenses systematically and helps them in planning budget costing for long term profits.
One of the top functionalities of Talygen's expense tracking app is its ability to easily manage expenses of geographically scattered employees from a single dashboard. Managers of a startup can monitor the expenses of all their employees or hired freelancers around the world from a user-friendly, centralized interface.
Other top functionalities of this online expense tracker include:
Detailed and simplified reimbursement reports
Easy expense approval
Feature-packed dashboard and interface
Overdue alerts
Per day limit configuration
Timesheets integration
Desktop web-app
Talygen also offers a Free Demo of its intuitive Online Expense Tracking App. Give it a try for your startup today!
2. Concur
Concur offers a lot of different expense tracking functionalities for small and medium-sized businesses. The app makes tedious processes like reimbursements, submissions, invoice tracking, and so on, quite simple.
Available on both the iOS App Store and Google PlayStore, Concur allows you to integrate a lot of additional functionalities into the expense tracker from its suite of business management products.
3. Clarity Money
A very simple to use expense tracker app, Clarity Money offers you a decent amount of functionalities that fulfill many of your expense management needs.
The app allows you to track, as well as cancel subscriptions very easily. It is a very simple expense tracking app that allows you to track a lot of different expenses from a single interface.
With limited functionalities and available only on the iOS platform, Clarity Money is a good choice to learn the basics of expense tracking before moving on to a premium expense tracker.
4. Mint
A great choice for freelance entrepreneurs, Mint offers almost all the must-have expense tracking functionalities. Available both on iOS and Google App Store, Mint has a lot of integrated features for easy tracking, billing, and storing of personal expenses.
Mint offers a Free Trial for 30 days and offers Sync Transaction features with a lot of banks as well. Mint is a great choice for personal expense tracking for sure.
Bottom Line
A startup needs to organize its expense tracking processes well in advance. A dollar saved is a dollar earned. As simple as that, make sure you keep in mind your long term objectives while choosing an expense tracking app for your startup.