Thursday, September 22, 2022 | Expense Tracker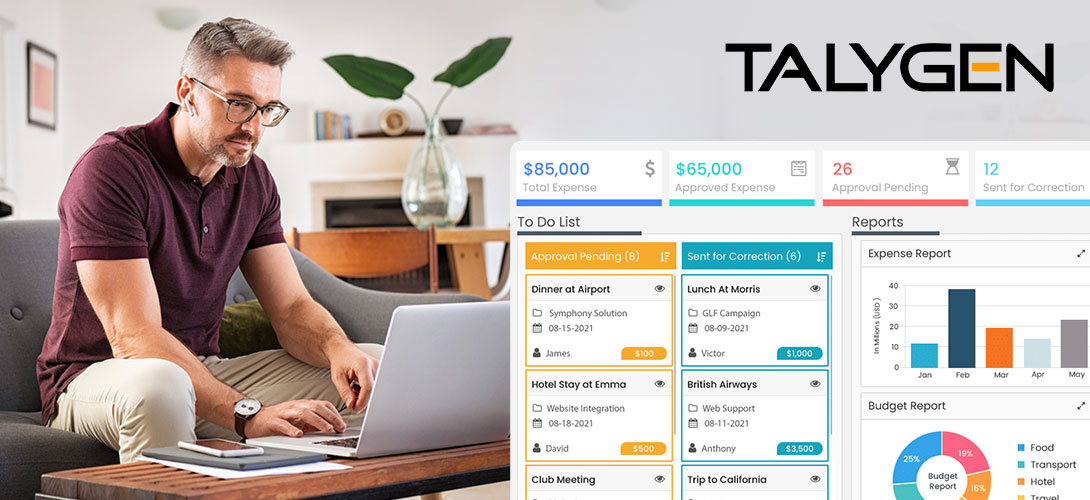 Expense tracking is essential for any business. The best way for businesses to record and manage their expenses is to use an online expense tracking software system. Online expense trackers allow managers to keep track of expenses for projects and trips. Expenses can include anything from the mileage put onto the company car or taking a client out to dinner. Companies should utilize this software to track the costs of assets and to have all of the information from various credit cards aggregated in one place. Examples of expense tracking software include Talygen, Mint, YNAB, and QuickBooks Online. Some of the benefits of using expense tracking software include allowing users to track the costs of invoices and assets, managing payments for remote employees and freelancers, and allowing the information from different credit cards to be in one place.
Expense Tracking Software Examples
Talygen's online expense tracking software allows project managers set project expense limits so team members won't go over the allotted budget. The program also has the option for users to upload expenses in bulk. Talygen has the option to integrate with Microsoft Excel so users can upload spreadsheets to the database so senior managers can review the expenses for approval. Additionally, Talygen can integrate with third-party software systems such as Google Drive, Google Calendar, QuickBooks, Fresh Books, and Microsoft Outlook. Talygen is an ideal online expense tracker for businesses of all sizes.
Mint automatically assigns transactions into categories, eliminating the need for a bookkeeper or accountant to do this manually. YNAB (You Need A Budget) allows users to take a proactive approach to their budgeting goals by bringing together all of a user's accounts and assigning each dollar a job, letting users see where their money is going. QuickBooks Online is an ideal choice for businesses that work closely with an accountant or bookkeeper and is customizable so that users can adjust it based on their business's needs. However, these online business expense trackers do not have the number of features and ease of use that Talygen does.
Benefits of Online Expense Trackers
Online expense tracking software is a worthwhile investment for businesses of any size to have. Small businesses that do not have an accounting department can use the software to track invoices, receipts, and other forms of paperwork, while large corporations can use the software to track the costs of assets such as private jets. While larger companies with accounting departments don't have as much of a need for budgeting software, it still comes in handy to help them stay on a budget. Using online expense tracking software such as Talygen also helps accounting teams manage expenses regarding remote employees or freelancers working for the company. It is also helpful for entrepreneurs starting a new business to utilize budgeting apps.
Businesses should also use online expense trackers because it allows the information from their different credit cards to be in one place. Using online expense tracking software simplifies the jobs of accountants and bookkeepers and makes the overall process more streamlined.
Conclusion
Project expense trackers are easy to use. The online expense tracking software also displays information in an easy-to-read interface. Using online expense trackers also reduces the amount of risk that comes from tracking expenses via paperwork. Most online business expense trackers are also available as apps for iPhone and Android users as well as desktop apps. For more information on Talygen's business expense tracking software, visit us at www.talygen.com/Expense_Tracking for a product demonstration and view available packages.