Monday, February 13, 2023 | Resource Scheduling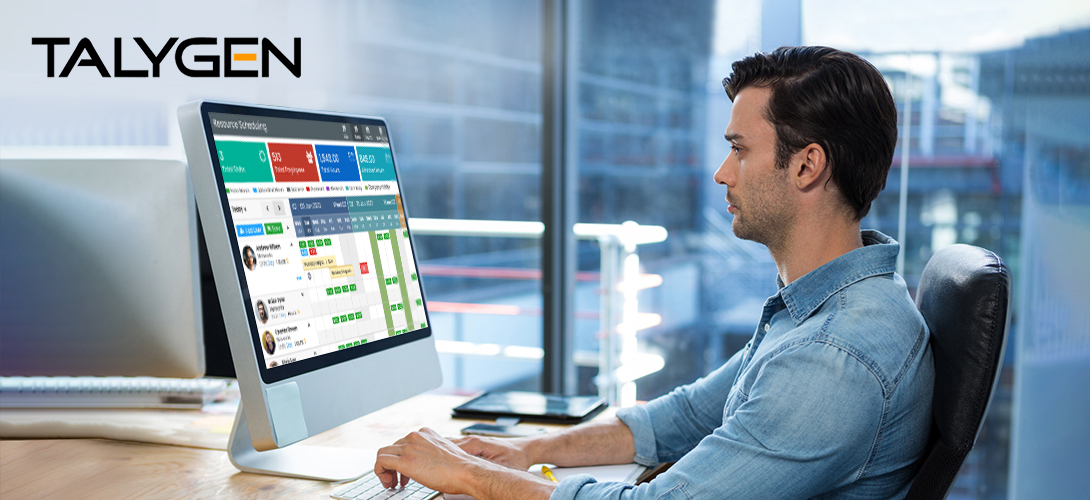 Nearly every aspect of the modern workplace revolves around IT infrastructure. Many things we do now would be difficult without a robust IT foundation. An outstanding IT organization is responsible for keeping everything operating smoothly.
What can be done to maintain the effective operation of your IT team? Have you considered using resource scheduling software? If not, you should do so. There are many benefits that companies can gain from using resource scheduling software solutions like Talygen.
Let's discover the key characteristics that make resource scheduling solutions essential for an IT team or business.
5 Features of Resource Scheduling Software for IT Operations
The five aspects of resource scheduling software that can streamline and simplify IT operations are discussed below.
1. Multi-Dimensional View from Real-Time, Single-Screen Dashboard
No more shuffling through multiple screens, separate workflows, or different software systems. With resource scheduling software, you'll get a multi-dimensional view of resources via an interactive and customizable single-screen dashboard. This smart dashboard offers clear visibility into schedules; it also provides the facility to sort schedules by role, team, project type, location, or skills – all of which lead to faster decision-making.
In addition to using the dashboard for managing resources in real-time, the multitude of views also enables you to drill down into your details regarding finances, resource capacity, and utilization.
The single-screen dashboard widget can be customized as per your need. Project managers often juggle multiple projects for different clients. They might want to see how a shared resource is splitting time between two separate projects - is the resource being overutilized? What is available capacity? The dashboard can be customized to reflect these metrics in a single view.
Resource scheduling software solutions like Talygen also offer availability reports. These reports provide accurate insights into what resources are available across teams, locations, and skill sets. This information can be used to make decisions regarding hiring or planning projects.
2. Easy Integration with Legacy Systems
Talygen's resource scheduling software seamlessly integrates with various third-party software solutions. You can easily import sensitive data from HR, payroll, and other data sources through their configurable Open REST APIs. You can even select which data points to import and sync. It could be a resource skillset, timesheets, tasks, or any other critical reference point.
Talygen's resource scheduler can be configured as per your needs. It can be scaled up or customized to suit your business's needs.
3. Track Resource Productivity and Utilization
Simply allocating resources doesn't result in enhanced productivity. The resources have to be utilized for strategic and billable work. In IT organizations, many resources are placed on the bench for a long time, needing to be fully utilized. But mostly, tracking gets missed or is hard to consistently follow up on.
One of the key features of Talygen's resource scheduling software is that it provides a performance review that will allow you to ensure all resources are performing at their highest potential and not being over or underutilized (sitting on the bench). With Talygen's resource scheduler software, users can easily move bench strength to billable projects and tasks.
With resource utilization metrics, users can compare actual utilization reports against resource forecasts and make required changes.
4. Drag and Drop to Schedule Resources
In an IT organization, multiple projects are running, and a project manager often needs the flexibility to change resource allocation dynamically. Without resource scheduling software, several projects might often have to rely on coordination calls and email chains to make the required changes. Talygen includes a visual scheduler enabling IT resource allocation with a drag-and-drop interface.
The drag-and-drop feature streamlines smoother for a project manager to plan schedules, split tasks amongst the right team members, and easily alter any plans and reallocate resources. This makes for easy viewing, doesn't need any additional training, and is quick to deploy.
Having real-time updates on resource scheduling software ensures that everyone is on the same page and reduces missed deadlines or scheduled meetings. It also eliminates the hassle of spreadsheet reconciliation and double-booking errors. The drag-and-drop functionality includes custom fields. You can schedule based on skillsets or availability and add specific custom data fields like locations, hourly costs, or anything connected with the resources, tasks, or projects.
5. Resource Forecasting
Another key feature of Talygen is its resource forecasting functionality. Resource forecasting allows you to predict your future resource need based on previous data and assumed requirements. It would be the most profitable way to manage your resources.
Talygen allows you to map resource availability with the pipeline. Say your business has been tasked to develop an application. The app has been developed, but there need to be more testers, causing them to work overtime and, thus, overutilization of resources. This situation could be more satisfactory, especially if the goal is to complete projects on time and with high profitability.
Talygen provides a real-time and consolidated window into your team's capacity and workload, making forecasting models quicker and easier for managers.
Make your business Operations Smarter - Use Talygen's Resource Scheduling Software Talygen is an intuitive, cost-effective, and customizable resource scheduling software designed to cater to all-sized businesses in various industries, including healthcare, construction, or manufacturing.
Talygen also offers an online live demo and free trial. Since 2009, Talygen has been used as resource scheduling software in industry-wide businesses to plan and manage resources. We would love to offer the same support and guidance to you. To schedule an online live demo, visit www.talygen.com/requestdemo.