Saturday, October 21, 2023 | Time Tracking Software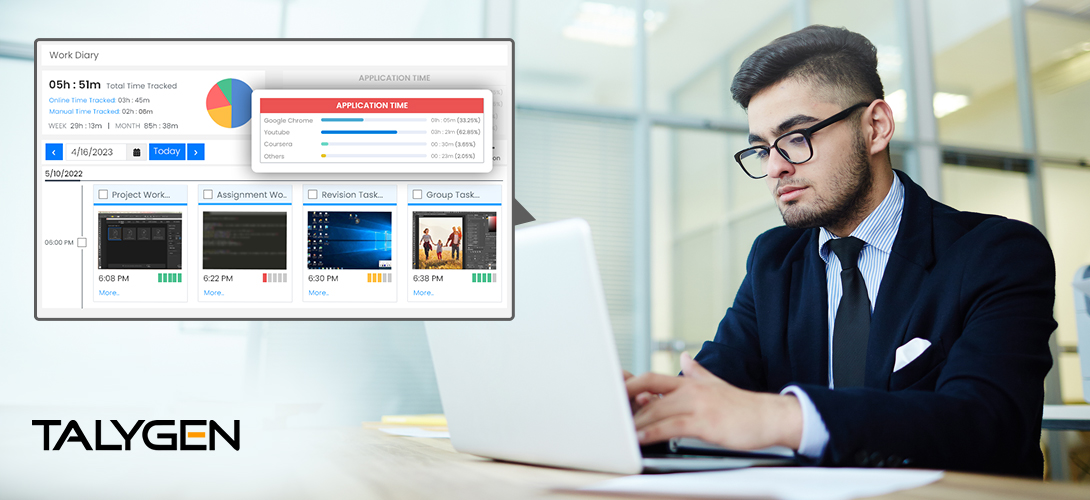 Time is the great equalizer. Every person, from the entry-level employee to the CEO of a Fortune 500 company, has the same 24 hours a day. The difference lies in how those hours are managed.
In business, time is often referred to as money, and it's not an exaggeration. In the relentless pursuit of success, managing time effectively is a skill that distinguishes top-performing companies from the rest.
Top companies worldwide have harnessed the power of time tracking to gain a competitive edge and boost their productivity.
In this blog, we'll explore the strategies used by these successful companies and how you can implement them in your own life.
How to Gain the Competitive Edge of an Industry Elite
Apple, is one of the most successful tech companies globally. Apple's supply chain is renowned for its efficiency, thanks partly to meticulous time tracking and remote employee management software. By understanding how long it takes to produce each component of their devices, Apple can make better decisions about production schedules, pricing, and inventory management.
Effective time tracking with screenshots has always been a key competitive advantage for businesses. Organizations that manage their time better adapt to evolving market conditions, meet deadlines, and deliver high-quality products or services. Such companies are also more likely to attract and retain top talent, as employees appreciate the value of work-life balance and efficient operations.
Tried and Tested Strategies for Time Tracking
So, what strategies do these companies employ to master time management? There are several vital elements to their success:
Practical Tools
These companies don't rely on outdated time tracking methods. They invest in cutting-edge time tracking software with screenshots and apps that provide real-time data, analytics, and reporting. This data is invaluable for making informed decisions and optimizing processes.
Meticulous Project Management
Successful companies use project management tools in conjunction with time tracking with screenshots. This approach allows them to break down tasks, allocate resources efficiently, and track progress accurately. It ensures that time is spent on productive activities.
Clear Objectives
Time tracking isn't just about recording hours worked. It's also about setting clear objectives and key performance indicators (KPIs). By doing so, companies can monitor progress toward their goals and adjust as needed.
Real-world scenarios and Effective Implementation of Time Tracking
Let's take a quick look at some real-world examples of how time tracking has benefitted top companies:
Amazon
This e-commerce giant uses time tracking extensively in its warehouses and delivery operations. They've streamlined their processes by analyzing how long it takes to pick and pack items, reduced errors, and improved delivery times.
Google
The tech giant uses time tracking to analyze how employees spend their time on various tasks. By doing so, they've identified areas where productivity could be improved, leading to more efficient work processes and innovation.
IBM
IBM relies on time tracking to allocate resources effectively for its global workforce. This approach ensures employees work on suitable projects and helps optimize labor costs.
Tips for Personal Time Tracking
While time tracking is an invaluable tool for businesses, it's equally beneficial for individuals. Here are some tips for personal time tracking:
Choose the Right Tool
Find a time tracking tool that suits your needs, whether an app, software, or even a simple spreadsheet.
Set Clear Goals
Define your objectives and the tasks to help you achieve them.
Be Consistent
Track your time consistently to get accurate data.
Analyze the Data
Use the insights from your time tracking to improve your personal and professional life.
In Conclusion
Time tracking with screenshots and remote employee monitoring tools is no longer a luxury but a necessity for individuals and businesses seeking to thrive in today's competitive environment.
Top companies have paved the way, showing us the potential benefits of effective time management. By adopting their strategies and incorporating personal time tracking into our lives, we can better manage our most precious resource: time.
As you gain mastery over time, you can significantly boost your productivity and reduce the chances of errors, giving you a competitive edge over your rivals. This can help you build a strong brand image and establish yourself as a leading player in your industry. Consumers and clients will trust your services, and you can win their loyalty by providing efficient and reliable solutions.
About Talygen
For more information and resources on time tracking, check out Talygen's website, where you can find time tracking with various business management solutions to suit your needs.
Whether you're a small business owner, a manager of a remote team, or an individual looking to optimize your time, Talygen's solutions are designed to help you succeed in today's dynamic work environment. Explore our offerings and experience the benefits of seamless time tracking and enhanced productivity.
Discover more at www.talygen.com/time-tracking-with-screenshots.