Friday, September 01, 2023 | Screenshot Tracking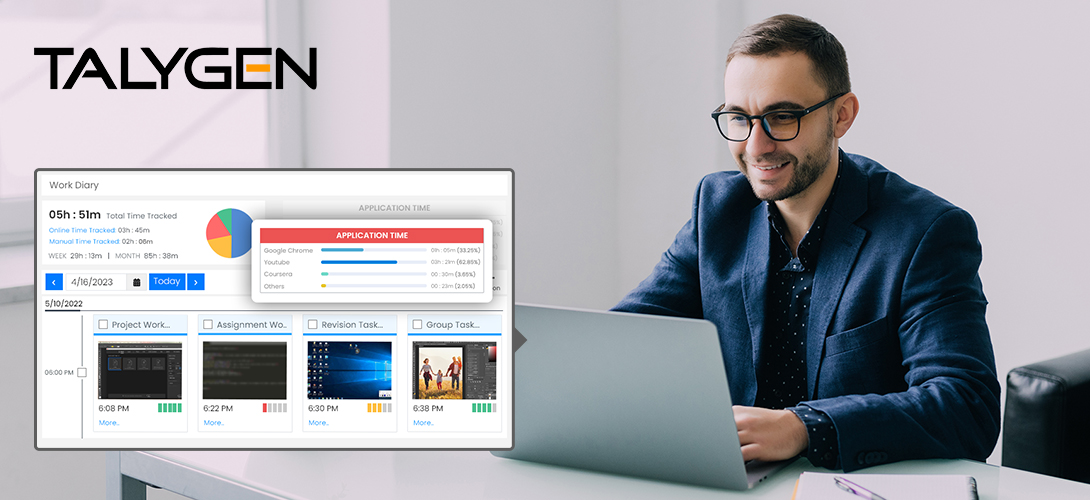 The world of work is experiencing a significant shift, bringing innovative methods to track and manage employee performance. The image of employees changing to a central office for a conventional 9-to-5 workday is gradually disappearing. Instead, people need alternative employment models such as telecommuting, freelancing, and remote work. As this shift gains momentum, so does the rise of remote team monitoring, which is highly spreading to closely monitor workers' job performance, regardless of their physical location. Read on more to learn the dynamics of employee monitoring, its countless benefits, existing concerns, and the ever-evolving landscape of modern work.
Employee Monitoring: A Changing Landscape
Once considered the base of the workforce, permanent full-time employees now share the spotlight with a different employment model. The rise of alternative work arrangements, primarily driven by technological advancements, is changing the traditional work norms. Telecommuting, outsourcing, freelancing, and remote work are not merely slogans but established employment methods. According to a Gallup poll, telecommuting has risen to 37% among US workers, a significant jump from a mere 9% in 1995. This shift in work dynamics is due to the flexibility afforded by technology, enabling employees to contribute from their homes or other remote locations. This has increased the need for implementing time tracking software with screenshots to constantly monitor the employee's tasks and estimates for overall productivity.
Technology and Employee Monitoring
In modern work, employee monitoring emerges as a valuable tool. While the concept of remote employee monitoring tools for excellent job performance isn't new, technology is updated, and its execution has also changed. Once established as GPS devices and workplace cameras, technologies have evolved into hi-tech employee monitoring systems tailored to accommodate remote work. Among these features, the ability to capture screenshots, log keystrokes, and track mouse movements stands out.
Challenges of Modern Work
Within this evolving landscape, remote workers face unique challenges that require innovative solutions:
Flexible Hours
The advent of remote work has brought fascinating flexible hours, allowing employees to tailor their work schedules to their personal lives. However, this convenience can blur the boundaries between work and personal life, challenging them to maintain a healthy work-life balance. The flexibility to track time with screenshot allows users to choose working hours as a valuable asset. It also requires careful time management to prevent work from interfering with personal time.
Work Routine
Striking this balance requires setting clear boundaries, communicating expectations, and using tools that help separate work-related tasks from personal activities. Creating a structured routine can adversely affect the working time and enhance productivity while safeguarding personal well-being.
Unsupervised Work Environments
The absence of physical oversight in remote work settings offers employees a sense of independence and trust. However, this independence can lead to unsupervised work conditions, demanding a change in traditional management practices. Remote employee management software allows employers to adopt a culture of accountability and self-discipline to ensure employees remain focused and committed to their tasks.
Communication
Regular communication, goal-setting, and periodic check-ins become crucial in maintaining a sense of direction and purpose. Moreover, employees must establish a favorable work environment at home, reducing distractions and supporting productivity. Ultimately, transitioning from a supervised office environment to an unsupervised remote setup calls for a shift in mindset, emphasizing results and outcomes over constant oversight. However, remote employee management software helps in supervising the employees correctly.
New Management Tools
Remote work requires a distance from traditional approaches to management, needing the search for new tools and strategies to ensure seamless operations across the teams. Conventional methods of monitoring productivity and time tracking with screenshots, such as observing employees at their desks, have become obsolete in remote settings. To bridge this gap, employers are adapting automated tools for enhanced management that enable real-time tracking of tasks, collaboration, and communication.
Arguments for Employee Monitoring
The case for employee monitoring depends on several key points:
Enhanced Worker Productivity
A time tracker with screenshots provides management with detailed information about worker productivity, enabling them to make informed decisions and take actions for improvement.
Asset Security
Internal theft poses a significant challenge in various industries. Employee monitoring protects against such threats, safeguarding physical assets and intellectual property.
Relief Against Liability
The legal liability of employers extends to remote workers. Time tracking with screenshots plays a vital role in early detection and prevention of inappropriate behavior, reducing the risk of legal complications.
Arguments Against Employee Monitoring
While employee monitoring offers significant advantages, it also raises concerns:
Privacy Implications
The technology behind tracking time with screenshots may collect personal data unrelated to the job performance and violate the employees' privacy.
Potential Misuse of Data
The gathered information could be misused or disclosed to third parties, raising concerns about data security and privacy breaches.
Impact on Employee Morale
Constantly monitoring and time tracking with screenshot can affect employee morale. To prevent demotivation, job dissatisfaction, high turnover, or even employee conflicts, it's essential to come across tasks carefully.
As the modern work landscape changes, employee monitoring is a powerful tool for enhancing productivity and overcoming challenges. It offers invaluable insights into work patterns, boosts security, and justifies legal liabilities. However, as we step forward to the technological path, it's crucial to recognize and address employee and privacy concerns. The rise of remote work tracking software reflects the recent development of work dynamics, influencing users to adapt, innovate, and develop a workplace based on efficiency and security.
In between the challenges and conversions of remote work, innovative solutions like Talygen have allowed businesses and individuals to follow this new landscape. Talygen offers comprehensive online time tracking with screenshots, ensuring efficient management of remote teams. The software provides a transparent and accountable work environment with automatic time tracking and real-time screenshot capture. To learn more about how Talygen's cutting-edge technology can enhance your remote work experience, visit the website.