Wednesday, September 20, 2023 | Screenshot Tracking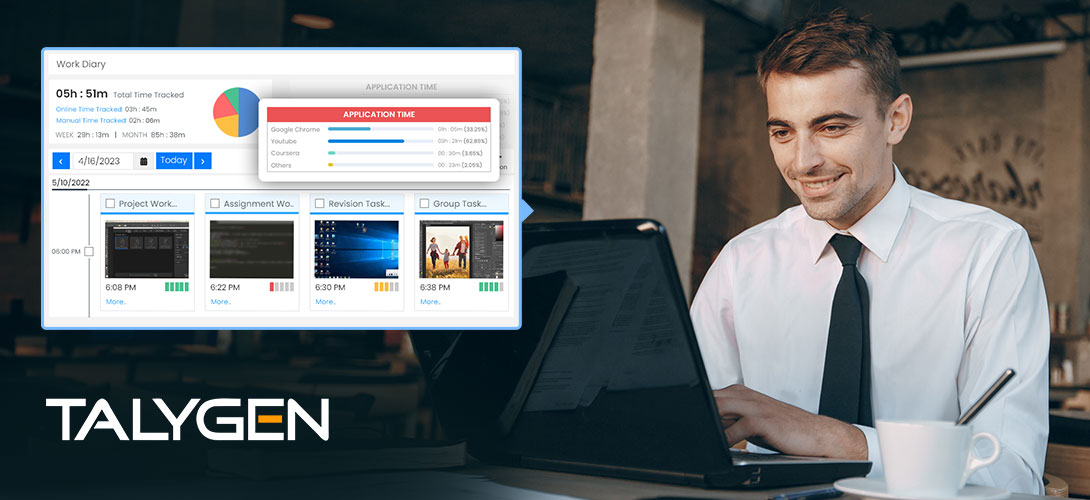 Improving time management and productivity is crucial for employers to suit different project needs and make success happen. The mobile and desktop time trackers with screenshots are valuable tools that are helping businesses get better results in terms of productivity and efficiency.
Instead of being happy seeing your employees stay glued to the computers during their shift, it's time to track and monitor their computer usage time, keystrokes, and mouse clicks. Remote team monitoring software is the best solution to determine employee productivity, optimize work, deliver successful projects, and track profitability.
There are some great apps for online time tracking with screenshot on the market that strives to manage to monitor and analyze employee performance and greatly emphasize fostering transparency in the remote work environment.
Significant Factors to Consider for Time Tracking with Screenshot Software
Size of Your Business
Need for Tracking Individuals and Projects
Ease of Implementation & User-friendliness
Offers Trial & Demo Usage Services
Promises to Offer Bespoke Features
Unmatched After-Sales Support
Time tracking software with screenshots significantly impacts business operations, transforming remote working in the digital era. The remote team monitoring tools offer unmatched benefits to businesses and freelancers. The capability of these automated tools is undeniably unparalleled, enabling managers to track employees in/out to productivity in real time.
The easy deployment of the right time tracking with screenshot software has helped small to large businesses gain the ease of enhancing work efficiency.
A cutting-edge technology is harnessed by businesses to manually and automatically track team's time and productivity. The time tracker with screenshots presents the employee's productivity metrics data as a detailed breakdown, ensuring accurate data collection. These scalable digital solutions enable businesses to stay strong and overcome remote work challenges. The tailored digital transformation using feature-rich online time tracking with screenshot software promotes perfectionism and enhances overall operational effectiveness and resource capabilities.
Time Trackers are Modernizing Remote Work
The project management and time trackers with screenshots are specialized in bringing efficacy in a work-from-home environment. The software addresses the critical gaps in employee productivity and actual work expectations and swiftly empowers businesses to resolve the issues with real-time monitoring. The automated time trackers are well-versed in catering to dedicated business needs.
The present-day time trackers with hi-tech functionalities are geared towards monitoring the employees' working patterns and behaviors without spying and invading their privacy. By leveraging remote work tracking software, businesses can make teams at remote locations more efficient, productive, responsible, honest, and dedicated. The software eases the process of:
Defining new rules to get the work done efficiently and remotely
Building two-way collaboration with a unified communication integration
Encouraging teamwork and positivity at remote work locations
Setting up clearly defined team goals to help accomplish projects before deadlines
What stresses your managers? Missed deadlines, lower productivity, distractions, and dissatisfaction among employees. This is where the remote employee management software integrating with time tracking with screenshots prioritizes boosting the satisfaction rate of employees and employers and nurturing relationships.
It's not the tools that set your organization up for success. The employees are a crucial part of any organization's success. In remote work, the teams at dispersed locations play an important role by keeping the time trackers running in the background of the systems. Helping managers regularly assess employee's activities and output fosters transparency. The time tracker with screenshots provides automatic time-tracking solutions to companies of any scale.
The automatic time mapping for significant tasks and activities makes planning and organizing time for all projects easier. Time management helps recalibrate priorities, resulting in smart project and resource management.
How Time Trackers with Screenshots Increase Productivity?
The easily understandable and easy-to-use remote work tracking software provides ample proof of work in real time.
Engagement and well-being are prime concerns of automated time tracking solutions. With precise project and productivity insights, employers display accurate statistics to employees and keep them accountable.
In a fast-paced and dynamic business environment, the everyday workloads are easily managed and tracked, which boosts productivity, reduces employee burnout, and improves ROI.
The comprehensive and detailed productivity reports of employees at your fingertips keep resources updated about their activities and optimize them efficiently.
Install Talygen Time Trackers with Screenshot on Multiple Platforms
The web-based applications for remote team monitoring tools cater to the unique needs of each business and simplify running the software on their device. Get Talygen's time tracking with screenshots tool downloaded on your systems and monitor progress and productivity from anywhere. The seamless system and application integrations with your robust online time tracking with screenshot software and tools ensure 24/7 monitoring, flexible resource allocation & tracking, evaluating performances, and identifying lagging behaviors.
To uncover its remote time tracking features with a screenshot tool, you can consult the service provider or schedule a demo online.