Friday, August 25, 2023 | Time Tracking Software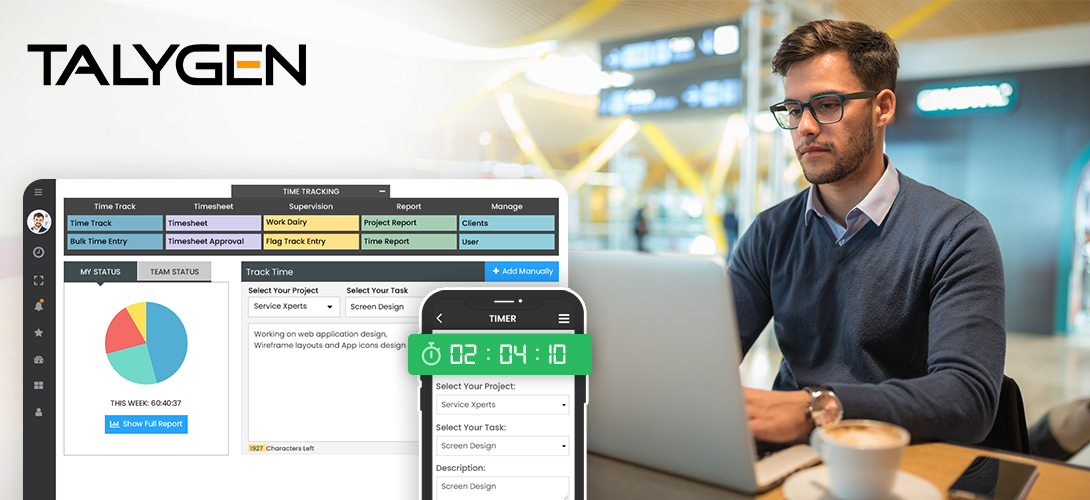 Staying ahead in the ever-increasing global competition is challenging for businesses without any evident and real-time status reports of their employees. The productivity measure is no more evaluated from your hours spent on the desktop. Today, business growth is assessed based on productivity and profitability seamlessly determined using automated solutions like time tracking software with screenshots.
The top-rated time tracking with screenshot software available online is easy to integrate with other apps and systems to deliver entire business management services in one solution.
The time tracking software with screenshots is paving a path to build productive enterprises. The quick implementation of today's tools for time tracking and screenshot capturing saves enterprise time and efforts to gather evidence and reverse slowdowns and declines in employee productivity.
Time Tracker with Screenshots promises to:
Modernize Business Processes
Develop and Sustain Employee Engagement
Maximizes Productivity
Measure Employee Efficiency and Effectiveness
Provide Actionable Insights
Accurately Record Time
Accurately Manage Payrolls
Keep Employees Active During Work Hours
Ensure the Work Environment Stays Secure
Gaining visibility into employees' activities is paramount, and today, comprehensive time tracking with screenshot software provides a real-time view of performances through automatic screen tracking and capturing. The online time tracking with screenshots tools are backed by cloud capabilities to let the managers capture and store the screenshots on the cloud to avoid unauthorized access. All the findings related to messaging and emails. Keystroking, mouse clicks, documents and files accessed, and more are recorded with accurate time and usage percentages.
The well-structured and fully-featured time tracker with screenshots is a cost-effective choice as it offers unlimited solutions into a single system and eliminates conflicts and errors. It provides all-sized organizations with tailor-made software features to measure productiveness and idleness with transparent record management.
Remote team monitoring doesn't mean controlling employees. Bringing trust, transparency, flexibility, and accountability into a work culture is a practice. This helps organizations save time and energy by implementing remote employee management software that simultaneously tracks time and records desktops.
The time tracking with screenshot tool comprises advanced functionalities to monitor employees non-invasively. The systems best aim to foster healthy relations between employers and employees by providing a transparent platform.
Online Time Tracking with Screenshot Tools Speak for Themselves!
Undoubtedly, the real-time monitoring of every desktop, regardless of the location and time zone difference in the screenshot tracking software, provides an excellent and satisfactory experience beyond their expectations. It's worth investing in the present evolving solutions due to the range of benefits it offers.
Let's have a look at some of the core competencies of a time tracker with a screenshot tool:
Set Limits to Record Your Screen
The software enables businesses to record the screens to offer complete work visibility and to store the recordings for the future. The screen capturing continues as long as the timer is set. The user can limit the screen time for capturing screenshots to an hour or less.
Set Defined Time Intervals for Capturing Screens
Automating screenshots at specific intervals is far more accessible. The screenshot-capturing functionality can be set to random by defining a particular interval. Rather than continuous capture, the time tracking with screenshot software takes the screenshots at a set frequency.
Set Up High-Quality Screen Resolution
The online time tracking with screenshot system has built-in functionality to set the desired screen resolution. The users can have detail-rich and high-quality screenshots of every tab employees open at remote locations.
Take Screenshots in Stealth Mode
Screenshot capturing in stealth mode makes the process more transparent. By enabling the stealth mode functionality, the managers can keep the screenshot capturing private without informing the employees. This elevates managers' stress levels and enhances the supervision practice without involving and alerting the employees.
Visibility is the key to keeping an eye on employees' productivity. Along with this, the software ensures data protection, which is a prime concern of businesses these days. The time tracker with screenshots is ultimately a reliable and indispensable solution for employees and employers, enabling them to accomplish projects smarter and more flexibly.
The powerful and user-friendly time tracking with screenshots software is designed keeping in view the employee's privacy concerns. The organizations must respect privacy and ensure the tools will not have any negative impact; however, they help drive the bottom line and productivity.
To boost the accountability and responsibility of the employees, get your business the best and easy-to-use software featuring time tracking with screenshot functionality. Talygen is a web-based application that potentially surpasses all employee time, performance monitoring, and tracking challenges.
Talygen provides subscription-based software services designed to deliver tailor-made services to different industries and professionals to track time with screenshots as per their business needs and budget.
Download it on your desktop and other devices and try this automatic time tracking with screenshot software. This is the software for your teams with the necessary features, ease of installation, and customization options.
Get installed today and enjoy unobstructed visibility!