Friday, September 08, 2023 | Screenshot Tracking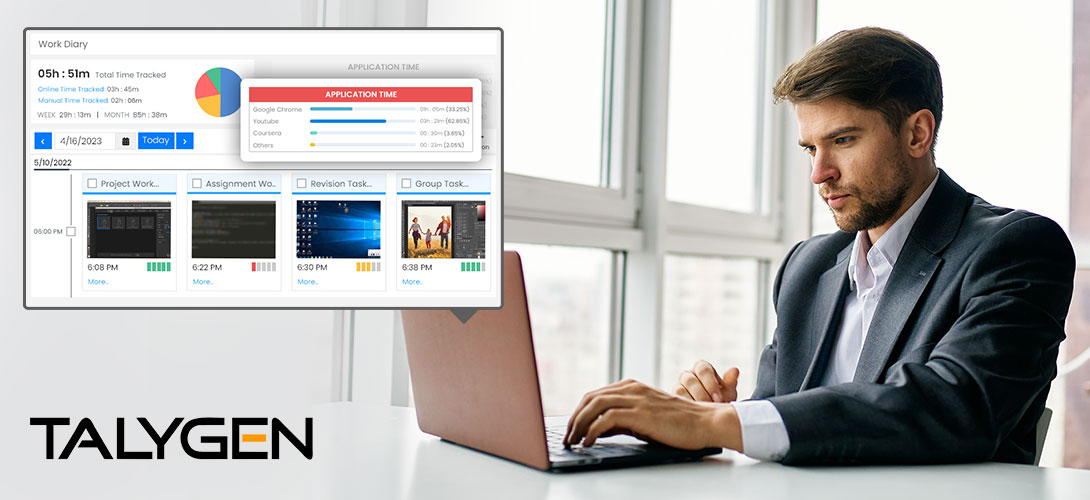 The improved bottom line of the businesses propels business growth. Many techniques, solutions, and tools fuel small to large companies in the digital era. However, the employees are the cornerstone and strong pillars. The growth and profits of any organization lie in the contribution of its on-premises and remote teams. To keep your organization standing apart and the wheel rolling, it's essential to determine whether teams deliver the ensured productivity and meet the expected productivity metrics.
Though it's easier said than done, the time tracking with screenshot software has made remote team monitoring manageable.
Let's delve deeper into how automated online time tracking with screenshot tools keeps teams on track and monitor their activities.
Each employee has a scheduled shift and tasks and is expected to maximize their capabilities to meet deadlines. To get the work done regardless of whether you have remote, distributed, or on-premises teams, the time tracker with screenshots records employees' time utilization with proof of their work.
Is it an invasion of privacy?
Well, not. Remote team monitoring with real-time productivity tracking is a non-secretive activity managers carry out with their employees' awareness. Modern screenshot-tracking software provides desktop applications to track productivity status from anywhere, anytime. This builds employee-employer trust as the track offers detailed productivity reports and boosts accountability.
What can you achieve with time tracking with a screenshot tool?
Seamlessly Identifies Bottlenecks
Managers Can Improve Employee's Concentration
Smooth Two-Way Street Boosts Communication
Increased Level of Efficiency & Productivity
Employees Stay More Focused & Less Distracted
The live-screen video recording improves employees' concentration as they stay aware of their activities. The managers monitor your computer screens by deploying automated remote work-tracking software.
Remote Employee Management Software Skyrocket Productivity
As we know, no one can change overnight. But with a straightforward implementation of online time tracking with screenshots software, the managers can come one step closer to remote teams and identify the problems. The screenshots provide insights into employee's screens by presenting the details of what your employees do all day on their computers. The real-time data provides a clear idea of where the problem lies and where most of the employee's time is wasted, and this way, the monitoring system assesses the productivity rates and encourages teams to improve.
By installing the remote employee monitoring tools, the managers can access remote employee screens, identify their strengths & weaknesses, and determine if they require the hours taken.
The automatically created performance metrics and reports not only bring transparency and build trust but also increase the efficiency of the process and double the employee's productivity levels.
Essential Factors to Ponder While Choosing the Software
Undeniably, maximizing the remote team's productivity is streamlined with time trackers with screenshots. However, choosing the best online time tracking with screenshot software is challenging. The right software for workplace monitoring is crucial for your business's success. To ensure you make a worthy investment, figuring out what's important to you when selecting the best fit is essential.
Take a look at the most critical factors to consider for buying a suitable time tracker with screenshot
Must-Have Multiple Features
What if your remote team monitoring tool only tracks time but fails to produce proof of work? This will solve half of your problem. Therefore, the software you choose must have the potential features to address all productivity-related challenges and enable managers to track employees in real-time, gather their project details, schedule their tasks, and do much more. One single tool with accessibility to multiple features and functionalities will save managers time and maximize the overall business & employee growth.
Compatibility & Integrations
Investing in the most compatible remote work tracking software is significant. The compatibility makes the software run seamlessly on your Mac OS, Linux, and Windows devices. Integration is the critical component that makes any software more powerful and demanding. The easy integration of the tool with the existing software and applications makes the system work on many aspects of employee monitoring and saves money.
Ease of Use and Automation
Having software that you need to learn how to run and every time you use it, you get stuck is a mere waste of time and money. Hence, always look for an automated tool that reduces manual intervention and, at the same time, automates the processes. The time tracker with screenshots must be straightforward to use & set up and should have an intuitive interface to enhance user experience.
Talygen guarantees smoother and more efficient remote team monitoring with all the necessary features businesses seek. By considering the need for remote employee tracking, Talygen provides the best software for your business project management, employee tracking, screen capturing, and reporting functionalities.
Do you want a demo?
Talygen provides a quick demo to personalize your experience and helps you analyze your company's needs. Request a demo online and check out the ease and difficulty level time tracking with screenshot software, available features, integrations, and product capabilities.