Tuesday, May 30, 2023 | Field Service Management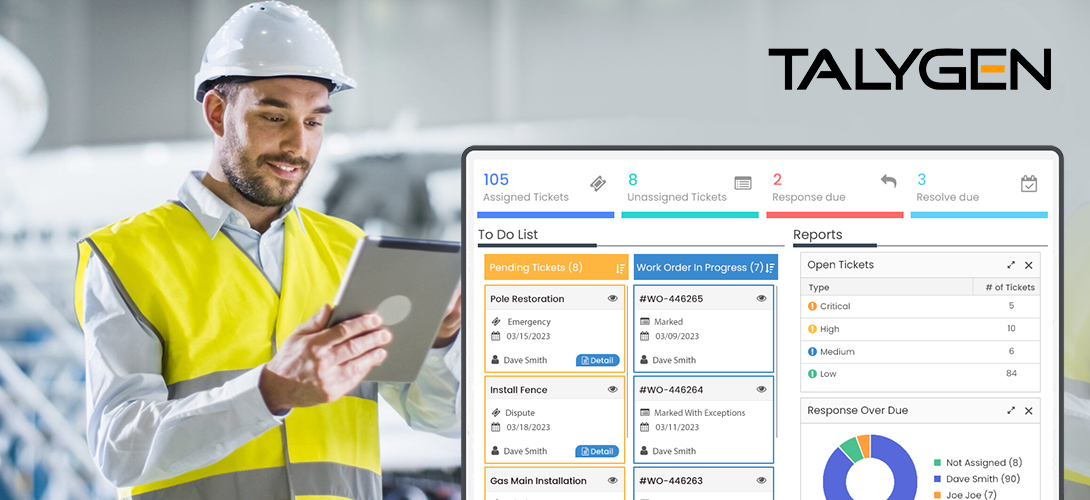 Service-based companies must have ways to track equipment and field employees. Field service management (FSM) software refers to programs that keep track of the components of field operations. Field operations are the tasks done at a customer site where a company's products are installed, such as dispatching workers to work on equipment. Field service management solutions can also extend to processing job orders and collecting payments while in the field. Talygen's field service management software can help businesses of any size with their field service activities. The FSM module is a worthwhile investment due to increasing customer satisfaction, making the workflow more productive, and integrating with other systems.
The most important reason companies should utilize FSM software is that it increases customer satisfaction. Managers can use FSM programs to quickly send a technician to the field if a client reports having an issue with the company's technology or machinery. Using FSM technology also means that the technicians no longer have to return to the office after completing each task but instead move on to the next request in the field. Therefore, customers will not have to wait long for the technician to fix or check their products. Talygen also has a centralized customer panel so that technicians can see the customer's exact needs. It also makes it easy to send a technician to a customer in case of an emergency. Talygen's field service management module can assure managers that customers quickly get the service they need.
Another reason businesses should invest in FSM software is because it makes the company more productive. Talygen's FSM module has 24/7 connectivity and support, so it is easy for field employees to update management and log their hours, even when working overtime. Technicians can obtain all the necessary data related to a task through the module, even before reaching the job site. Having all the required information for a task through the FSM technology means that the in-office team will not waste time handling these issues. Since task scheduling, invoicing, and employee monitoring are all done through the Talygen module, the problem of a user incorrectly writing down information is eliminated. It also means that none of the work will have to be repeated since there is no risk of data being lost or stolen.
Companies should also use FSM software since it can integrate with other software systems. Talygen's FSM module has Google Maps as an add-on. A GPS in the system ensures that technicians can make it to their assignments on time. Talygen's FSM software can also work alongside its other modules, such as time tracking and invoicing.
Business owners might hesitate to invest in FSM software because training employees in the program will take too much time. However, Talygen's services are easy to use, with many users quickly learning how to work the modules. Managers will soon find that the time they use to train employees is worth the amount of productivity each day that it increases.
Talygen's field service management software is a worthwhile investment for small, medium, and large companies. The FSM software increases customer satisfaction, causes technicians and in-house employees to accomplish more each day, and easily integrates with third-party apps such as Google Maps. For more information about how Talygen is the best field service management software, visit www.talygen.com/FSM and contact a representative for a demo.