Thursday, February 16, 2023 | Employee Management Software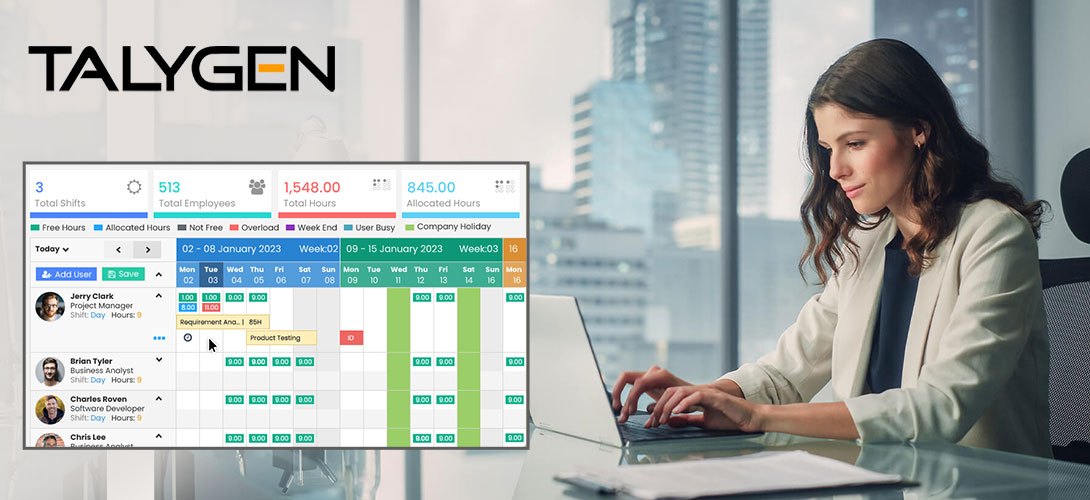 In today's evolving business landscape, managing and controlling the entire workforce and their performance has never been simpler. Employees are one of the most integral assets of any organization.
Smart employee management is the most efficient way for companies to get the best out of their employees. For smart employee management, there are many web-based employee task management software systems currently on the market.
Introduction to Employee Task Management Software
Employee task management software is a cloud-based solution that helps managers and administrators manage and control their entire workforce via a single platform. The software includes built-in automated and intuitive functions to smartly allocate tasks among the right resources at the right time.
Employee task tracking software allows you intuitively plan, track, and control employees and workflow to keep every project on time. The software helps managers monitor every employee and allows them to manage their tasks in the given time frame.
Below are the features managers should look for in an employee task management software system.
Let's start!
Smart Task Scheduling
With the help of employee task management software, project managers can allocate tasks to the right resource in minutes. Whether a small-sized or large-scale business, the employee task management perfectly categorizes essential tasks in just a few clicks. The employee task management software helps you better schedule your tasks that meet project deadlines on time and easily manage the tasks that are left- behind. Furthermore, the software features proactive time tracking that keeps you updated with the real-time progress of every project.
Strategic Task Planning
Employee task management software helps users strategically plan their tasks and break them down into small milestones to better achieve the project goals. It helps users easily prioritize tasks. Business managers can also plan and break-down tasks according to their requirements. The software has a user-friendly interface and allows customization accessibility to better plan tasks.
Resource Management
Resource management is one of the top features of an efficient employee task tracking software system. All companies need to efficiently manage their resources. This is where employee task management software allows users automatically manage their resources via a single platform. The software allows users to strategically plan their resources and schedule per their project's priorities. Project managers can also visually plan and forecast resources which helps to discover which resource is busy, when, and on what task. Based on that, project managers can analyze the future resource shortage or surplus and take required actions. In this manner, businesses can better manage their resources, tasks, and workflow via a single platform.
Time tracking
Time tracking is crucial in determining whether the time is utilized on important tasks. With the help of a time tracking software solution, managers can keep an eye on every resource and time spent on particular tasks. It helps project managers comprehend the time required to complete the task and whether or not they are working. A reliable employee task management software system features time tracking and helps project managers monitor how it takes to complete different projects.
Online Document Management
When companies deal with multiple scheduled tasks and bulk projects, it is complicated to manually keep track of everything and create long spreadsheets for data management. Employee task management software effortlessly maintains data on cloud servers.
Furthermore, the cloud server keeps data secure and easily accessible anytime, anywhere, and on any device.
These are the top features that everyone ought to consider when choosing the best employee task management software. An intuitive employee task management software system helps companies simplify and effectively manage tasks in an organized manner.
If managers are looking for a reliable employee task management software system, they should try Talygen. Talygen is an industry-leading employee task management software solution providing feature-rich functions, including task planning, scheduling, and managing under one roof. It allows project managers to complete projects by assigning the right task to the right employee with the required expertise.
To get detailed insights about Talygen employee task tracking, sign up and book an online live demo at www.talygen.com/requestdemo.