Friday, February 03, 2023 | Resource Scheduling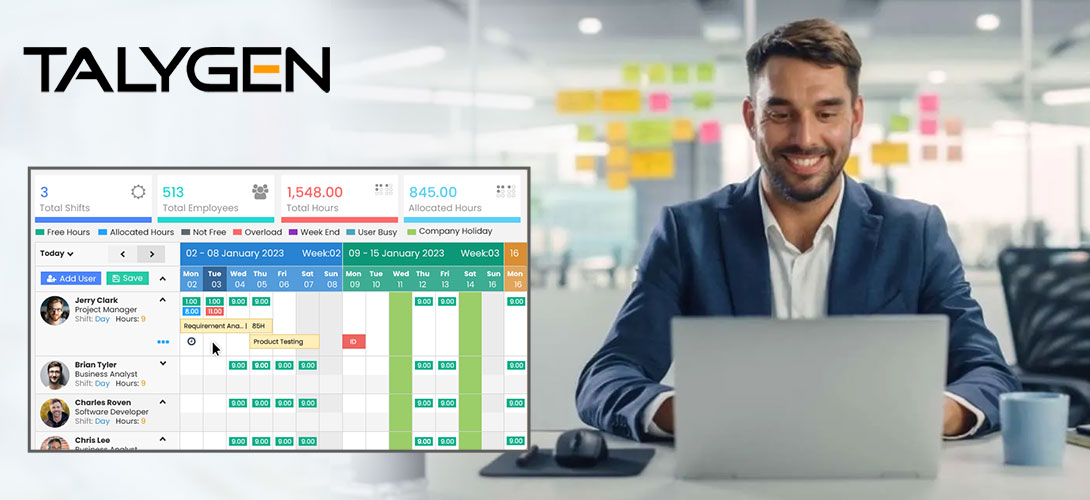 Implementing employee scheduling software can help businesses improve their resource scheduling processes. Given that every business has a unique deadline and set of needs for managing resources, it may operate differently for different companies. There are several reasons why companies can benefit from using resource and employee scheduling software.
Seven practices carried out by resource and employee scheduling software that can help your business operate efficiently and productively are explained below.
1. Schedules Resources Automatically
Resource scheduling software effectively automates leaves, estimates overtime, and time shifts for all the resources working across several locations so that the management can comprehensively understand the resource's availability. In order to speed up resource management, the software also alerts and generates time schedules based on resource availability.
2. Ensure Operational Efficiency
Employee scheduling software makes it simple to track and manage which staff are available to work at particular times, which helps you increase business efficiency. By doing this, you may refrain from overusing or underusing your resources and maintain a balanced approach to the existing capacity and demand of the marketplace. The software may also be used to monitor staff performance and productivity, which will enhance the overall effectiveness of your company and direct resources toward the assigned task.
3. Mobile App
Team members can easily plan their leaves or schedule shifts using the resource scheduling software on mobile devices. Additionally, it contains a capability that allows managers to accept or reject requests per resource requirements. The mobile app can act as a time-saver solution that managers and employees could invest in various other activities. Furthermore, it provides the flexibility to manage resources anytime and anywhere.
4. Time Scheduling
This feature of resource scheduling software is excellent because it enables managers to allocate personnel to different projects or tasks in accordance with their expertise, availability, or workload. Time scheduling ensures effective scheduling by assigning the best resource for the right job at the right time. In turn, project managers can record project effectiveness and efficiency and deliver an exceptional customer experience.
5. Analysis and Reporting
Keeping track of the resource schedule is important for every business since it can aid in payroll administration and project management. An accurate record of employee productivity and time spent by employees eases the client billing and invoicing process. Reliable resource scheduling software facilitates robust analysis and reporting to simplify resource management.
6. Attendance Management
Many companies struggle with no-shows and unplanned absences, but resource scheduling software can help by providing a more effective approach to managing leaves or shifts through a single dashboard. These software systems feature a centralized and smart dashboard that provides complete visibility of the entire resource pool with every single detail.
7. Time Tracking Management
In a remote working scenario, businesses can use resource scheduling software to effectively allow users to clock in and clock out shift schedules. It helps you keep a sharp track of the resources and the time spent by them on different activities. It allows managers to see how effectively employees utilize their time and contribute to productivity.
A resource scheduling tool can become a beneficial boon for businesses to get the best value for their resources and record high workflow productivity. Do you want to implement the best resource scheduling software in your business operations? Talygen would be the best pick.
Talygen is one of the industry-leading resource scheduling software built-in innovative and user-friendly features to assist businesses in better utilizing their resources. Get detailed insights about Talygen today and schedule an online live demo at www.talygen.com/requestdemo.