Tuesday, May 23, 2023 | Time Tracking Software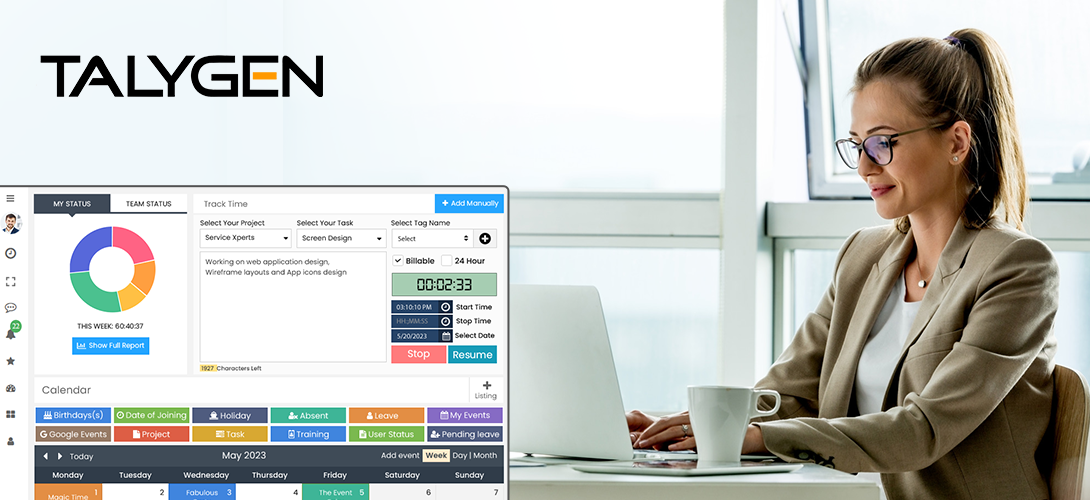 Even as companies have returned to in-office work, remote work is here to stay. Some businesses have decided to allow employees to work from home, while others have made the shift to remote work permanent. Other workers, such as freelancers, often work outside of traditional office environments. Therefore, time-tracking software has seen increased use over the past few years.
Time tracking is defined as using a timer to see how long it takes workers to complete tasks. Time tracking is also vital for businesses that use the services of freelancers. Managers can see what their employees and freelancers accomplish during the workday by using time-tracking software that provides the amount of time spent on individual tasks. It is also helpful to look for a time tracker with screenshot-tracking capabilities to see if employees are going off task. Small businesses, in particular, need to be mindful of their expenses and their employees' productivity. Examples of time-tracking software that can increase the productivity of small businesses are Talygen, Toggl, Jibble, Hubstaff, and ClickUp.
Overview of Time Tracking Software Services for Small Businesses
1. Talygen
While using Talygen's time tracker, users will input the task they are working on into the system. The system will then track how long it takes the user to perform the task until they stop the timer. The timer can also be paused. Talygen's time tracker also features a screenshot feature, which sends screenshots, mouse strokes, and keystrokes to the manager as proof that the user was genuinely doing the task. Users are also able to input entries in bulk. Talygen also features a timesheet function to which users can add entries and edit past entries. Within the timesheet, users can view detailed reporting of their time entries. With the edit function, users can flag incorrect entries and receive feedback from managers. Talygen also has a mobile app so that users can keep up with their time tracking while on the go. Users can also track their hours even while they're offline. Talygen's time-tracking software includes a screenshot tracker so managers can see what employees are doing on their devices.
Additionally, Talygen offers other helpful features for small businesses, such as customer relationship management, project management, appointment scheduling, and expense tracking. Talygen can integrate with third-party systems such as Microsoft Outlook, Microsoft Teams, Microsoft Dynamics, Salesforce, Google Calendar, and QuickBooks. For small businesses looking for time-tracking software that offers other features, Talygen is an excellent option.
2. Toggl
Toggl is designed for companies looking for a straightforward way to track time. One of the most significant features of Toggl is that if a user forgets to set the timer at the start of a workday, the desktop app will send them a reminder. Toggl also allows users to trigger time entry suggestions based on the software they are using. However, a downside of using Toggl is that the application lacks invoicing or other features not explicitly related to time tracking.
3. Jibble
Small businesses can use Jibble as their time-tracking software. Jibble lets users quickly check in and out when starting and finishing a project or task. Jibble can also integrate with third-party apps such as Microsoft Teams. Jibble also takes screenshots to monitor employee productivity. However, users have reported that Jibble is prone to frequent crashing.
4. Hubstaff
Hubstaff's time-tracking software is suitable for small businesses with remote workers, freelancers, and contractors in their work roster. Like Talygen, Hubstaff allows users to track their hours while offline. Hubstaff is also able to integrate with third-party apps such as QuickBooks. Also, Hubstaff can be set up to take screenshots of users' devices. However, some users have reported difficulty in getting in contact with customer support from Hubstaff.
5. ClickUp
ClickUp's time tracker allows users to build and customize their timesheets. These timesheets feature detailed reporting on the tasks at hand. ClickUp can also integrate with other time-tracking software services such as Toggl and Harvest. However, some users may find that ClickUp has a difficult learning curve.
Managers need ways to see how much their employees and freelancers have accomplished each day in the digital era. Managers of small businesses especially need time trackers if their company lacks a human resources department. Before choosing a time-tracking software system for their small business, managers should consider the industry they are working in and the number of employees and freelancers working for the company. For more information on Talygen's time-tracking software, visit www.talygen.com/time-tracking-tool to sign up for an online demo.