Tuesday, May 16, 2023 | Remote Team Management Software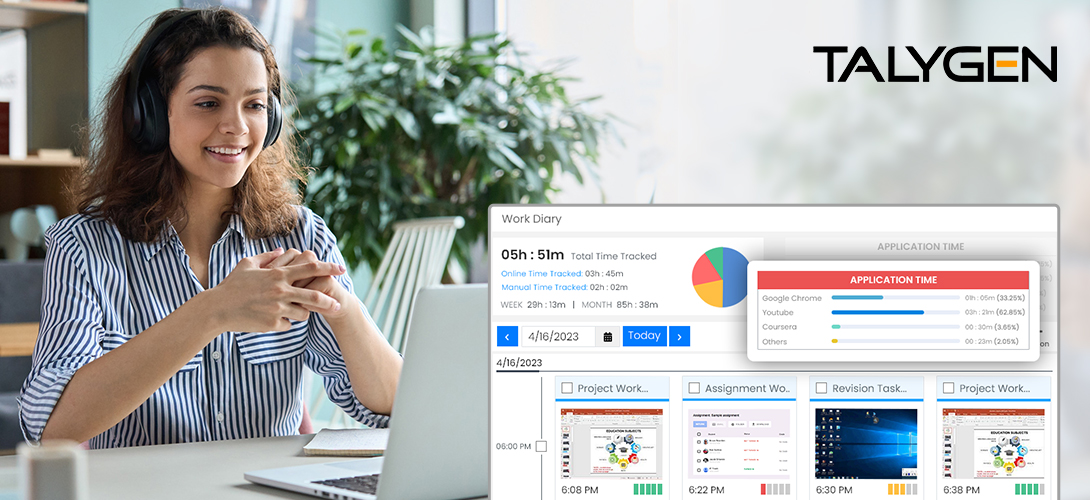 While taking online classes has become increasingly common over the past twenty years, it became essential during the COVID-19 pandemic. Even as pandemic restrictions have been lifted, many students have continued to take online college classes while working full- or part-time jobs due to the flexibility it provides. Also, many teachers and faculty members have opted to work from home. For this reason, many educational institutions have implemented WFH (work-from-home) monitoring software. These remote work tracking systems help administrators know how productive remote students and workers are throughout the day. These systems can be downloaded as desktop or mobile applications. Schools and universities can use several remote work monitoring software systems, such as Talygen, SentryPC, Teramind, Veriato, and Timely.
Overview of Remote Work Tracking Solutions for Education
1. Talygen
Talygen's WFH monitoring software is a valuable resource for educational institutions. Talygen includes helpful features such as a time tracker, screenshot tracker, and reporting feature. The time tracker measures how long it takes for users to complete tasks. Users can also input their tracked time manually. The screenshot tracker takes screenshots of users' devices and measures metrics such as websites visited, mouse clicks, and keystrokes. These metrics are then gathered into reports that can be viewed in Talygen's advanced dashboard.
Additionally, Talygen includes a cloud-based document storage system. Students and teachers can use this storage system to upload essential documents easily. Another benefit schools and universities can gain from using Talygen is that the system can integrate with third-party tools such as Microsoft Outlook, Microsoft Excel, Google Drive, and Dropbox. Due to its range of features and ease of use, Talygen is an ideal choice for schools and universities to use as their remote work tracking software solution.
2. SentryPC
SentryPC is a remote work tracking software system that schools and universities can use. SentryPC records any activity on school-mandated devices so admins can ensure that there is no inappropriate activity. Information from device activity is then gathered into reports and displayed on a centralized dashboard. However, a disadvantage of using SentryPC for remote work monitoring is that the software is only compatible with Windows and Mac, and some of the features only work on Windows devices. Also, SentryPC does not include a time tracking system.
3. Teramind
Schools and universities can use Teramind to track student and faculty members. Admins can use the time tracker to see how long users can complete tasks. Admins can view reports in the dashboard and view which websites students and staff members have been visiting. The system also tracks keystrokes and takes video recordings of users' devices. However, some educational institutions may hesitate to use Teramind as their remote work monitoring software system because some users have reported that the system will randomly get disconnected or stop monitoring user activity.
4. Veriato
Veriato is a remote work tracking software system that can be used in higher education. One of the main benefits of using Veriato is that administrators can view and generate reports on student and staff productivity via a centralized dashboard. These reports can include metrics such as website and application usage. The system can track active and idle time on users' devices. Another benefit of using Veriato is that it can take screenshots of users' devices. However, a downside of using Veriato is that the user interface can be challenging to navigate.
5. Timely
Educational institutions can use Timely to track remote work productivity. A key feature of Timely is the time tracker that automatically captures user activity. Another benefit of using Timely is that it can integrate with third-party tools such as Google Calendar and Microsoft Outlook. However, some schools and universities may hesitate to use Timely as their remote work tracking software because the user interface can be clunky.
As students continue to take online classes and faculty members opt to work from home, educational institutions need to find ways to track remote work productivity effectively. The best way to do this is to implement a WFH monitoring software system. Remote work monitoring software solutions can be used to see how productive students and faculty members are.
If schools and universities want to use the most efficient remote work tracking software solution, they should use Talygen. Talygen can measure remote work productivity via a time tracker and screenshot tracker. Talygen has provided business automation solutions to companies of all sizes and industries since 2009. To learn more about Talygen's remote work tracking software, visit www.talygen.com/ to speak with a product representative and receive an online demo.