Friday, October 06, 2023 | Remote Team Management Software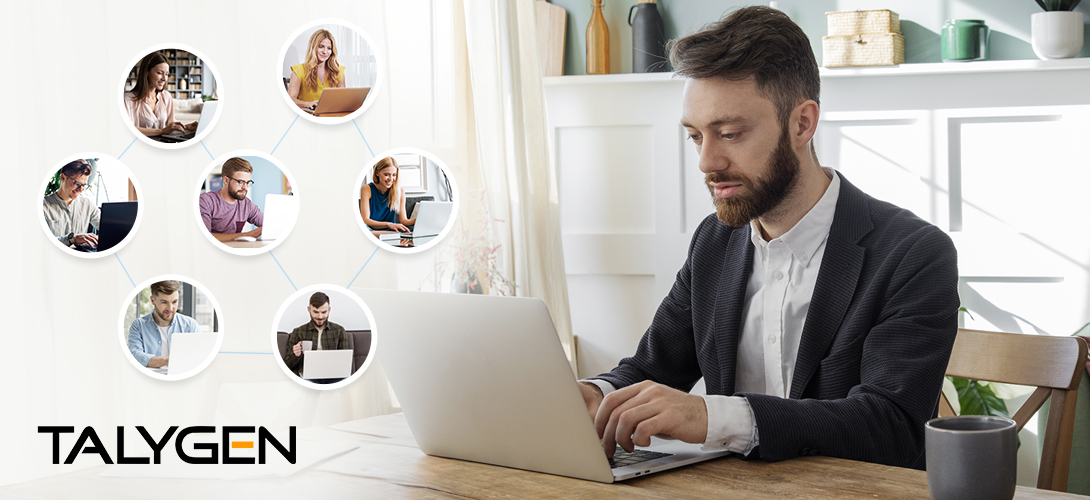 Remote work has become a widespread and often vital operation for enterprises worldwide in today's fast-shifting work landscape. As businesses transition to this new paradigm, the necessity for effective remote team monitoring technologies has never been greater.
Talygen, a pioneer in this field, provides complete remote work tracking software enabling businesses to manage and monitor their remote staff efficiently.
Remote Working Is Increasing
The concept of remote working, previously deemed new, has become a permanent fixture in the modern workforce. The COVID-19 pandemic has increased the acceptance of remote work, forcing firms to adapt to the unique situation quickly. However, the remote work trend gained traction before the pandemic, fueled by technological developments and altering employee preferences.
Global Talent Pool
Remote employment has significantly increased the talent pool. Employers are no longer limited to employing employees based on their proximity to the workplace. They have access to a worldwide talent pool and can choose the best applicants regardless of location. This not only increases variety but also brings in new viewpoints and ideas.
Cost Reductions
Remote employment can result in significant cost reductions for employers. Reduced office space requirements, lower utility bills, and decreased overhead expenses can all result in substantial financial savings. Furthermore, employees frequently save money commuting, resulting in more spare income.
Environmental Impact
Remote labor has a favorable environmental impact. Reduced commuting means fewer automobiles on the road and lower carbon emissions. Many organizations actively push remote work as part of their sustainability programs, contributing to a greener planet.
In this blog post, we'll look at seven convincing reasons why Talygen's remote team monitoring works so well.
1. Extensive Time Tracking
Talygen's time-tracking capabilities are vital to the company's success in remote team monitoring tools. When team members work remotely, keeping track of their work hours becomes critical. Talygen makes this procedure easier by giving simple time tracking tools. Team members can easily log their work hours, assuring transparency and responsibility. This feature allows firms to pay for actual work while empowering employees to manage their time effectively.
2. Activity Monitoring in Real Time
Real-time activity tracking in remote employee management software increases productivity and reduces distractions. Talygen enables employers to track what their remote staff is working on in real-time. Managers may guarantee that the team stays focused on tasks and objectives by receiving information about ongoing activity. This helpful function increases productivity and allows for better time management.
3. Comprehensive Reports and Analytics
Talygen's remote work tracking software is built around data-driven decision-making. The software delivers extensive team performance reports and data. These data help firms better analyze productivity trends, task completion rates, and project progress. Organizations may use this data to fine-tune their strategy, optimize procedures, and make educated decisions that promote growth.
4. Task Administration and Assignment
Managing projects and assignments effectively in a remote work environment can be challenging. Talygen meets this difficulty front-on by providing powerful task management and assignment features. Managers may assign tasks, set deadlines, and track progress from any location. This tool ensures that all team members are on the same page with project objectives and schedules, fostering teamwork and accountability.
5. Effective Communication Instruments
Talygen understands the need for good communication in remote business. Chat, video conferencing, and file sharing are among the communication methods available on the site. These tools enable team members to collaborate seamlessly regardless of their physical location. Effective communication lowers misconceptions, promotes teamwork, and speeds up project completion.
6. Data Security and Protection
In today's digital landscape, data security and compliance are non-negotiable. Talygen places great value on the security of sensitive information. The platform incorporates cutting-edge encryption, access controls, and other security features to protect data. Remote team members may operate confidently since their data is protected and their privacy is respected.
7. Modifiable and scalable
Talygen understands that one size does not suit all regarding remote team monitoring. The platform is highly configurable to meet the specific needs of various organizations. Talygen may be adjusted to your needs, whether you have a small, tight-knit remote team or a vast distributed workforce. Furthermore, it is a scalable solution that will expand your company.
Finally, Talygen's remote team monitoring tool demonstrates the company's dedication to assisting organizations to thrive in the remote work era. Its complete time tracking, real-time activity monitoring, detailed reporting, task management, compelling communication features, robust security, and scalability make it a valuable tool for organizations to manage and monitor their remote workers efficiently.
In a world where remote work is here to stay, Talygen equips organizations with the courage to embrace this transformation, guaranteeing that remote team monitoring is not only a need but also a source of competitive advantage. Talygen is a valued ally in navigating this disruptive journey as remote work continues to change the future of work.