Wednesday, August 02, 2023 | Expense Tracker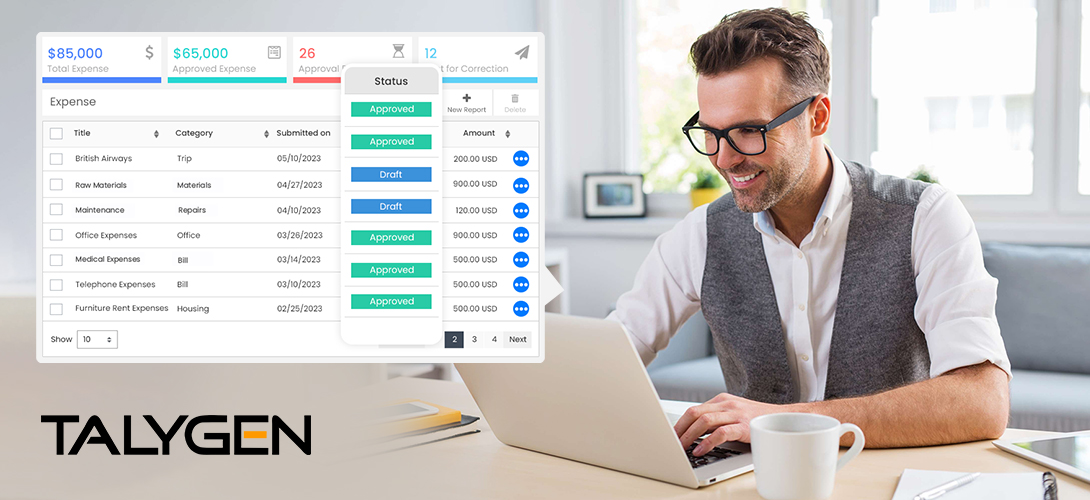 From small startups to large enterprises, every organization faces the challenge of managing expenses efficiently while ensuring compliance and financial transparency. Hence, effective expense tracking is a critical financial management component in today's business world.
Talygen, a Cloud-based Business Automation Management software, empowers businesses to streamline their expense tracking process, save valuable time and resources, and gain deeper insights into their financial data by offering a comprehensive solution that goes beyond the limitations of traditional methods of expense tracking.
In this blog, we will explore how Talygen's online expense tracker revolutionizes expense management for organizations of all types and sizes.
What is an Expense Tracker?
For the uninitiated, an expense tracker is a valuable tool for managing expenses. With this application, users can easily keep track of their spending and categorize their expenditures while setting budgets.
Online expense trackers like Talygen offer a streamlined and effective way to manage an individual's or an organization's finances.
Simplified Expense Submission for Employees
For many companies, submitting expenses can be a bothersome and exasperating task for their workers. However, with Talygen's online expense tracker, this procedure is now an effortless and user-friendly experience.
The software organizes the submitted expenses and eliminates the need to manually inform the HR or finance department. This simplified expense submission process saves employees time and effort, allowing them to focus on their core responsibilities while ensuring accurate expense tracking.
Efficient Approval Workflows for Managers
You may face the overwhelming task of approving numerous expense reports as a manager. Talygen's online expense tracker simplifies the approval process, making it more efficient and streamlined.
Managers receive real-time notifications when submitting expenses, allowing them to review, approve, or reject them promptly. The software provides a clear overview of all pending and approved expenses, ensuring managers stay on top of the approval process.
This efficiency expedites reimbursement and improves communication and collaboration between employees and managers.
Real-Time Expense Tracking and Analytics
Talygen's online expense tracker offers a significant benefit: real-time tracking of expenses. Finance departments can easily access the most current information regarding expenses and monitor spending patterns as they take place.
With detailed analytics and customizable reports, organizations can gain deeper insights into spending trends, identify areas of potential cost savings, and make data-driven decisions to optimize budgets.
Talygen's solution enables organizations to respond proactively to financial challenges and improve overall financial planning by providing actionable data at their fingertips.
Compliance Checks and Financial Transparency
For organizations, maintaining compliance with financial regulations is of utmost importance. Talygen's online expense tracker includes compliance checks identifying any irregularities or policy breaches in the submitted expenses.
This proactive approach reduces the risk of non-compliance and the associated financial repercussions.
Furthermore, the software provides a transparent view of all expenses, promoting financial transparency within the organization. This transparency fosters trust among employees and stakeholders, reinforcing the organization's commitment to responsible financial management.
Integration and Scalability
Talygen's online expense tracker is designed to seamlessly integrate with existing accounting systems, HR software, and payroll solutions. This integration ensures that expense data flows smoothly between various systems, eliminating the need for manual data transfers and reducing the risk of errors.
Talygen's solution can accommodate the needs of organizations as they grow and evolve, making it highly scalable. Regardless of an organization's team size, Talygen's expense tracker can efficiently handle growing expenses while maintaining performance.
In Conclusion
Talygen's online expense tracker redefines expense management for organizations of every shape and size. By simplifying expense submission for employees, streamlining approval workflows for managers, and providing real-time expense tracking and analytics, Talygen empowers organizations to optimize their expense management process.
Additionally, the comprehensive software's compliance checks and financial transparency ensure responsible financial management and foster trust within the organization. With seamless integration and scalability, Talygen's solution is tailored to meet the evolving needs of growing organizations.
Lastly, by embracing Talygen's online expense tracker, organizations can enhance their financial efficiency, gain actionable insights for strategic decision-making, and focus on confidently driving growth and success.
About Talygen
Talygen strives to be the leader in Cloud-based Business Automation Management. Our mission is to provide services and solutions that allow businesses to simultaneously focus on profitability and productivity.
We at Talygen believe that all businesses should have simple yet powerful software systems to help them efficiently compete with their opponents. Our product's user-friendly and intuitive features make us unique in today's world.
Talygen's integrated suite of services and processes facilitates businesses to manage their core workflows through our cloud-based software as a service (SaaS) application.
Try it today and experience the convenience and ease of Talygen's Online Expense Tracker. For more information about Talygen's online expense tracker, visit www.talygen.com.