Tuesday, January 24, 2023 | Resource Scheduling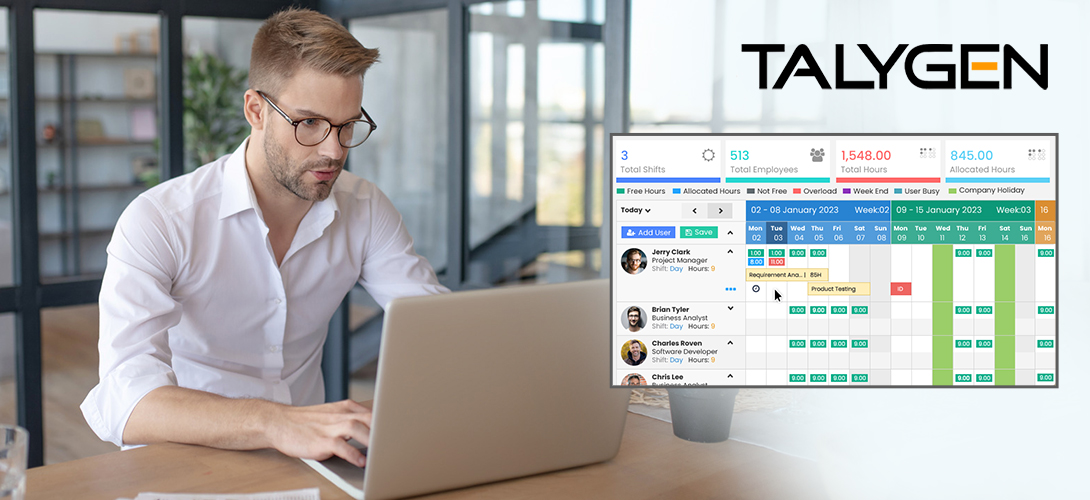 Resources are one of the vital investments for every organization. Therefore, every business wants to utilize its resources more effectively and efficiently to get the best value of it. Several businesses are stuck in between the silos of manual resource scheduling processes, either small tools for resource scheduling or management. Utilizing these solutions is highly tedious, limited to technology, and needs workforce efforts. This is where modernized resource scheduling software comes into the picture.
An intuitive and advanced resource scheduling system can address many issues. Do you want to know how? Take a look below!
Improves and upholds project quality
For a project to be completed within the allotted time frame and without compromising the project's quality, the right individual with the right talent is essential. By discovering and assigning a qualified individual, resource scheduling methodology aids project managers in achieving the same goal. Without this skill, managers may assign workers who are under or overqualified to tasks, which could result in overruns on the budget and schedule. As a result, it compromises the project's quality and negatively impacts client satisfaction. This is where a web-based resource scheduling software helps you maintain your project quality and timely meet its deadline.
Ensures that projects are delivered on time
Modern resource scheduling in project management makes it easier to allocate resources throughout the project planning phase. Second, it enables project managers to plan ahead and allocate resources to crucial activities. It ensures projects are completed on schedule and without delays.
Ensures enterprise-wide visibility and permits standardized scheduling
A renowned resource scheduling software provides 360-degree insight into all work requirements, including projects, non-projects, BAU/admin, and time-off, which can be attained through a reliable system. Additionally, it emphasizes this data concerning several geographic, functional, domain, and business unit verticals.
It is one of the alternatives to get a complete picture of the entire business on a single screen and ensure efficient resource planning and scheduling. Resource scheduling software can help save time by eliminating the need to visit multiple tabs to get actionable insights into each resource. In turn, businesses ensure effective and efficient resource scheduling.
Empowers data-driven foresight and proactive capacity planning
A cloud-based resource scheduling tool can forecast resource demand for each project and non-project work to identify resource shortages or surpluses. It assists in bridging the gap between the existing resource capacity and the market demand for resources. The software allows project schedules can be changed anytime, current staff can be retrained, or a contingency workforce can be hired. The prime objective is to prevent businesses from evolving and growing safely in the market.
Increases productivity by making the best use of resources.
A modern resource scheduling system can predict in advance how the workforce will be used strategically and for billing purposes. It can assist you in transferring workers from non-chargeable or low-priority tasks to projects that are billable or of high priority.
For a professional service business to be profitable and sustainable, billable utilization is a crucial KPI. And a well-renowned resource scheduling software can help you smartly schedule your resources and get the best value for them in your growth landscape.
Real-time financial reports help to reduce project expenditures in advance.
Resource scheduling tools can track critical financial metrics for a project, such as resourcing costs, revenue, profit margins, and overheads. It can assist you in taking decisive action and controlling project scheduling costs. It eliminates the need to maintain long spreadsheets and perform manual processes for resource management. It cut-down the stationary cost and save workforce efforts.
Use a Centralized tool to your advantage to complete more projects with fewer resources.
A cross-functional, shared services model is encouraged by modern business practices to improve team engagement, cooperation, and workforce upskilling. Project managers can save money by using internal channels to find interdepartmental resources rather than paying for additional hiring expenses. Most resource scheduling software has an intuitive and smart dashboard that keeps you connected and updated with all real-time updates via a single platform.
A reliable resource scheduling tool can be your best bet to manage your resources better and utilize the best value of it.
If you are looking for the best resource scheduling tool for your business, Talygen would be your best pick. Talygen is one of the best resource scheduling tools, offering intuitive and advanced resource scheduling to all-sized businesses. The software feature an expansive range of modern functions that helps businesses to utilize resources better and get the best outcome.
To get detailed insights about Talygen, sign up today and book an online live demo at www.talygen.com/registrationnew/step2.