Thursday, September 14, 2023 | Screenshot Tracking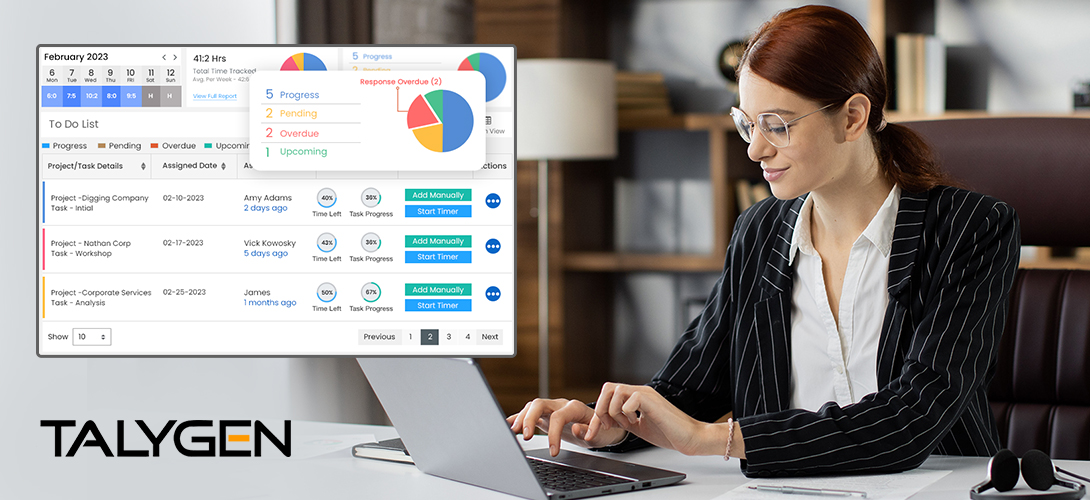 In the business world, staying organized and managing tasks efficiently can make all the difference between success and stagnation. However, juggling tasks can often feel like trying to catch falling stars. We all have endless to-do lists, and getting overwhelmed is easy. That's where task prioritization comes in, like a guiding star in the night sky. So, it's essential to focus on what truly matters. Task prioritization is the key to boosting productivity, meeting deadlines, and ultimately growing your business. But how can you become a task prioritization pro? Well, you are in luck! We will explore why task prioritization is crucial and introduce you to the tools that can help, including remote team monitoring. Read on to learn more about the importance of task prioritization and introduce you to a powerful tool – Talygen's time tracking with screenshots that can help you prioritize tasks like an expert.
The Importance of Task Prioritization
Let's break it down. Task prioritization helps sort your tasks by importance. It helps you decide what to tackle first and what can wait. Why is this so important? Task prioritization is your map, showing you the most innovative method to overcome the situation. With Talygen, you can easily track time with screenshots and clearly understand your business and work progress. Here's why it is essential for your business:
Meeting Deadlines
Prioritization ensures that critical tasks are addressed first, helping your team meet project deadlines and deliver results on time.
Balancing Priorities:
It allows you to balance tasks that need immediate attention and those that are strategically important in the long term.
Increased Productivity
By focusing on high-priority tasks, you use your time and energy more effectively, increasing productivity.
Stress Reduction
Unclear priorities and missed deadlines lead to stress and overworking. Time tracking with screenshot provides clarity and prevents burnout.
Simplified Project Timelines
With clear task lists and priorities, project timelines become simple and consistent, reducing confusion and delays.
No More Burnout
When you know where to focus, you avoid the stress of last-minute rushes and prevent exhaustion.
Client Satisfaction
Prioritization lets you promptly cater to work-related emergencies and high-value clients, keeping stakeholders happy.
Rescheduling Tasks
For individuals prone to delays, task prioritization helps identify the next task, making it an essential tool for fighting interrupted workflows.
Need of Time Tracking for Task Prioritization
Talygen's online time tracking with screenshots is a digital assistant that tracks your work online and takes screenshots to show what you are doing. It helps prioritize tasks and keeps your remote and hybrid team on track. It's like having an extra set of eyes to ensure everyone's working efficiently. A time tracker with screenshots is your timekeeping buddy. It helps you track how much time your employees spend on each task and provides screenshots as proof. This can be a real eye-opener for identifying where your time goes.
These tools are like task prioritization superheroes, making your life easier and more organized. They bring clarity to your tasks, help you manage your time effectively, and keep your team on the right track, no matter where they are. Moreover, remote team monitoring tools let you closely monitor your team's progress, ensuring everyone's aligned with the priorities.
So, there you have it! Task prioritization is your secret weapon in the battle of tasks, and these tools are your trusty sidekicks. With them by your side, you will overcome your to-do list like a true professional and focus on work confidently.
Tools for Effective Task Prioritization: Talygen
Mastering task prioritization is valuable, but employing the right tools can take your efficiency to the next level. Let's explore more about Talygen, your partner in transparent productivity enhancement.
Talygen is a comprehensive time tracking software with screenshots designed to bridge the gap between productivity enhancement and employee well-being. Here's why Talygen stands out:
Transparency
Talygen provides transparency by capturing screenshots of employees' work activities. This transparency empowers employees to make informed decisions about time allocation.
User-Friendly Interface
Talygen offers a user-friendly interface that makes it easy for employees and managers to use. You don't need to be a tech wizard to navigate the platform.
Remote Team Monitoring
The recent remote work environment includes monitoring your team's activities more critically than ever. Talygen's remote work tracking software provides real-time insights into your remote team's work, helping you manage them effectively.
Versatile Features
Talygen is not just a remote employee management software. it offers many features. It's a one-stop solution for all your business needs, from time tracking and project management to expense tracking and invoicing.
Legal Compliance
Talygen ensures compliance with legal standards, making it a trustworthy business choice. You can rest assured that your data is handled with the utmost care.
Enhanced Productivity
With Talygen, you can identify productivity bottlenecks and areas of improvement within your team. This data-driven approach leads to enhanced productivity and better decision-making.
Boosting Task Listing Procedures with Talygen
In a world where remote work and digital collaboration have become the norm, Talygen's time tracking with screenshot offers a harmonious blend of insights and innovation as it provides a vision of the future of work. Businesses can get a clear idea of how your team spends their time, what tasks they are working on, and where improvements are needed—all at your fingertips. Talygen empowers you to make data-driven decisions and steer your business toward growth and success.
Task prioritization is the key player in project management and business growth. It's the helping hand that keeps your team motivated, productive, and your clients satisfied. To truly excel in boosting productivity, track time with screenshots with Talygen and bring transparency, efficiency, and productivity to your business operations.
Don't let work delays, disorganization, or lack of insights hold your business back, and watch your productivity rise. Time is of the essence—start prioritizing tasks like an expert today.
Choose Talygen's online time tracking with screenshots for transparent productivity enhancement. To know more about the software, check out now- www.talygen.com/time-tracking-with-screenshots.
You can also call our expert for assistance at - 650-800-3850 anytime.