Thursday, October 12, 2023 | Time Tracking Software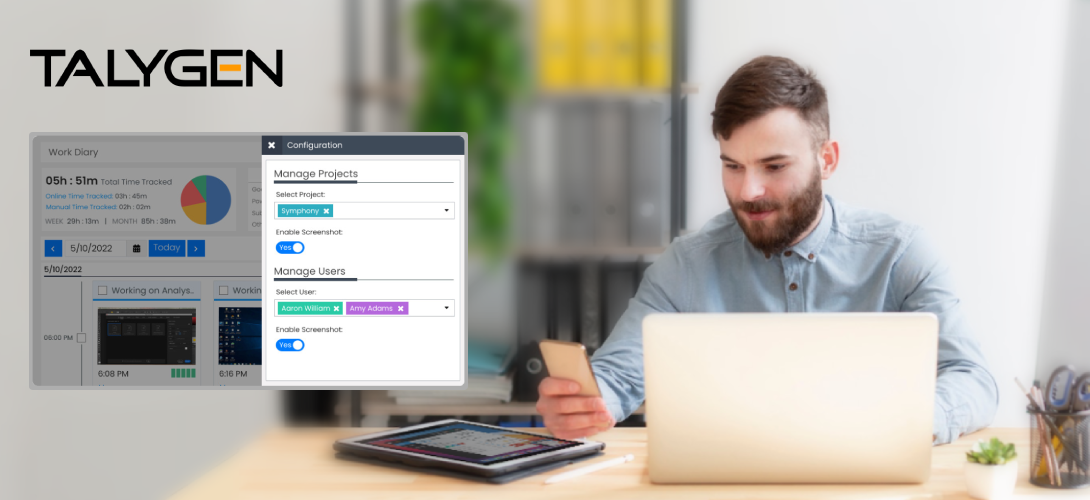 Understanding how one allocates their time is a potent tool. As the age-old saying goes, "What is measured, is managed." As an independent contractor, I assume all roles within my business, necessitating carefully safeguarding my time. I meticulously document the duration of each client project and business task to ensure that I neither undervalue extensive projects nor burden myself with an excessive workload.
However, even if one is not a sole proprietor, numerous reasons exist to monitor and record time usage. These range from accurately documenting billable hours to enhancing personal productivity and streamlining business operations. time tracking with screenshot applications facilitates this practice by simplifying the process, ensuring accuracy, and promoting consistency.
The most exceptional time tracking with screenshots applications possesses an integrated timer and the ability to adjust or add time entries manually. They enable users to attribute time records to specific tasks and projects while providing comprehensive reports and invoicing functionalities to convert tracked time into revenue. After evaluating numerous tools, I have identified the top 3 time tracking with screenshots applications suitable for individuals and small teams.
5 Criteria to Choose the One for Your Team!
When evaluating the most suitable time tracking with screenshot applications, we consider the following criteria:
1. Real-time tracking with screenshots
Most time tracking software with screenshots allows users to track their time in real-time. This means they provide a running clock initiated when starting a task and can be paused or stopped upon completion.
2. Ability to edit or manually add time blocks
The top-notch apps enable users to make corrections to the tracked time after the fact. For instance, if a timer is accidentally left running during a lunch break, the time log should be editable to deduct the minutes not spent working. Additionally, an app should allow users to enter a block of time retrospectively in case they forget to start a timer. For example, if a 20-minute consulting call is taken without initiating a timer, it is important to be able to log and bill for those hours worked.
3. Reporting features
The most advanced time tracking with screenshots apps offer comprehensive dashboards and reports, allowing users to analyze the daily, weekly, or monthly time spent. Projects, individuals, or clients can break down these reports.
4. Ability to create invoices or export data
Once all the time spent on work is aggregated, taking action based on that information is crucial. All these apps provide the functionality to automatically generate invoices using time tracking with screenshots of data stored within the app. Alternatively, they allow users to export the information into PDFs, CSVs, or Google Sheets, which can then be shared with the relevant individuals.
5. Multiple points of access
The finest time trackers with screenshots ensure that starting a timer is effortless and convenient. Depending on the most convenient, they offer versatility by allowing users to initiate a timer from various platforms, such as a browser, desktop application, or mobile device.
#1 Talygen: Pioneering time tracking with screenshots with Screenshots
Regarding efficient time tracking with screenshots with the added benefit of real-time screenshots, Talygen emerges as a frontrunner in the industry. This comprehensive software solution combines simplicity and sophistication to assist businesses of all sizes in managing their time and enhancing productivity.
The standout feature of Talygen's offering is its capability to capture real-time screenshots. This functionality ensures transparency and empowers managers to monitor their team's activities as they occur. Visual evidence of work enhances accountability, making it a potent tool for maintaining peak productivity, particularly in remote work environments.
Talygen also excels in generating customized reports, providing valuable insights into project and task allocation. The software seamlessly integrates with popular project management and collaboration tools, streamlining workflow and minimizing errors.
In conclusion, Talygen's Time Tracker with Screenshots is a game-changing solution for organizations seeking improved productivity and accountability. Its intuitive design, real-time screenshots, customizable reporting, and seamless integration make it the preferred choice for businesses aiming to optimize their time management processes.
#2 Toggl Track
Toggl Track operates seamlessly primarily due to its minimal requirements when initiating the timing of a task. Unlike many other time tracking with screenshots applications, Toggl Track does not necessitate the input of a client, project, or task into your account before allowing you to track time. Without such information, other apps would require you to temporarily set aside your task and enter the required details. However, with Toggl Track, you can immediately commence tracking your time and subsequently review your recorded time entries in either a grid or calendar format, deferring the consideration of specific details to a later time.
Furthermore, when utilizing Toggl Track through the Chrome or Firefox browser extension, a Toggl timer button becomes accessible within virtually any web application imaginable, ranging from Google Docs (and other Google applications) to Help Scout. This constant visibility of the Toggl Track button while you are engaged in your work is a continuous reminder to track your time diligently.
#3 HourStack
The strength of HourStack lies in its simplicity. There is no risk of becoming overwhelmed or distracted by complex settings or interfaces. The Calendar page allows users to view their planned tasks schedule and record work time. The Reports page, which clients, projects, and labels can filter, compares scheduled and logged hours and the number of completed tasks. Additionally, the browser extensions for Chrome, Firefox, and Microsoft Edge enable users to quickly add or start tracking project time without the need to input a task or project beforehand.
If you need to connect HourStack to a tool that is not supported natively, you can create your own HourStack integrations using Zapier. This allows you to connect HourStack to thousands of apps, enabling you to coordinate your time tracking with screenshots in the most helpful manner.
The right time tracking with screenshots app takes the guesswork out of scheduling and accounting for your workday. Easily start and stop timers, manually add or edit time entries, and export or review your data for more accurate invoicing and planning. And you can save even more of your valuable time by automating the data flow between your other apps and your time tracker of choice.
That way, you're spending your time where it matters most.