Wednesday, May 03, 2023 | Field Service Management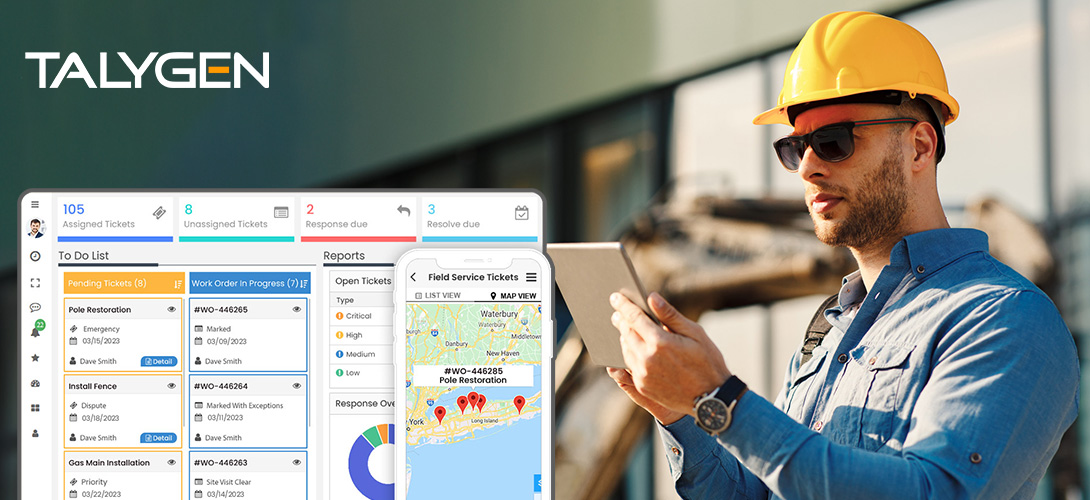 Field service management (FSM) software is a useful resource for companies that often perform operations outside of the office. Businesses can benefit from using FSM software to make the employee scheduling process more efficient. Other benefits of FSM software include using GPS tracking to plan optimal routes to job sites and knowing employees' whereabouts. Many FSM solutions like Talygen also include mobile apps so workers can view and access customer information while in the field. In this blog post, we will discuss how various industries can benefit from integrating FSM software into their workflows.
1. Pest Control
Pest control companies can greatly benefit from adopting field service management software. Customers can access the customer portal and send a help ticket request. Managers can then assign a technician to the job based on availability and experience. Technicians can use an embedded GPS in the app to plan optimal routes to job sites. Also, technicians can use the software's time-tracking feature to measure how long it takes for them to complete a work order. This information can then be reflected in the invoices sent to customers afterwards.
2. Roofing
Roofing companies can use FSM software to improve the quality of their services. Managers can use dynamic scheduling and dispatching to assign workers to job assignments. Workers can also use connected digital workflows to obtain customer data such as addresses, contact details, and service history before arriving at the job site. Also, workers can use the software's GPS to ensure they arrive at job sites on time. Many FSM solutions include time trackers and invoicing software that can work together to ensure customers are charged accurate amounts in exchange for services.
3. HVAC
HVAC (heating, ventilation, air conditioning) companies can also use FSM software to ensure the right technician is assigned to the right job. HVAC companies can use features such as dynamic scheduling, GPS tracking, real-time data transfer, time tracking, and invoicing.
4. Telecom
Another industry that can benefit from using FSM software is telecommunications. Telecom companies can use FSM software to view and manage work orders and assign employees accordingly. Employees can use GPS tracking to obtain optimal routes, while managers are able to monitor their locations at all times.
5. Construction
The construction industry can also benefit from using FSM software. Managers can easily view and manage all company aspects through a single pane of glass. The information on the dashboard can include current work orders and projects, employee location, and equipment usage. Managers can also use dynamic scheduling to assign workers to tasks based on their skills and availability. FSM platforms like Talygen include real-time data transfer so any workers in the field instantly get any updates on their smart devices. Talygen also integrates with 811 call centers across the US to ensure workers are always safe when working on projects involving digging.
6. Healthcare
The healthcare sector can also use FSM software to improve workflows. Users can view patient information from any device and location using the FSM software's mobile app. Users can also track the locations of pieces of medical equipment. Another way that hospitals and healthcare companies can use FSM software is that users can be assigned tasks via dynamic scheduling and dispatching.
7. Oil and Gas
Oil and gas companies can also benefit from adopting the use of FSM software. The oil and gas industry can use FSM software by using dynamic scheduling to quickly and easily assign tasks to staff members. Field workers can use mobile field service management software to view company updates instantly via their smart devices. Managers can view and create reports on various company metrics via a centralized dashboard.
As you can see, various industries can benefit from using field service management software. While many FSM solutions are available on the market, Talygen is the most efficient. Talygen includes useful features like time tracking, invoicing, GPS integration, dynamic scheduling, heat maps, and advanced zone management. Contact Talygen today to sign up for a free trial!