Thursday, April 13, 2023 | Field Service Management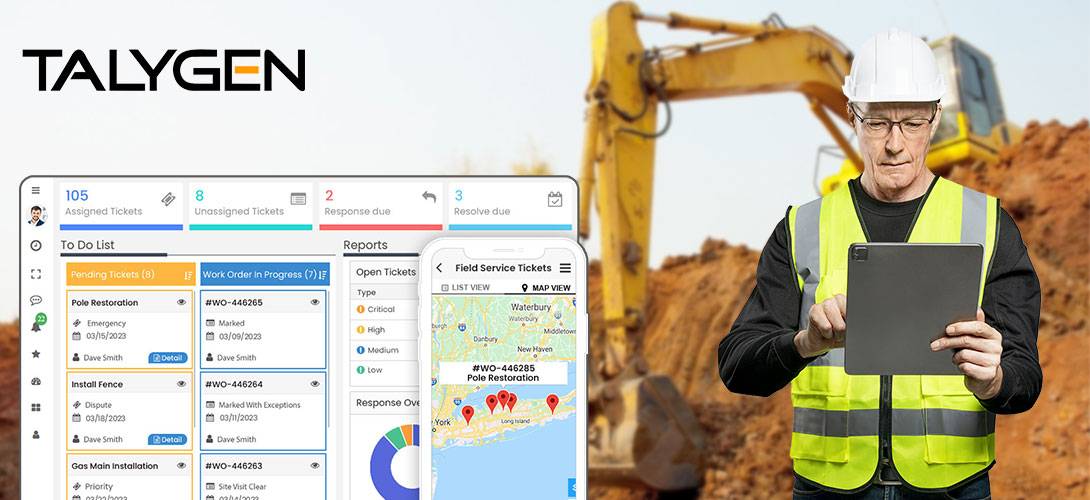 Happy National Safe Digging Month! As the weather gets warmer, you may be planning to start an outdoor project at home. Maybe you're wanting to plant a small tree or install a swimming pool. No matter how big or small, it's important to become familiar with and follow safe digging practices if your project requires digging.
Damages to underground utility lines that may occur when digging can be dangerous for you and your neighbors. Let's learn more about National Safe Digging Month and the safe digging practices you should follow to help prevent damage to underground utilities.
About National Safe Digging Month
Beginning in 2005, 811 has been designated as the national one-call number for anyone planning a digging project in America by the U.S. Department of Transportation's Pipeline and Hazardous Materials Safety Administration (PHMSA). National Safe Digging Month was established in 2008 to promote awareness of safe-digging practices throughout April, when digging activity typically begins nationwide.
The goal of the PHMSA and other damage prevention organizations like Common Ground Alliance in recognizing National Safe Digging Month is to remind everyone to call 811 a few days before any home or commercial digging project in an attempt to prevent or reduce damage to underground utilities, property, and life.
4 Steps to Safe Digging
1. Call 811
The first step to any successful home or commercial digging project is to call 811 or go to your state 811 center's website to request a utility locate. You will be connected to your local underground utility operators who will mark the approximate location of nearby buried utility lines with paint or flags so that you don't unintentionally cause damage to them while digging. These buried lines can consist of major utilities such as natural gas, electric, telecommunications, water, and sewer lines, making damage prevention all the more crucial.
It is recommended to contact 811 about your request a few business days before you begin digging. Different states require varying amounts of advance notice, so don't wait to get in touch with your state's 811 center! Remember that no digging project is too small to call 811. It is up to all of us to practice safe-digging practices and help prevent damage to critical underground utilities.
All you need to request a utility locate of your desired digging location is the address of where you plan to dig, including the county and nearest cross street, the type of project you're completing, and the exact area on the property where you're planning to dig. In a few days, you should receive a response to your request from each utility group confirming that all buried lines have been marked. Once you've received approval from every utility operator, you are ready to break ground!
2. Protect Yourself
Just as important as protecting buried utility lines is protecting yourself! Be sure to wear proper personal protective equipment (PPE) when digging and avoid muscle strain. It is best to alternate shoveling between your right and left sides and turn your entire body to move the dirt instead of only twisting your torso. Take breaks to prevent fatigue, and remember to wear plenty of sunscreen!
3. Use Safe Hand-Digging Techniques
It is best to use a rounded or blunt-edged shovel when digging as opposed to sharp tools like pickaxes or pry bars, which may puncture underground lines. Begin by digging off to the side of the marked utility line, using a gentle, prying motion to break away soil as you approach the utility.
Always proceed with caution – don't assume that marks are accurate or that you know how deep the utility must be buried. If you are digging within 24 inches of the outer edge of underground utility lines, use smaller hand tools to avoid causing damage. Dig until you find the actual line and try not to stab at the soil or stomp on the shovel with both feet to remove dirt.
4. Report Damage Right Away
Any damage to an underground utility — no matter how big or small — can have catastrophic consequences for future excavators or the general public if unreported. Even minor damage to a utility line should always be reported to the appropriate utility company to allow them to make timely repairs.
If you happen to hit an underground utility line while digging, be sure to clear the area right away and keep your distance. Be mindful of any substances, such as natural gas, that may have started to leak from the ruptured line. If you smell gas, call 9-1-1 as it can potentially be a threat to you and other nearby structures affected by the line. Finally, inform the relevant utility company of the situation to receive guidance and learn about the next steps.
The Dangers of Unsafe Digging
Failure to follow safe digging practices can result in various consequences, including serious personal injury or even death, costly repairs and fines, and inconvenient service disruptions for yourself or your community. It is estimated that more than 49 million Americans will put themselves and their communities at risk this year by not contacting 811 before digging. Following the guidelines outlined here will help you stay out of trouble and complete your digging project without issue or injury.
About Talygen
Talygen is a provider of business automation solutions offering a comprehensive field service management software to help the damage prevention industry achieve zero damage in field operations. Talygen FSM is designed to streamline critical functions involved in field service operations to simplify the work of locators, excavators, and other field service workers.
We are proud to partner with 811 centers nationwide to advance the message of safe digging during National Safe Digging Month and year-round. Visit talygen.com/damageprevention to learn more about Talygen FSM today.