Friday, June 09, 2023 | Resource Scheduling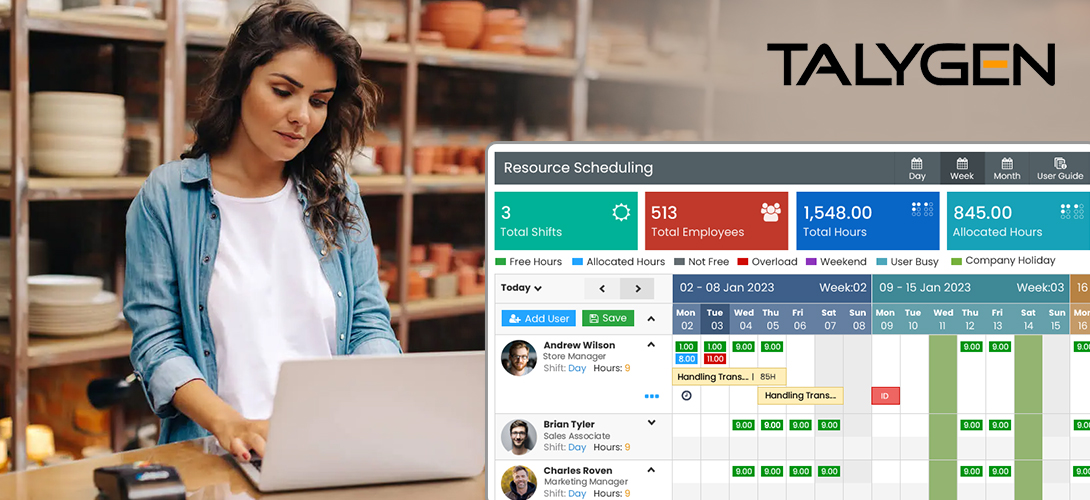 The retail industry is one of the largest sectors in the United States, employing approximately 32 million people. Retail managers and owners, from managers of big box chains like Walmart and Target to owners of locally-owned stores, need ways to determine which employees work each shift. However, manually filling out employee schedules doesn't work anymore. There is always the chance of an employee being scheduled for a shift when they are unavailable. Using Excel to create employee spreadsheets can also be tedious and time-consuming. The best way to resolve these issues is to use resource scheduler software.
More retailers are starting to adopt the use of resource scheduling tools to efficiently schedule workers for shifts through the internet. Many resource schedulers include time trackers to measure productivity and charts and graphs to display analytics on worker performances. Some examples of resource planning and scheduling software solutions that can be used by retailers include Talygen, Homebase, Connecteam, ZoomShift, and Deputy.
1. Talygen
Talygen's resource planning and scheduling software is a valuable tool for retailers to use. With this resource scheduling tool, retail managers can easily assign workers for shifts via a drag-and-drop interface. This information can be displayed in Gantt charts or Kanban boards for easy viewing. Managers can easily adjust schedules from Talygen's mobile app or desktop website. Employees can request time off through Talygen's leave management module. Managers can then give the shifts to another employee. Talygen includes a time tracker where staff can track their shifts and helps determine how much employees should be paid for each period via timesheets. Another benefit retailers can gain from using Talygen is that the software can integrate with QuickBooks and Workday. If retailers are looking for an efficient resource scheduling tool, they should use Talygen!
2. Homebase
Homebase is a resource scheduling tool that retailers can benefit from using. Managers can use the employee scheduler from any device to create schedules on the go. The staff can use Homebase's time clock to track how long they work each shift. With the time clock, users can clock in and out using their smartphones or tablets. The time clock helps improve the accuracy of employees' paychecks through the timesheet function. Staff members can request days off through the software. Another benefit that retailers can gain from Homebase is that it can integrate with QuickBooks. However, a disadvantage some retailers might face when using Homebase is that the software can run slowly at times.
3. Connecteam
Retailers can efficiently schedule and manage their workforce by using Connecteam. Managers can quickly and easily schedule employees for shifts. These schedules can be done in advance so any changes like employees going on vacation or taking sick days can be accommodated. The time clock app can be used by workers to clock in and for managers to measure how long shifts took. However, some retail companies may hesitate to use Connecteam as their resource scheduler software system because the pricing can be somewhat expensive for smaller businesses.
4. ZoomShift
ZoomShift is a scheduling solution that retail stores can use. The software allows for managers to create schedules and for employees to clock in and out. Managers create schedules using a drag-and-drop interface. Adjustments can be made via the mobile app. Managers can use the timesheets collected by the software to ensure that employees are paid properly and prevent errors from occurring. Another benefit of ZoomShift is that managers can instantly reschedule employees if a staff member takes time off. However, a downside of using ZoomShift is that it does not have a function to process payroll within the application.
5. Deputy
Deputy is a resource planning and scheduling software that retailers can use. Like other resource scheduling tools, Deputy allows managers to create employee schedules and assign them to shifts. This can be done through the mobile app. Another benefit of Deputy is that it includes a time tracking tool. The time tracking tool measures how long staff members work each day. Deputy can also integrate with tools like QuickBooks. However, a disadvantage of using Deputy is that the Android app has less functionality than the iPhone app.
To improve the scheduling process, retailers should use resource scheduling software. If retailers want to use the best resource scheduling tool, they should use Talygen. Talygen includes a wide range of business automation tools. To learn more, visit Talygen to request an online demo.