Friday, June 16, 2023 | Resource Scheduling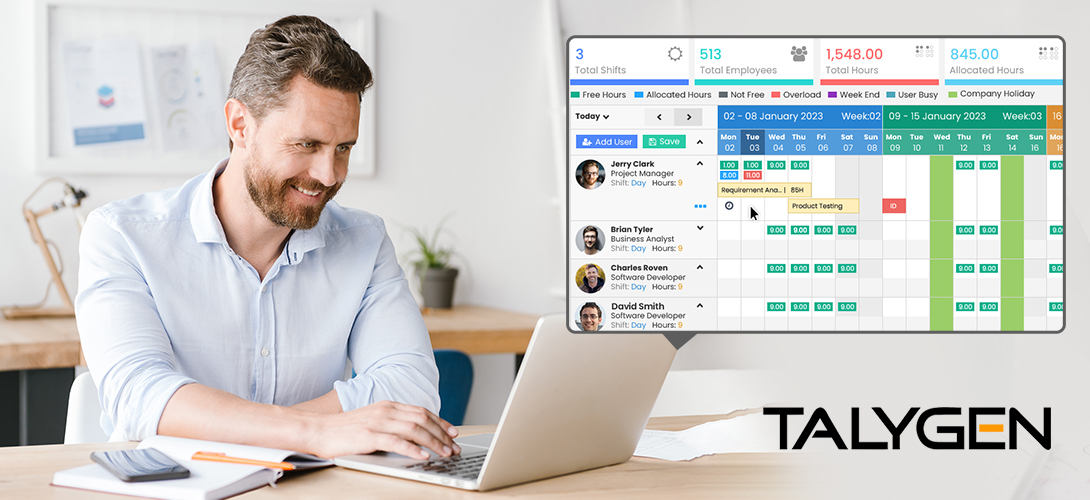 In today's fast-paced business world, scheduling employees can be a time-consuming and challenging task for managers. With so many variables to consider, such as employee availability, workload, and shift preferences, ensuring everyone is assigned the appropriate tasks at the right times can be difficult. Fortunately, many software tools are available that can simplify the scheduling process and ensure that resources are allocated effectively.
One of the most popular types of scheduling software is resource planning and scheduling software. This type of software is designed specifically to help businesses manage their workforce by automating the scheduling process. Resource scheduling tools typically include features such as shift planning, time tracking, and task assignment. Resource scheduler software is particularly useful for businesses with a large number of employees or complex scheduling requirements, such as those in the healthcare, retail, or hospitality industries.
Benefits of Using Resource Scheduler Software
The benefits of using resource scheduler software are numerous. First and foremost, it can save managers a significant amount of time by automating many of the tasks associated with scheduling. These tasks include creating schedules, assigning tasks, and tracking time and attendance. With scheduling software, managers can easily view resource availability and quickly assign tasks based on their skills and experience.
Another key benefit of resource scheduler software is that it can improve communication between managers and resources. Many resource scheduling tools include features that allow employees to view their schedules, request time off, and trade shifts with other employees. This can help reduce confusion and ensure everyone is on the same page regarding scheduling.
In addition to simplifying the scheduling process, resource scheduler software can also improve productivity and efficiency. By accurately assigning tasks and ensuring that employees are working at the right times, businesses can optimize their workforce and ensure that they are making the most of their resources. This can lead to increased profitability and a more satisfied workforce.
Choosing the Right Resource Scheduler Software
When choosing resource scheduler software, there are several factors to consider. One of the most important factors is the level of customization and flexibility offered by the software. Businesses with unique scheduling requirements, such as those with employees who work irregular schedules or those with multiple locations, may need a tool that allows for more advanced scheduling options.
Another important factor to consider is the level of integration with other software tools. Many resource scheduling tools integrate with other HR software, such as time and attendance tracking, payroll, and benefits management. This can help streamline the HR process and reduce the time and effort required to manage the workforce.
Other factors to consider when choosing resource planning and scheduling software include the level of support offered by the software vendor, the software's cost, and the software's ease of use. It is essential to choose a software tool that meets the business's specific needs and is easy for employees and managers to use.
Best Practices for Using Resource Scheduler Software
There are several best practices that businesses should follow to ensure that they are making the most of their resources. First and foremost, it is important to regularly review and adjust schedules based on changing business needs. This includes reviewing employee availability, workload, and task assignments to ensure that everyone is working at the right times and on the right tasks.
Another best practice is communicating regularly with employees about their schedules and tasks. This includes providing clear instructions on tasks and deadlines and periodically checking in with employees to ensure they have the resources and support they need to succeed.
Try Talygen!
Talygen is a business management automation software with resource-scheduling tools designed to streamline your scheduling processes. With features such as drag-and-drop rescheduling, automated alerts to notify you about overbooking resources, and easy task assignment, Talygen delivers all the tools you need to manage your workforce's schedules. Visit Talygen's resource scheduler software web page to learn more.