Thursday, June 08, 2023 | Resource Scheduling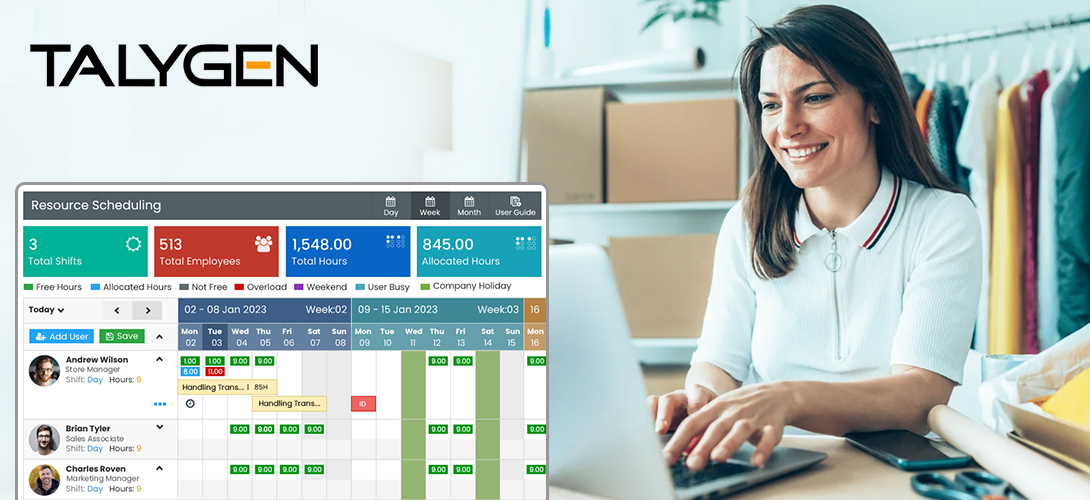 The process of ensuring that important tasks are completed on time can be hectic. This can be even more complicated for small businesses since they have less staff and more limited resources than large corporations. However, small business managers can make this hectic process easier when they use resource scheduling tools. Investing in a resource planning and scheduling software solution like Talygen can help small businesses reach their goals and increase customer satisfaction.
What is a Resource Scheduling Tool?
A resource scheduling tool is a software program that allows managers to assign workers to tasks. The scheduling process is typically done through a drag-and-drop interface. Most resource scheduler software systems allow for workers to be assigned to tasks based on their skills and current availability. If employees take time off from work, managers can reassign their tasks to different users.
How Can Small Businesses Benefit From Using Resource Scheduling Tools
Small businesses can gain many benefits from implementing resource scheduling tools into their workflows. Some of these benefits will be explained in more detail below.
Saves Time
When small businesses invest in resource planning and scheduling software, they can save time. By using resource scheduling tools, small business managers no longer have to perform the tedious task of manually filling out employee schedules. Instead, this can be done instantly through the software's drag-and-drop interface. Tasks can easily be reassigned if employees are out of the office due to vacation or illness. Also, using resource scheduling software reduces the chance of human error and time won't be wasted fixing these errors.
Increase Productivity and Efficiency
Small businesses can increase their productivity and efficiency when they make use of out of resource scheduling software. Many resource scheduling tools allow for tasks to be assigned to users based on their skill sets and availability. This way, managers can ensure that staff members are working on the tasks that they are best suited and trained for. When workers are assigned to tasks they are skilled in, projects get completed faster. When projects are completed more quickly, it can increase customer satisfaction levels.
Better Project Planning
Small business managers can plan projects more efficiently when they use resource scheduling tools. Many resource schedulers include project forecasting, so managers can schedule team members for tasks in advance. Many resource schedulers include Gantt charts and Kanban boards so project managers can easily see project information and efficiently plan ahead. Using these tools can also help project managers detect bottlenecks and resolve them before they become detrimental to the project's success.
Avoid Employee Burnout
When employees are experiencing burnout, they are not performing their best work. For this reason, many resource scheduling tools notify managers if they try to schedule a worker that has already been scheduled for a task. This is important in small businesses, where there are fewer staff members to take on tasks.
Make Payroll Easier
Small businesses can make the payroll process easier when they use resource planning and scheduling software. Resource schedulers simplify the payroll process by making use out of time trackers. Employees can use the time tracker to measure how long it takes them to complete tasks. Managers can then use the data from the time tracker to pay employees accordingly.
Resource scheduling software systems are valuable tools for small businesses to use. Resource scheduling solutions provide small businesses with many benefits. If small business managers want to use the most efficient resource scheduling tool, they should use Talygen.
Talygen's resource scheduling software includes features such as a drag-and-drop interface, a time tracker, and project forecasting. Talygen also includes modules such as billing and invoicing, customer relationship management, asset management, reporting, expense tracking, and cloud-based document storage. Talygen provides the best business automation solutions to companies of all sizes and industries. To learn more about Talygen's resource planning and scheduling software, visit Talygen to view packages and sign up for a free trial.