Friday, May 27, 2022 | Expense Tracker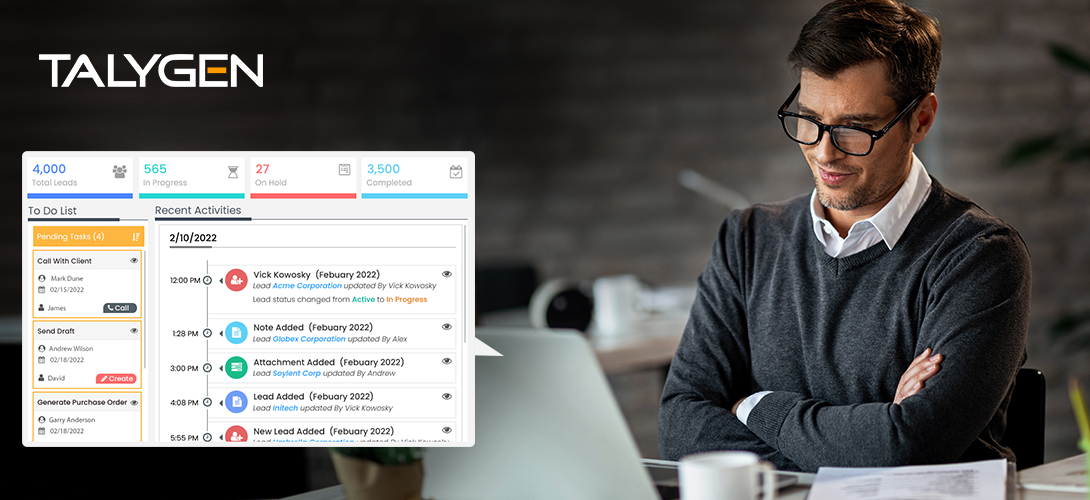 Since the healthcare business is more vital than ever, hospitals and healthcare organizations must efficiently arrange their workforce, assets, and patients' information. The healthcare industry continuously adapts to new technological advances—one of the fastest-growing customer relationship management (CRM) software utilization trends. CRM solutions are typically employed to help businesses secure sales and organize client information. Nevertheless, CRM software is equally applicable to the healthcare industry. Utilizing CRM software in the healthcare industry is advantageous because it can be accessed from any internet-connected device. Hospitals and healthcare organizations require methods to streamline patient interactions, boost patient support activities, attract new patients to the hospital or practice, and boost productivity. Talygen is an all-inclusive software system that offers a variety of solutions, including personnel administration, time tracking, asset management, customer relationship management, and appointment scheduling. Hospitals and healthcare organizations can utilize Talygen, Zendesk, Caspio, PatientPop, NexHealth, and Leadsquared as CRM systems.
Advantages of CRM Software
1. Enhancing Communication
Healthcare organizations and hospitals might utilize CRM software to streamline and organize patient communications. The dashboards of CRM systems can display patients' email addresses, phone numbers, and other contact information. Doctors and nurses can access previous patient communications. In addition, users can input patient-specific information such as prescriptions and allergies. Users of CRM systems such as Talygen can contact patients via email, telephone calls, video chatting, and instant messaging. There are also instances when healthcare workers must communicate with other contacts in their network, such as physicians from another hospital or pharmaceutical suppliers. Users can then generate personalized reports on patient communications and additional contact information.
2. Increasing Support for Patients
Using CRM software can also enhance the hospital's or practice's customer service operations. Numerous CRM software solutions provide a client portal. Patients can read and download sensitive papers uploaded by their doctors through this client portal. Patients can also examine and pay invoices from their previous visit through the client site. Recurring patients have the option to pay their bills in advance. Numerous CRM software solutions are compatible with invoicing software systems like QuickBooks.
3. Increasing Patient Visits to the Practice
The healthcare business can also utilize CRM software to recruit new patients to hospitals and practices. The campaign management section of CRM systems like Talygen can be used to develop and send targeted email campaigns. Talygen also contains a lead management module that may be used to track how a lead converts into a practice patient.
4. Boosting Productivity
Additionally, healthcare organizations and hospitals can boost organizational productivity with CRM software. Healthcare professionals can view what their peers have accomplished utilizing CRM software by accessing the dashboard. Managers and administrators can also assign tasks to staff. Uploading notes to the system enables users to keep track of patient-related data and functions performed.
Considerations Before Implementing CRM Software
CRM software may not be appropriate for all hospitals and medical practices. Many smaller hospitals and medical offices find it redundant and cumbersome. Many CRM systems have a steep learning curve, and it may take too much time for managers to train employees on how to use the software. However, the advantages of CRM software exceed the disadvantages.
Conclusion
Utilizing CRM software is advantageous for healthcare organizations and hospitals. Using CRM software in the healthcare industry can streamline patient communication, increase patient support activities, attract more patients to the hospital or practice, and boost productivity. Talygen is a CRM system utilized by the healthcare business. To learn more about Talygen's CRM system, please visit www.talygen.com/crm.