Wednesday, October 20, 2021 | Field Service Management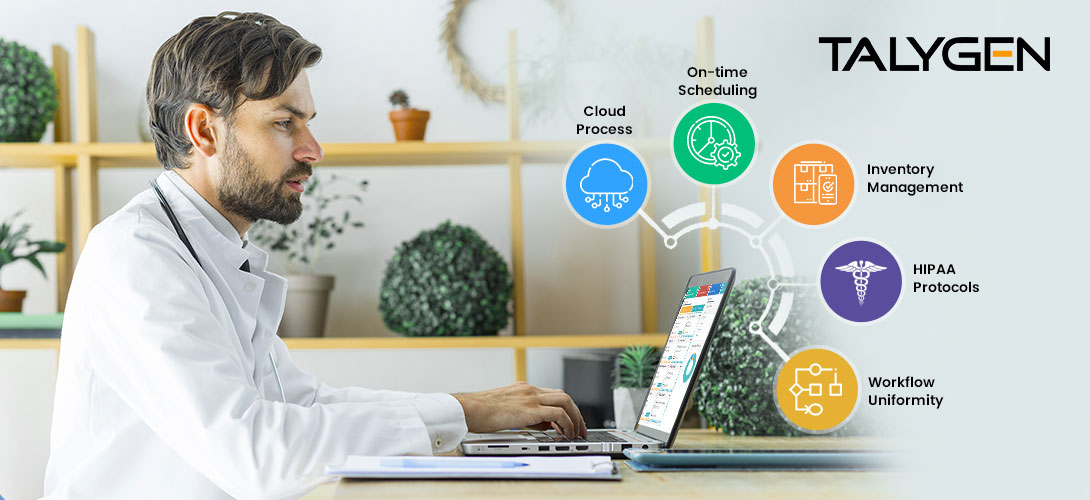 Since the Covid-19 hit the entire world, the essence of the healthcare Industry runs in the leading league. Now, a quick response acts as a life element for the patients of hospitals. Due to that, Healthcare Industry wants to get fast & right personnel, supplies & equipment at the right time.
Well, it seems pretty challenging, but not impossible!
This is where reputable Healthcare tycoons found a great solution named Field Service Management Software. It helps them to streamline & optimize their business process smoothly. It is also stand-out as "FSM Software for healthcare" and can simplify their tasks.
If you are new to Field Service Management Software, first, we will do a brief discussion on FSM Software.
What is Field Service Management Software?
Field Service Management (FSM) is software that operates the field practices of a team of service providers using a cloud/mobile system. Nowadays, it is software that is behind almost every industry, including proficient teams.
Field Service Management (FSM) Software assist you:
Manage workforce
Manage Invoices & Billing
Perform Back-office tasks
Manage Stock
Gather & Maintain Data & Documents
Now, our question lies here how it proves beneficial for Healthcare Professionals? So, let's take a glance below!
Top 5 Advantages of Field Service Management Software for Healthcare Industry
Cloud Process
Field Service Management Software promotes paperless procedures for healthcare professionals. It conserves a lot of time consumed in paperwork creations. Moreover, it eliminates the scenarios of data loss & duplicate entries that happen sometimes.
By choosing the right Field Service Management Software for Healthcare, there is no longer a need to collect, record, and store data manually because everything is performed on the cloud. As a result, details will be managed more valuably.
On-time Scheduling
Effective Scheduling is a one another benefit gained from Field service management software. Here, choosing the best Field Service Management Software for healthcare professionals will refine the appointment process and enhance the productivity & efficiency of the healthcare team.
Field Service Management Software has scheduling functionality that simplifies the patient's appointment process alongside maintenance of equipment. It ensures the right personnel & tools are provided when & where it is needed without any delicacy or omission.
Inventory Management
Healthy Inventory requires high preventive maintenance to ensure medical equipment like surgical robotics, MRI Machines, and various others remain in working condition. Due to the high complication in medical equipment, these are only maintained by their manufacturers. This is where Field Service Management Software simplified field services for healthcare manufacturers who implement preventative preservation. In this way, medical tools are delivered securely & professionals are able to serve better & cost-effective care to patients.
HIPAA Protocols
HIPAA stands for (Health Insurance Portability and Accountability Act) ensures patient information protection. Thenceforth, it is crucial for healthcare businesses to remain HIPAA compliant within their business processes. Here, Field Service Management Software ensures that healthcare businesses following such protocols to save them from heavy fines of non-compliance.
Workflow Uniformity
Field Service Management Software for the healthcare industry ensures workflow standardization. However, if FSM Software is used to maintain the records of workflow, documents, schedules, equipment, and dispatching, healthcare professionals can smoothly keep track while making the most of their processes.
Sum-Up
In summing up, Field Service Management Software enables the healthcare industry to smoothly execute its business processes in any environmental condition. The reason is everything is performed on the cloud.
Well, if you have decided to purchase the best FSM Software, Talygen would be your best pick. Talygen has a profound name as one of the best Field Service Management Software providers. It is built-in all advanced & resourceful features that are helpful not only for the healthcare industry but also for Manufacturing, Construction, IT, and a lot more.
So, don't get late now & give a try to Talygen by sign up & a free online demo at https://talygen.com/freetrial.