Tuesday, March 01, 2022 | Field Service Management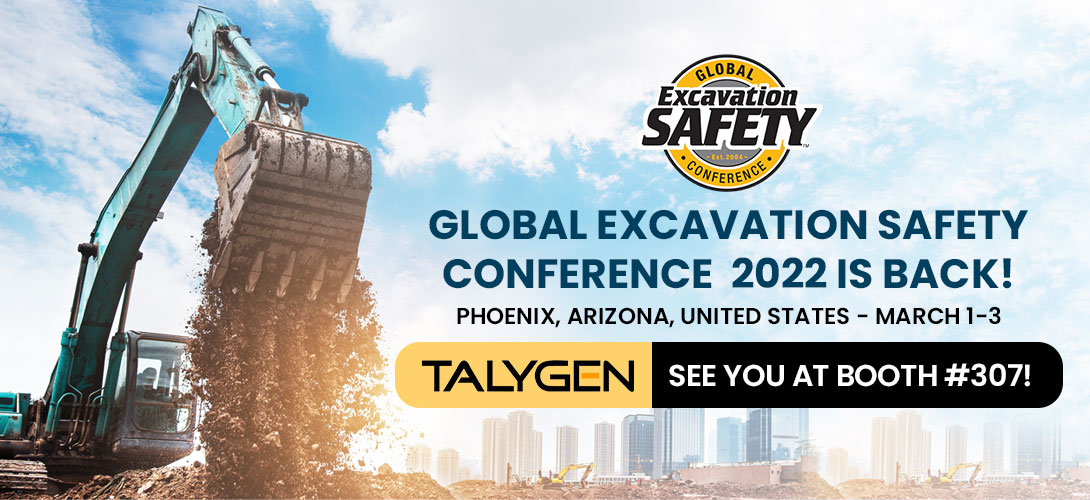 The Global Excavation Safety Conference is returning to Phoenix, Arizona.
The Global ESC will be held in Phoenix for the first time since 2018.
There has been increasing damage to underground utilities, posing a safety concern to the general public. It also causes construction delays and forces construction companies to go over their budgets.
There has been increasing damage to underground utilities, posing a safety concern to the general public. It also causes construction delays and forces construction companies to go over their budgets.
Let us learn more about Global ESC 2022!
A Brief Overview to Global ESC 2022!
The Global Excavation Safety Conference is a damage prevention event scheduled for March 1-3, 2022. It is held in Phoenix, Arizona, and is attended by construction companies from all over the country.
At the conference, there will be 120+ globally-recognized companies coming to unveil their top products/solutions to eliminate this utility damage problem and make this conference successful.
1300 attendees are estimated to attend this event and get a chance to learn about the latest and worldwide leading solutions to end utility damage.
Among 120+ worldwide industry leaders, Talygen is also participating with its #1 Field Service Management Suite at Booth number 307.
Talygen's Field Service Management Suite is one of the best-in-class software to effectively and efficiently manage field services. It is a cloud-based software developed with innovative and feature-rich functionalities.
The main priority of our Field service management suite is to automate and simplify your field operations with 100% accuracy and safety.
Know-How Talygen's Field Service Management Suite is Helpful in Damage Prevention
Utility damage has become a big concern for the general public. Utility damage has risen because of mistakes in construction project analysis, delays, and budget-stretching.
To avoid this, Talygen developed its Field Service Management Suite.
The cloud-based software automates and simplifies the field operations that ensure accuracy and smooth work order management. It is built with high-tech features that successfully help you improve work productivity and efficiency. Here are the following features that can prove a big helping hand:
Manage Work Order
Talygen facilitates smart work order management with automated planning, issue analysis, and scheduling with the right equipment. It encourages operational efficiency with accuracy and excellence. As a result, there is no chance of construction delays or omissions. Moreover, it provides.
Photo Checklists
Update Work Orders
Questions Checklist
Smart Scheduling and Dispatching
Talygen's FSM Software is powered by AI (Artificial Intelligence) to stay updated on your schedules. The software provides location and customer information to access the best possible appointments. As a result, you can experience maximum work orders completion and ROI boost. Moreover, you can:
Track Daily Jobs
Gantt View for Scheduling & Dispatching
Monitor upcoming or pending schedules
Inventory Management
Talygen's inventory management/asset tracking functionality provides complete transference and precise crystal monitoring of the company's assets. You can view, track, and manage your items through Talygen. You can access;
GPS Tracking
24/7 Access to Asset location
Barcode Scanning
Image & Audio Capture
Automated Ticket Routing & SLA
Talygen facilitates automated ticket routing as per call center routing setup. Talygen can provide a response code on each ticket to the call center on which the admins can generate time alerts. Under this functionality, you can access;
Action details tracking
Customizable Reports
Set Response and Resolve time alerts
Location Management
Talygen provides industry-wide management with technician tracking, heat map tracking, and Image or Video tracking. As a result, the user can access the technician's location and travel time to their location. Moreover, it presents
Geo-tagged Image Capture
Live tech tracking
OBD Device for vehicle tracking, etc.
Wrap-Up
TThese are some of the prominent features offered by Talygen's Field service management Suite.
Thanks to planned and organized management, implementing these features can improve your construction business with minor utility damage and delays.
To encourage less underground utility damage and risk during construction, Talygen is coming to the Global ESC Conference 2022 to make public life more straightforward and free from utility damage.
The Global ESC 2022 is perfect to learn about the fantastic FSM features and latest industry trends.
Save the date and don't miss out!
Talygen will be waiting for you at Booth number 307.
Register now to attend the Damage Prevention and Safety Conference 2022.