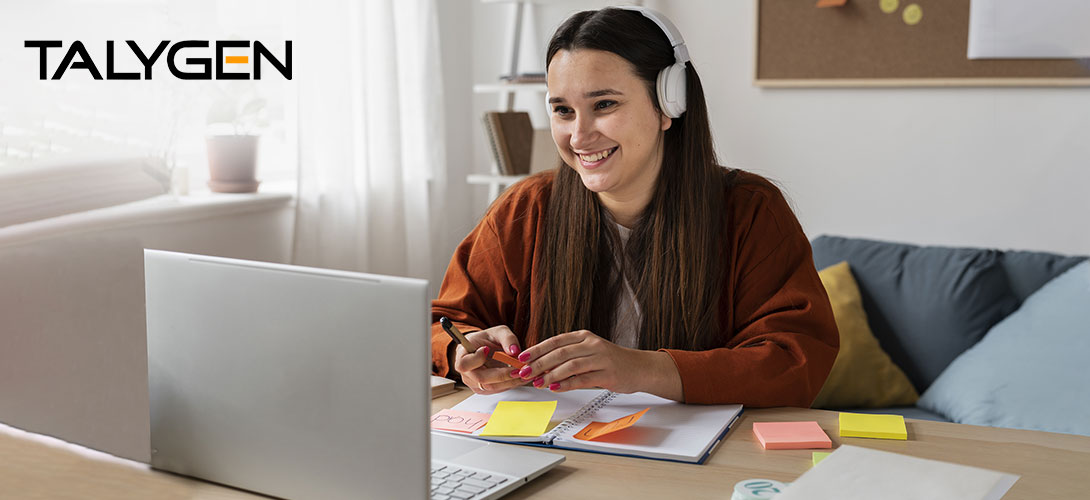 The COVID-19 pandemic has permanently altered the way that schooling has been conducted. Once a niche option, online schooling is now the norm. Even as students start to return to in-person classes, some schools and universities are using hybrid models. To organize data on students, educational organizations should start using CRM systems. Many universities can also use CRM systems to make connections with alumni. Educational organizations can also use CRM systems to help identify bottlenecks in the enrollment process. Some examples of CRM systems that educational organizations can use are Talygen, HubSpot, Full Fabric, Enquiry Tracker, and Blackbaud CRM.
Overview of CRM Systems for Educational Organizations
Talygen
Talygen's CRM software system offers a wide range of features that educational organizations can use to optimize all of the inner workings of their school or university. One of Talygen's most defining features is the advanced CRM dashboard. While in this CRM dashboard, administrators can view data on prospective students and their contact information. Talygen also features automated email notifications so students and school staff can automatically be sent urgent emails. The email system also allows users to choose from various email templates. Talygen can also be used to track information on donors to the school. The CRM system's modules will track and store the data on the donors, such as their names, contact information, and the amount of money they donated to the school. Talygen can also integrate with third-party systems such as Salesforce, Microsoft Dynamics, Microsoft Outlook, Microsoft Excel, Twilio, Google Calendar, Google Drive, and Dropbox. Due to its flexibility and range of features, Talygen is an ideal CRM system for K-12 schools and universities to use.
HubSpot
HubSpot has a flexible, easy-to-use interface that can adapt to any educational organization's needs. Administrators can use HubSpot's various dashboards to observe and monitor metrics concerning current and prospective students and alumni. Users can also create custom reports and upload them to the dashboard. Another benefit of using HubSpot CRM is that it can integrate with Google and Microsoft products. However, some educational organizations may hesitate from using HubSpot as their CRM software system because the mobile app lacks functionality compared to the desktop website.
Full Fabric
Full Fabric is a CRM platform designed for higher education organizations to recruit, admit, and enroll students at full-scale. A significant benefit of using Full Fabric is that administrators can track the number of views and form submissions from prospective students. Administrators can also set up the system to automate tasks like sending information to registrants and creating payment plans. In addition to securing admission leads, Full Fabric is also helpful for managing relationships with current students and alumni. However, a downside of using Full Fabric is that the analytics and reporting functions lack detail compared to other CRM software systems.
Enquiry Tracker
Enquiry Tracker is a CRM software system explicitly designed for educational organizations. The internal pipeline also includes demographic information and geographic data. School administrators of K-12 can use this data to track metrics accurately. Enquiry Tracker also features a custom dashboard that displays data on event registrations and prospective students and their parents. However, a downside of using Enquiry Tracker is that it does not have any functionality features beyond CRM. At the same time, other systems such as Talygen include valuable features such as time-tracking and document storage.
Blackbaud CRM
Blackbaud CRM assists educational organizations with matters related to fundraising and student outreach. A significant benefit of using Blackbaud is that it offers fully customizable pipelines, websites, and content management systems for the school. Blackbaud also offers benchmarking tools that showcase data on donors to the school. However, a disadvantage of using Blackbaud is that some users may find it too complex to learn how to use.
Conclusion
While many people might not think to use CRM systems for educational organizations, they can be invaluable resources in organizing student and alumni data. For more information on how Talygen's CRM system can be used for educational organizations, visit www.talygen.com/crm to set up an appointment to speak with a product representative.