Tuesday, September 30, 2014 | Time Tracking Software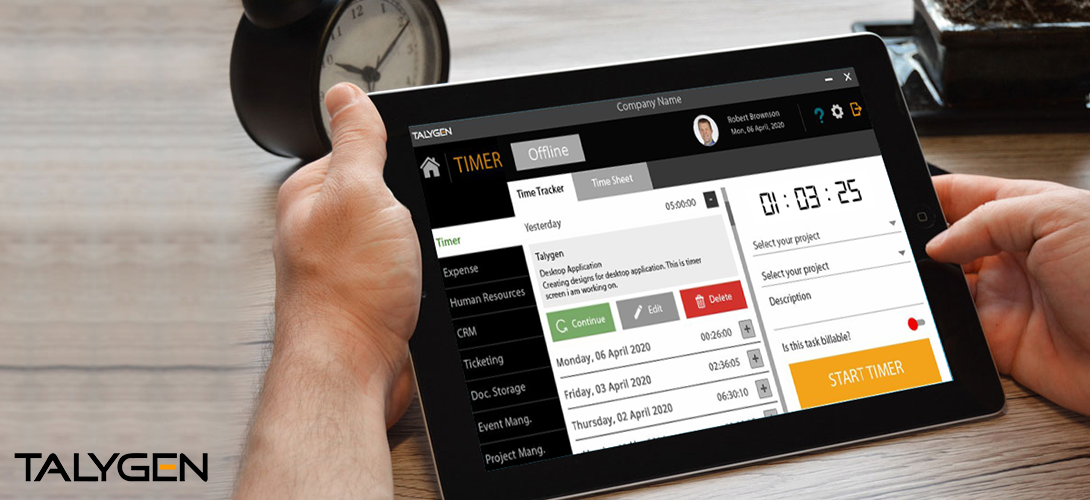 Talygen tracks time through its web based tracker and it keeps a chronological record of tasks through an installable (desktop) program. The installable program runs with and without the internet. Here is the rundown of the offline tracking mode of the desktop version.
What is Talygen's offline time tracking feature?
The offline tracking mode is a feature of Talygen's desktop time tracker. Privileged users can track time through this mode when internet connectivity is unavailable. Decision makers - managers, human resource professionals, and administrators - decide who is and who is not allowed to track their time in the offline mode.
What is its use?
The offline mode is capable of tracking time without the internet. It is a useful feature to have in places where internet connectivity is not very reliable. It functions as a contingency tool in even those companies where internet is generally reliable.
Who has it been designed for?
The offline mode has been designed for freelancers, small businesses and enterprises.
The screenshot and keystroke features are absolutely essential for freelancers. They often require to support their work with evidence. The screenshots function as a reliable proof, especially when there is poor internet and only web based trackers cannot be used.
It is useful for businesses that need to manage employees from different geographical locations. Business managers need to ensure productivity and maintain discipline. The screenshot and key logging features are indispensable here, too.
When there is no internet connectivity, the offline tracker stores tracking data for five days. This makes the tracker extremely useful at places where internet connectivity is shaky, or otherwise unreliable.
Does it maintain two separate databases?
No, the offline mode is smart. When there is connectivity, it synchronizes the data stored on the computer's hard drive with a company's Talygen cloud. It does this with the single push of a button.
This feature brings the best of both worlds - a cloud database and ability to track time without internet connectivity.
What platforms does it work on?
The offline feature is currently available for Windows desktops and Mac machines.
Is it for me?
If you are looking for a tool that is reliable, that does not demand a huge investment in IT infrastructure, that keeps time tracking accessible, and that has the capability to store time without the internet - the Talygen's offline time tracking feature is undoubtedly for your business.