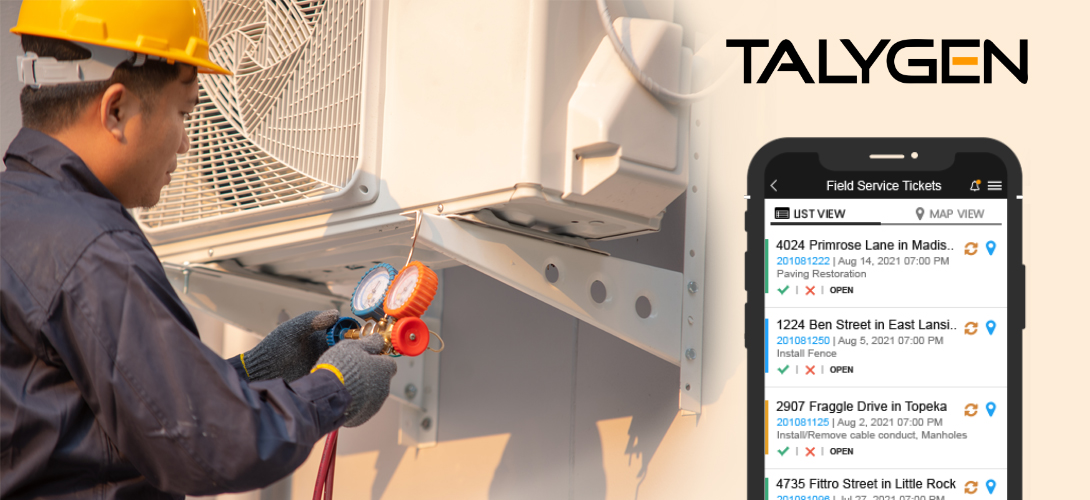 In today's competitive era, every business has to grow and perform well to survive. The cutting-edge competitors can turn any business into obsolescence that is taking it for granted.
In the meantime, an HVAC field service management software is significant to drive efficiency and growth opportunities. A Field service management software with built-in high-end functionalities and features that can protect and handle field service businesses from today's competition.
Here is how Talygen will help you in field service business growth and make it enough to face competition. Let's take a glance below!
1. Improve Job Quality
The competitiveness of a field service organization relies upon its service quality. Businesses that are providing quality field services at affordable prices render the best value to their customers. This is where Talygen helps HVAC and all other field service providers in improving their job quality. Talygen's FSM Software streamlines mobile access, video tracking, intelligent assignments, smart scheduling & dispatching, and even a lot more. It makes quality control from a single advanced dashboard.
Alongside, several other advanced features can enhance work order management and upscale the job quality of HVAC field services.
2. Reduces Task Lead Time
In today's hyper-competitive era, serving an ultra-fast and efficient service is the need of every customer. Everyone demands quick solutions and answers to their queries. This is where delay opened the door for competitors to beat you. Thenceforth, decreasing the lead time makes sense for businesses.
This is where Talygen helps HVAC field service organizations meet the fast-paced demand. One of the most effective impacts of moving with Talygen is its smart scheduling & dispatching, intelligent assignment, and mobile access functionality. It allows field managers & field technicians to turn time-consuming field operations into fast-paced practices that reduce task lead time and improve customer experience.
3. Get & Offer Faster Resolution
Well, business sustainability does not solely rely upon gaining impressive profits but a smooth money flow. And smooth cash flow consists of prompt client invoices and without any delay receipts.
This is where Talygen's FSM software for the HVAC industry proves well by providing automated billing software. The filed technician can get an instant invoice and give it to their customers. Well, Talygen offers a simpler integration with payment platforms like PayPal, etc., that ensures a contactless and fast mode of transactions.
4. Reduce the Overhead Job Expenses
Presently, facing a high price rise and inflation has become a hazardous factor for field service businesses. Most importantly, a sudden increase in petrol prices badly affects the field service businesses.
Talygen's FSM Software can help the business by cutting down the overhead expenses with its advanced functionalities. It provides automated route optimization and eliminates expensive and time-consuming paperwork that fruitful affects an HVAC field service business. By providing the effective and fastest routes, field technicians can save a lot of time and fuel expenses. On the other hand, the elimination of manual work reduces the work burden along with stationary expenses.
Recapitulation
So, these were some reasons that might convince you to shift to Talygen's FSM Software for the HVAC business. It allows you to smoothly streamline your entire field operation from scheduling to end-customer experience.
Having an HVAC Field service management software like Talygen will help your business run efficiently, manage inventories, perform smart scheduling, dispatching, and a lot more operations.
Our premium FSM model incorporates high-tech features, automates, and empowers your field operations team with a high-end workflow in to your organization.
So, what are you looking for? Visit Talygen today and get a free online trial at www.talygen.com.