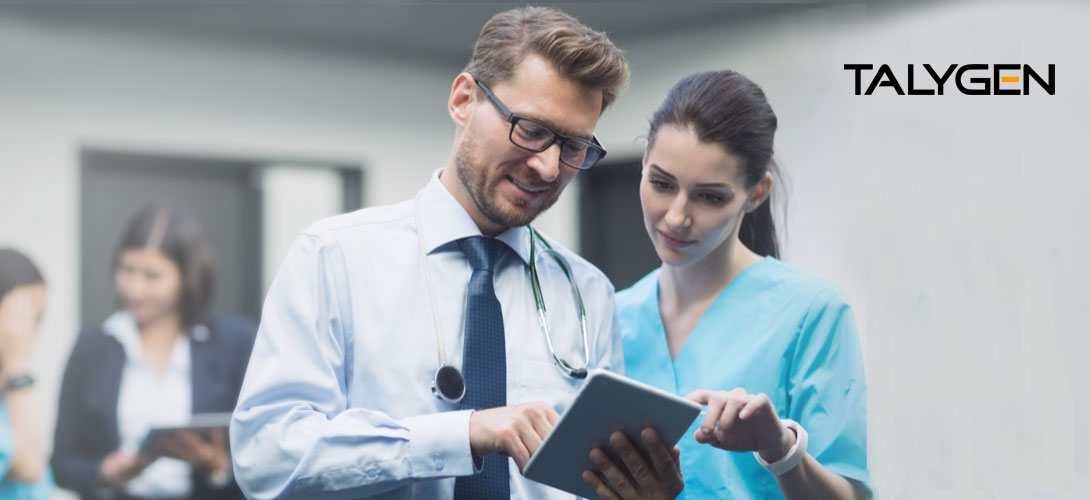 Think CRM systems are only used to secure sales? Wrong. CRM systems can also be helpful for healthcare companies to assist them in organizing patient data. Hospitals and healthcare companies can also use a CRM system by managing referral networks and medical professionals that serve as contacts. Before selecting a CRM software service, managers should first consider the size and needs of the organization and make sure that the software is HIPAA compliant. Some CRM systems that hospitals and healthcare companies can use are Talygen, Zendesk, Caspio, PatientPop, NexHealth, and Leadsquared.
Overview of CRM Software Systems for Hospitals and Healthcare Companies
1. Talygen
Talygen's advanced CRM dashboard can be adapted to display data on patients, hospital employees, contacts, and networks. These widgets can be displayed as bar graphs or pie charts. Talygen also features a reporting module where the contact information of network providers can be inputted and stored. Talygen also includes a campaign management system that can be used to send automated emails to contacts. Users can also make use of Talygen's unified communication systems to have conversations over the phone, video chat, and instant messaging with each other and with patients and other contacts. Managers can track workers' productivity by using Talygen's built-in time tracker. Talygen can also integrate with various third-party services such as Google Calendar, Microsoft Outlook, Microsoft Dynamics, and Salesforce. Talygen is a great choice for hospitals and healthcare companies to use as a CRM tool due to its range of features and ease of use.
2. Zendesk
Zendesk has a CRM module that is designed for the use of hospitals and healthcare companies. A key feature of Zendesk's healthcare CRM system is that it is flexible and can scale to meet the needs of the hospital or healthcare company. Zendesk also includes custom dashboards and charts that break down patient information and experiences. The dashboard displays information such as appointment histories and overviews of medical devices. Another benefit of using Zendesk is that the client portal makes it simple for the hospital to communicate with patients. Zendesk can also integrate with a range of third-party services. However, a downside of using Zendesk as a healthcare CRM system is that some managers may find it too expensive.
3. Caspio
Caspio is a CRM tool that lets managers of hospitals and healthcare companies create a variety of databases. These databases include patient portals that allow patients to provide feedback and information on their current health status. Hospitals and healthcare companies can also use Caspio to track medical equipment inventories and monitor staff productivity. The databases can seamlessly be embedded on any websites and portals the hospital or healthcare company uses. However, a downside of using Caspio is that it lacks a mobile app.
4. PatientPop
PatientPop is a software system designed explicitly to be used by healthcare companies and hospitals. Some of the key benefits of PatientPop are a variety of email templates that can be sent to customers and built-in tools that can improve the practice's SEO performance. PatientPop also includes online scheduling so patients can easily book appointments. However, some doctors and healthcare managers may hesitate from using PatientPop as their CRM system because it lacks customization options for templates.
5. NexHealth
NexHealth's CRM capabilities can help doctors acquire and retain patients digitally. NexHealth offers users a variety of dashboards that contain information on patient demographics and health. Doctors can also view patient bookings, reschedules, and cancellations from the dashboard. The information from the dashboard can then be used to improve the practice's customer service. NexHealth also offers a range of communication options such as instant messaging and automated emails. The scheduling system is also beneficial for patients since it allows them to see the availability of doctors at the practice in real-time. However, a disadvantage of using NexHealth is that the patient database does not allow users to apply filters in the search system.
6. Leadsquared
Leadsquared's CRM system is designed for specialty hospitals and private clinics. Managers and marketing teams can use Leadsquared to help attract new patients to the practice via landing pages, email campaigns, and social media campaigns. Leadsquared also provides managers with insights such as website visits, email opens, and link clicks that can then be used to attract more patients to the practice. However, a disadvantage of using Leadsquared is that third-party integrations are limited compared to other CRM software systems like Talygen.
Conclusion
While many healthcare companies and hospital managers may not think to use a CRM software system, it can be helpful to have to assist in organizing patient data while retaining new patients. CRM systems can also store contact information and data on the practice's staff and suppliers. Before choosing a CRM system, managers should consider the organization's needs and ensure that the software is HIPAA compliant. For more information on Talygen's CRM software, visit https://talygen.com/crm.