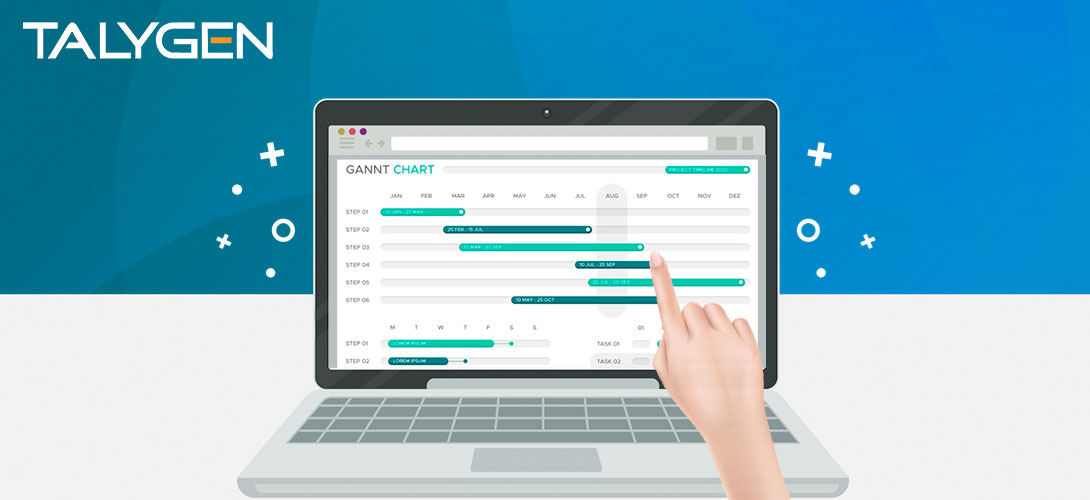 Managing organizational resources as per the project demands is quick and easy nowadays due to advanced Gantt charts and resource planning charts. No matter it's about planning projects, scheduling resources, reporting, budgeting, and more, with Gantt charts, you can get detailed information about the entire business data at one centralized location. The data is displayed on the timeline to ease recognizing details and track project progress and productivity.
What are Gantt Charts?
Gantt Charts are most popularly known as bar charts that are usually created to visualize data in an explained manner based on intuitive charts. Since the 1980s, the more advanced version of Gantt charts came into practice and this completely transformed the way of conveying business information. The well-defined picturization of projects provides a clear view of project planning, deadlines, resource availability, etc.
Why Businesses need Gantt Charts?
Setting up Gantt Charts for any business automates the workflows and makes project management more effortless. The online Gantt charts are highly required in today's fierce competition to keep an eye on your projects and resources data in visual form. Record keeping via Gantt charts displays the task information such as project name, duration, start/ end date, quantity, task completion percentage, and more.
Reasons to incorporate Gantt Charts to your Business
Keeping everyone involved in projects on a single page is important. Therefore, Gantt charts are useful to boost team collaboration.
Prioritizing essential tasks are necessary to deliver projects within the overall timescale estimated. With Gantt charts, organising activities and planning time in accordance becomes easy.
Sequencing tasks is a headache without an online chart creator because this involves finding task relationships or dependencies. Therefore, to create and manage parent and child tasks, you need Gantt charts.
Dealing with multiple projects at once is easier with the Gantt chart's project portfolio management.
Recurrence is challenging without Gantt Chart software. It helps create and schedule recurring tasks plus, effectively represent on the graph.
Managing task information with a Gantt chart than in books offers you an attractive graphical view with different colors.
Overwork leads to delays. Therefore, with Gantt charts, you can view workloads and re-arrange it hassle-free.
How To Find The Best One For You?
Managing Gantt Charts is not everyone's cup of tea, it needs knowledge and the best-in-class chart creator with modern functionality. You must thoroughly analyze the need as per your business requirements and look for the robust Gantt chart software that is:
User-Friendly Cost-Effective
Easy-to-Use
Customizable
Flexible and Automated
Works on Desktop & Mobile
Talygen- Great Tool for Chart Building Needs
In the world full of a wide variety of project management tools, Talygen's Gantt charts are one of the most popular chart creators for advanced data interpretation and representation. An intuitive Gantt chart software features a single screen dashboard, task dependency, easy customization, drag, and drop dates, and more.
To make data visualization easier in your industry vertical, visit Talygen https://talygen.com/freetrial, and schedule a demo for free!