Tuesday, October 15, 2019 | Time Tracking Software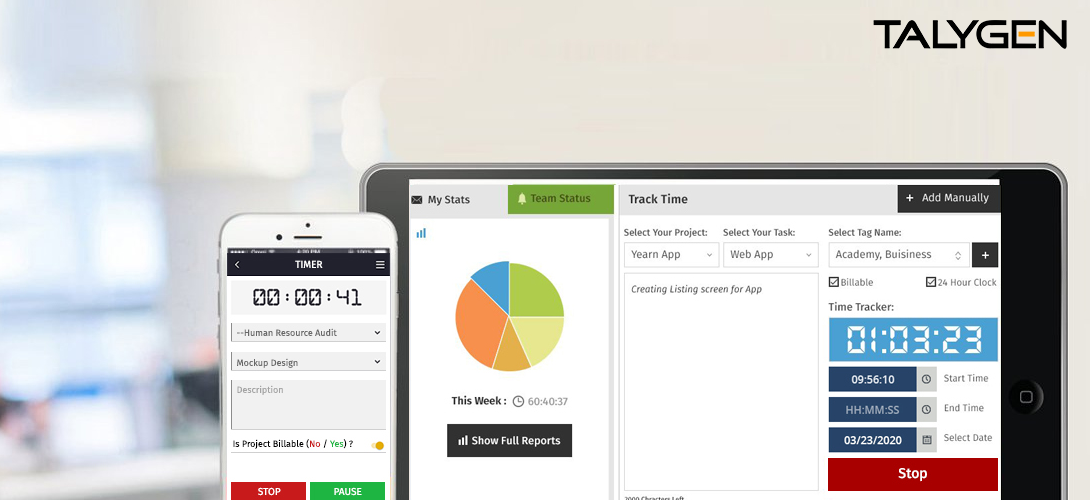 We all know that time is the most valuable resource we all have. Obviously, in every business, there's to be some kind of tracking – of every significant metric, whether it's revenue, time, expenses, productivity, and so on.
Tracking is important as it enables you to objectively measure your business metrics. The desktop time trackerhelps you to understand the factors that influence the performance of that particular metric. The primary advantage of time tracking tools is the ability to get insights into the metric performance. This is essential in order to optimize and improve business processes.
As you can see, most of the employers have already left using old-school methods of time tracking and have switched to new, advanced tools. Talygen's innovative automatic screenshot capture software tracks the time and resources spent on a particular task(s) by team members.
Track Employees' Time and Screenshots
Get a clear picture of the time and resources your remote or office team is spending on every task. Talygen's event management project tracker helps to track time and tasks easily. The team members can start and stop monitoring themselves using Talygen's desktop application. They can create a task, and the program automatically tracks the screenshots and time for this task. This information is then safely sent to Talygen.com for better insights and analysis. No spying and your team members are in control!
The tracked screenshots, time, and task notes are all sent to your dashboard. You will know exactly when and what your team members have worked on, how much money and time they have spent on each task and what was on their productivity in the given time period. You will know for sure that you are paying for actual work, not for time wasted in Internet browsing.
Talygen's time tracking software helps to:
Track time
Track billable hours
Take screenshots of the employee's device screen
Streamline analytics and reporting
Get glanceable reports of tracked time
Talygen is an advanced monitoring software for both outsourced employees and office workers. The team members can easily start the time tracking and pause the tracker when they are inactive (lunch or the end of the day). They can eventually resume work when they want to.
Talygen's time tracker with screenshots app will continue screenshot capture and time tracking even with no Internet connectivity. The data will be automatically uploaded to Talygen.com the next time there is an Internet connection. The team members can also add "offline time". They can also see the reports for their own time and use them to generate invoices. All in a few clicks!