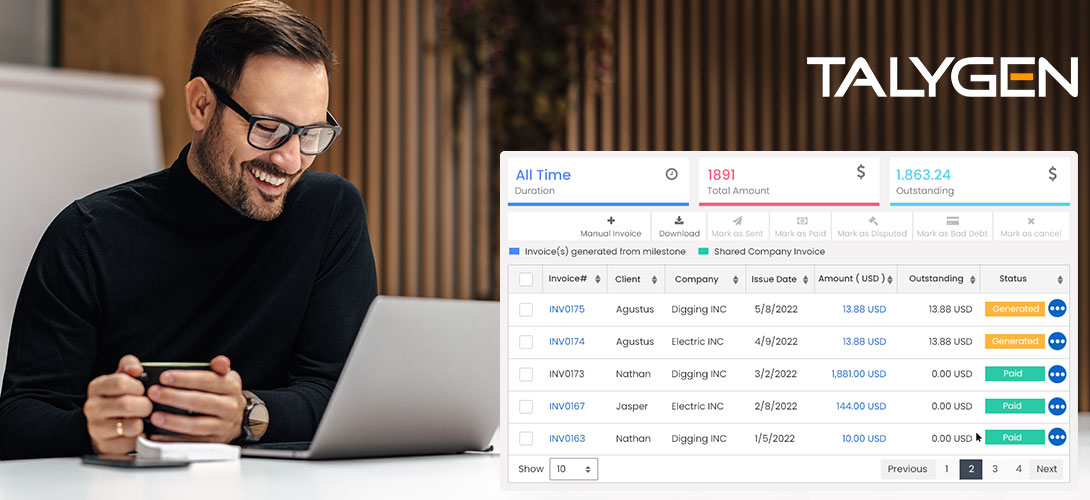 Project billing software is a useful tool for companies of all sizes. All organizations must have an organized financial department with e-invoicing technology embedded in their systems. Electronic billing has many incredible benefits in the present times, as automated billing solutions act as a secure platform between the merchant and the buyer. Automatic invoicing is all about sending business invoices to clients via digital channels.
What's the difference between manual and automated invoicing?
Manual invoices are invoices created through spreadsheets. The data in manual management is collected and maintained by an employee employed to handle business invoices. The creation and sending of invoices to clients through emails are all managed manually. From start to end, invoice processing is carried out without any tool. The entire workflow, from invoice creation to payments, involves processing invoices against tolerances, storing data in registers/files, sending for approvals, etc.
On the other hand, automated invoices are created by using online invoicing software. Processing invoices and bills with technology-rich tools involves several steps, such as extracting data from invoices, data entry, validating extracting information, sending invoices for approvals, and transferring payments. The entire invoicing process easily gets managed within a single platform. The layout, format, and structure of invoices with manual and automated are far different. The project invoicing software capabilities eliminate manual supervision and keep track of every step in invoicing mechanically.
Key Benefits of Project Billing Software
The project invoicing software covers the crucial aspects of businesses by automating invoices up to ten times faster. The software tracks the invoices, manages notifications, and assigns approval tasks to the approver's group.
The first and most exciting advantage of project invoicing software that saves you time is that you can create and share invoices in bulk with just a click.
The fast and affordable online invoicing software enables financial departments to generate invoices irrespective of their location at any scale.
The software's user interface detects invoice bugs and errors to correct and send accurate bills to clients.
The cloud-based invoice management and data backup are the additional benefits that make invoices secure.
The automatic alerts and real-time notifications in project billing software update clients with the due dates.
The invoicing tools integrate your existing systems and offer great support and compatibility.
The software enables the managers to configure roles for each person who should not access the data for quick user access management.
Nowadays, invoicing is just a matter of a few clicks. Every business's brand and identity are the priority and delivering the best to its customers. Companies apprehend the need for online invoicing software to get positioned in the market and always stay at the top among customers.
Many changes have been made to business invoice management in recent years. The customized templates give businesses a view that each business is unique, which must be reflected in their invoices. The software features multi-currency functionality that allows managers to create invoices in the client's currency to help them save money. Moreover, to make it more understandable, the invoices are generated in multi-languages also.
Invoice management is complete once you have the best project billing software for your business. For intelligent invoice processing, the automated tool must be implemented. These days, manually managing invoices is impractical. Therefore, the need for the right project invoicing software must be analyzed to cope with the invoicing challenges.
Suppose you want error-free invoices, more visibility, timely payments, and more. In that case, automated invoicing solutions are the best for your business. The invoicing tools with these features help companies get a competitive advantage.
Sign up for Talygen's project billing software for real-time creation and tracking of your invoices. The software tells the accurate data of invoices, stores, and shared receipts from one central location. With Talygen, you can save money and promote your business globally.
For more information about Talygen's invoicing software, https://talygen.com/Online-Billing-And-Invoicing-Software.