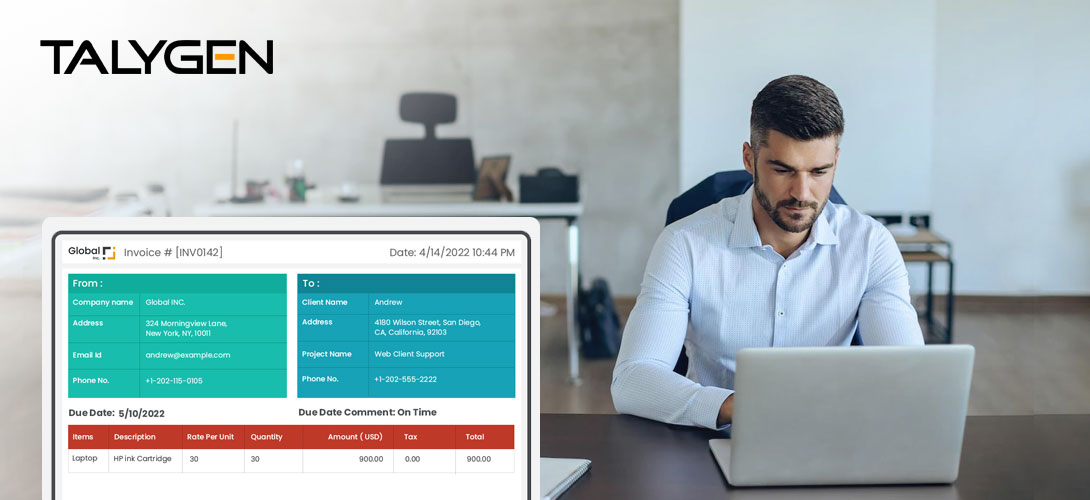 While common office applications like Excel can help you create invoices, these tools aren't perfect and leave users vulnerable to common errors.
Integrating an online invoicing software will help you simplify the entire billing process and avoid common invoicing errors.
Here are five common mistakes you can avoid with the help of dedicated invoicing software. Let's take a look:
#1 Lack of Knowledge About Your Client's Customary Pay Cycle
To enjoy the benefit of faster payments from your clients, ensure that the payment system you provide them with is also quick and easy. Consider your client's normal payment process and cycle to accomplish this objective.
For instance, if you have a client who prefers to pay bills on the seventh of every month, chances are your invoices will be created on the seventh of the month, even if you send them invoices weekly. Your clients may decide to pay you weekly to avoid late fees, but that makes things harder for them rather than easier. Therefore, asking your clients about their regular pay cycles is better before creating an agreement with them. In this manner, you can plan to send your recurring invoices to the client right before they pay their bills every month. You will always get your payments on time, and your client won't have to change their schedule to pay you.
#2 Neglecting to Follow-up on Unpaid Bills
How often do you forget about following up on due payments? It can quickly happen when you are working with software that doesn't track the status of your invoices. The good news is that online invoicing software like Talygen can track your bill status and notify you of any late or unpaid bills.
Online billing software also enables you to set up a workflow process that routinely sends payment notifications to your clients when they forget to make a payment. The online billing software will make it much easier for you to receive compensation for your unpaid bills.
As a rule, you can set the notifications to reach the clients as soon as they miss the deadline. If your invoices are "outstanding," you should consider sending emails discussing the precise increments. For example, you may want to send a payment reminder to your clients a week after the payment for an invoice remains unpaid.
#3 Not Selecting the Software That Makes Currency Conversion Easy
If you conduct business worldwide, you probably waste much of your precious time converting currency yourself. Naturally, you will likely make mistakes when you are occupied this way. Companies must employ project invoicing software that accepts payments in every other currency. It will make currency conversion more accessible and help you create error-free invoices for your clients. Below are a few things you should look for in an online invoicing software system:
Real-time currency conversion rates must be available on one platform
The ability to convert your currency into various foreign currencies
The capability to merge your foreign bank accounts
#4 Not Enabling Customers to Make Payments from Credit Cards
When you send bills to your customers using software like Excel, it won't give your clients the option to make payments from their credit cards. Obviously, you can link some payment options to your bill, but when you manually add such information, it is easy to overlook them and forget.
Project billing software like Talygen ensures your client's preferred payment options are available on every invoice you create. After you link your accounts, you can set up the invoice template with a credit card link inserted. As a result, the same payment options will be included on every invoice you create and send.
#5 Delay in Sending the Invoicing
Business owners get too caught up in the everyday work that they forget to send invoices on time. Like many other small-business owners, you probably have your hands complete with many different tasks filling your daily work schedule. However, if you want your customers to make faster payments, you must share invoices with them on time.
A cloud-based project invoicing software like Talygen allows you to send invoices to your clients automatically. Once you enter your client's information in the system, it gives you a choice to create a recurring invoice for that particular client. As a result, you enjoy billing automation according to the invoicing schedule you devise.
Conclusion
Avoiding common invoicing errors can help your business enjoy the benefit of regular payments and a realizable cash flow. If you aren't already using them, you are giving your competitors reasons to win your clients. Therefore, employing project invoicing software that helps you create error-free invoices is only rational.
Furthermore, Talygen is a highly customizable platform with easy-to-use dashboards and reporting system that offers your insight into the business future. For busy entrepreneurs, Talygen is accessible via both web and smartphone. So, it doesn't matter if you are at the home, office, or on a business tour. You can always keep track you're your business expenses.
Talygen's customer services team is available to help you 24/7 and is always willing to enhance the customer experience with their guidance. Learn more about Talygen and try the free demo today.