Wednesday, June 22, 2022 | Time Tracking Software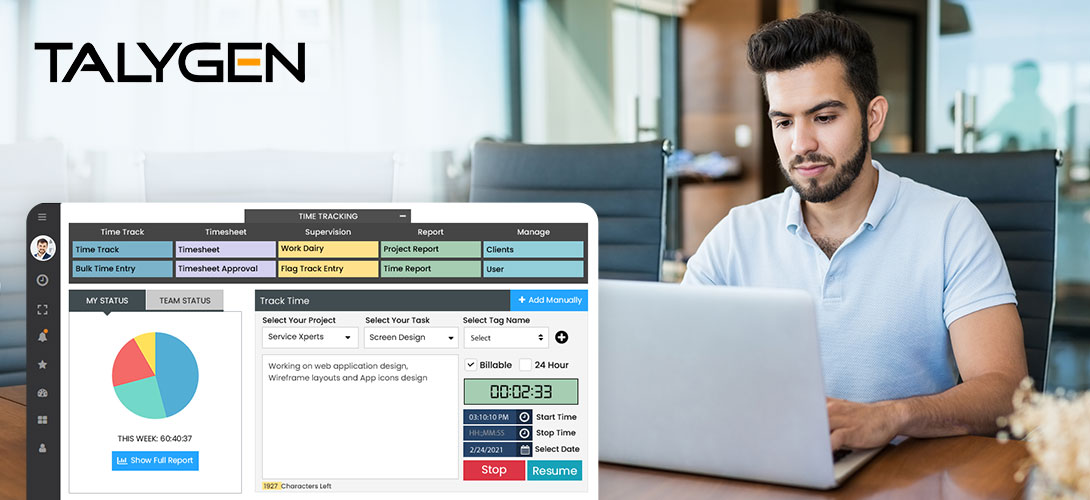 Even as we start to leave the pandemic behind, many companies still give employees the option to continue to work from home. As a result, many businesses are investing in time trackers. Using time trackers is beneficial even for companies whose employees have already returned to the office. Time tracking software allows managers to monitor how much time employees and freelancers spend on tasks. Time trackers automate time and productivity monitoring so companies can make the most out of each workday and have employees work as efficiently as they can. Talygen's time tracking software is helpful for companies because it allows users to log time entries onto their timesheets, offers multiple ways for companies to time track, and lets users track their hours in any time zone.
Benefits of Time Tracking Software
A key benefit of Talygen's time tracking software is that it allows users to log time entries onto their timesheets, allowing company owners and managers time to focus on more important projects. Individual users would be assigned the most skilled tasks, increasing overall productivity. Talygen is easy to use, so users can quickly adjust to entering timesheets without wasting too much time learning how to use the program. Since time tracking is done daily through Talygen, users can do their best work all week instead of wasting time and energy trying to remember how long they worked on a project at the beginning of the week, increasing productivity. Time tracking software makes it easier to handle billing and process payroll, especially for users working remotely or in an office in a different city or country. The data gathered from the time tracking can then be used to improve the company's performance as a whole.
Talygen offers multiple ways for companies to implement time tracking. Manual time tracking allows users to track time while working on an individual project and submitting it for approval. Talygen has a mobile app for iOS and Android, ideal for users who frequently travel and may not be within reach of a computer. Talygen also offers offline tracking that enables screenshots to be taken even if the internet connection is lost. Using the offline tracking feature is an ideal solution for users who are still working remotely, especially those who may not have a good internet connection at home.
Finally, Talygen allows users to time track in any time zone. The multiple time zone feature should be implemented for companies with offices in various cities and countries to track workflow even if there is a significant time difference between offices. Also, if users travel between offices, they are given the option of choosing between the default and given time zone.
Potential Downsides of Using Time Tracking Software
A potential downside to using time tracking software is that the time spent on tasks inputted into the system may be inaccurate. However, Talygen's time tracker has pause and stop buttons, so this time is not recorded when users are not working, such as during lunch. It is up to every user to stop the tracker at the end of the workday to prevent time spent at home from being counted towards work hours. While training employees in Talygen, managers should explain that each user's responsibility is to pause the time tracker whenever they take a break from working.
Conclusion
In conclusion, it is highly beneficial for businesses to invest in using and implementing a time tracking tool. Talygen's time tracking software increases productivity and accountability while allowing companies to spend less time on billing and invoicing. For more information on how time tracking software benefits business, visit www.talygen.com/tracktime.