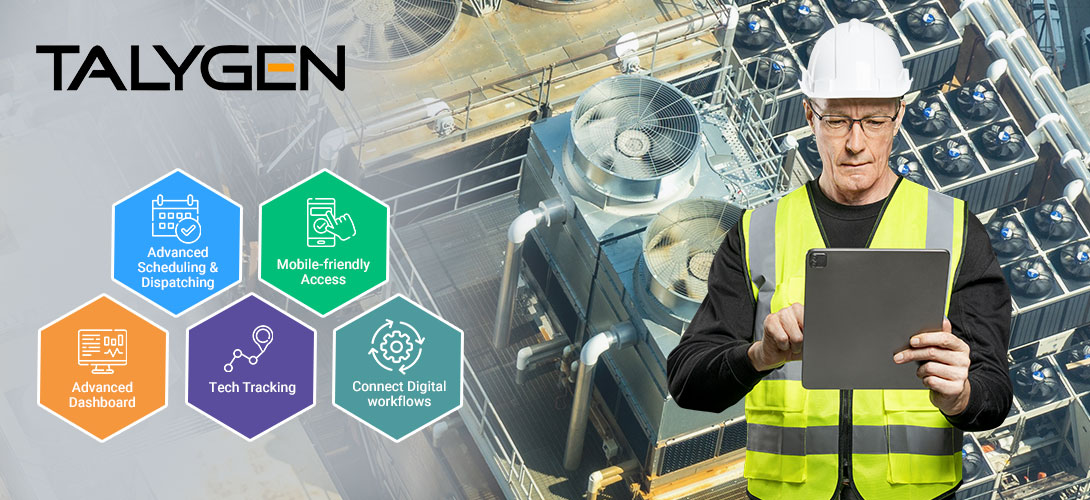 A Field Service Management Software allows businesses to manage & control their workflow, effective communication, smart scheduling, and a lot more in field business. It is a cloud-based software that digitally manages field services from anywhere, anytime, and on any device. It has built-in dynamic & state-of-the-art features that assist businesses to improve their customer experience & upscale productivity.
Today, we will discuss the significance of FSM Software is solely HVAC Industry. How can it prove helpful for HVAC businesses?
Let's explore what features of a best FSM Software support the HVAC sector & upscale its productivity & work order management!
Top 5 FSM Features that support the HVAC Industry
Generally, a renowned FSM Software built-in number of advanced features & functionalities, but not every feature works well for the entire marketplace. This is where we handpicked the top 5 FSM Features that successfully support the HVAC Industry. Take a glance below!
Advanced Scheduling & Dispatching
Accurate scheduling & dispatching holds great importance in the HVAC Industry. A minor glitch in scheduling & dispatching can give birth to significant misfortune. In the meantime, using a well-developed HVAC software makes the field tasks in control & less complex for businesses.
The majority of renowned FSM Software has a functionality of scheduling & dispatching that assists the HVAC industry to streamline work orders smoothly. It maintains a complete record of dispatching and schedules to make an easier calculation for every hour, day, or month.
Mobile-friendly Access
A well-developed Field Service Management Software like Talygen comes with a mobile accessed application. It helps HVAC companies to keep control over business operations anytime and anywhere. It allows you to manage your entire fieldwork from your mobile phone. It saves a lot of time and streamlines work efficiency.
You will number of functionalities in an FSM Mobile application that streamlines smooth work order from navigation to maintain invoicing. Mobile access allows field managers & field technicians to keep all the information accessible anytime & anywhere you want.
Advanced Dashboard
In today's highly competitive era, it's rarely possible to keep all the information at your fingertips. This is where field service management software provides an advanced dashboard to keep all the information organized & easily understandable for everyone.
An HVAC Field service management software provides an innovative dashboard that automatically updates any movement or activity performed in the business. It eliminates the lengthy and time-consuming manual recording of every detail. Now, the advanced dashboard features innovative functionalities to keep all the data well-managed. It uses graphs, and charts that show progress, improvements, completed tasks, and a lot more.
Tech Tracking
Tech Tracking is one of the most helpful & supportive FSM functionality for the HVAC Industry. It provides a locator's live location that helps you & your customer to estimate the arrival duration, delay, and any other update of the assigned field technician.
Moreover, it helps field managers assign tickets as per the nearby location of the customer to render quick service.
Connect Digital workflows
Connectivity with digital workflows has proved one of the core functionality for HVAC businesses. It helps field managers to know their customers & easily access data on mobile devices.
With the help of this functionality, a field technician can get the complete details of the customer on mobile phones. It eliminates the hassles of asking repeated questions to customers or omitting any detail. It makes every detail accessible on a mobile phone right at the fingertips of field technicians.
Recapitulation
So, these were a few worthwhile functionalities that can prove fruitful for the HVAC Industry. With the help of such functionalities, HVAC businesses can simply streamline their field operations and improve customer experience.
If you are not using FSM Software yet, you don't need to concern! With Talygen, you can simply automate & optimize your HVAC field business in just a few clicks. It helps you turn failure into opportunities by effectively & efficiently managing your field business. It allows you to retain a lot of time, reduces your work burden, and renders excellent service.
For getting detailed insights, you can check out Talygen at https://talygen.com/FSM.