Monday, August 01, 2022 | Employee Management Software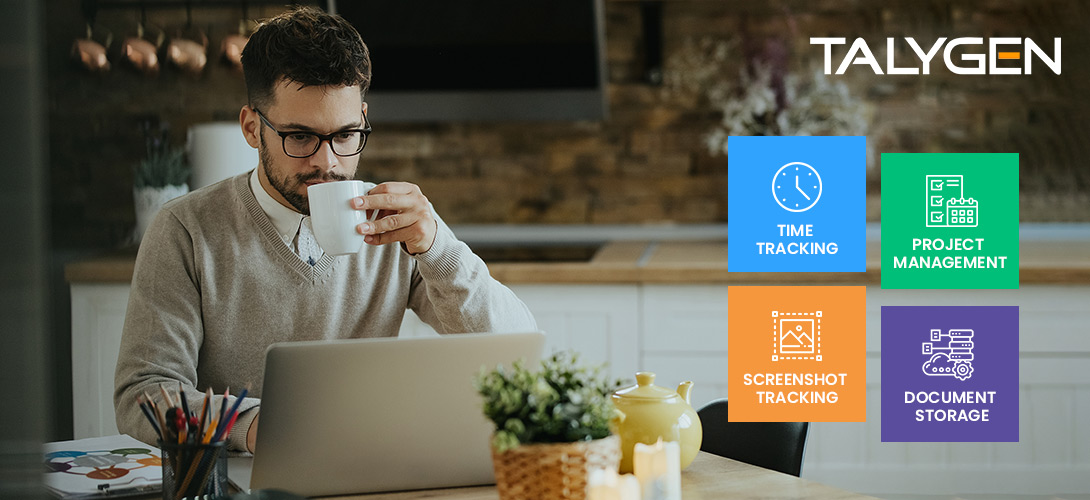 Remote and hybrid work is here to stay. Working from home has led to many benefits for professionals. However, with employees not working in the office, it is now more difficult for managers to know what work is getting done each day. Not knowing what work is done can lead to your company losing money. This issue can be avoided when companies use online employee management software. Online employee management software helps companies keep track of what is accomplished. An online employee task management system should include time tracking, screenshot tracking, project management, and document storage.
One thing that employee task management software should include is a task tracker. With time tracking, users can see how long it takes them to complete tasks. The task tracker can be paused any time the user is taking a break. The task tracking information is then recorded into timesheets. These timesheets can then be submitted to management. Managers can also view reports on the entire organization's timesheets. Task tracking is helpful for employee task management because it can help increase the company's productivity. A task tracker should also be available as a mobile app so users can track their time while on the go.
Another feature that you should consider when looking for an online employee management system is screenshot tracking. A screenshot tracker periodically takes and sends screenshots of employees' computers to management. Screenshot trackers can also record information like websites visited, time spent on websites, mouse clicks, and keystrokes. You may be hesitant to implement screenshot tracking since some employees might think it's an invasion of privacy. However, you should reassure your employees that this will not be used to spy on their personal matters. Using screenshot tracking software can help you know what your employees are doing throughout the work day.
When looking for an online employee management system, you should make sure that it has a project management feature. Project management software allows managers to assign tasks to employees throughout the course of a project. Users can message each other through the project management software as well. A project management software system should also have dashboards and the capabilities to view projects in card views, Kanban views, and Gantt charts.
Online employee management software should also include a document storage system. Document storage systems allow users to view, upload, and download files. Having a document storage system makes it easier for remote workers to collaborate on tasks and projects with each other. Employees can also share important files and documents with clients. If the document storage system is cloud-based, it can help the company prevent data loss due to power outages or malfunctioning devices.
If you're looking for an efficient online employee management software solution, Talygen is your best bet. Talygen has provided software solutions to companies of all sizes and industries. It offers many different modules, including task tracking, screenshot tracking, project management, and cloud-based document storage. If you want to learn more about how Talygen can help your business with online employee management, visit www.talygen.com/Online-Employee-Management-System