Thursday, June 30, 2022 | Unified Communication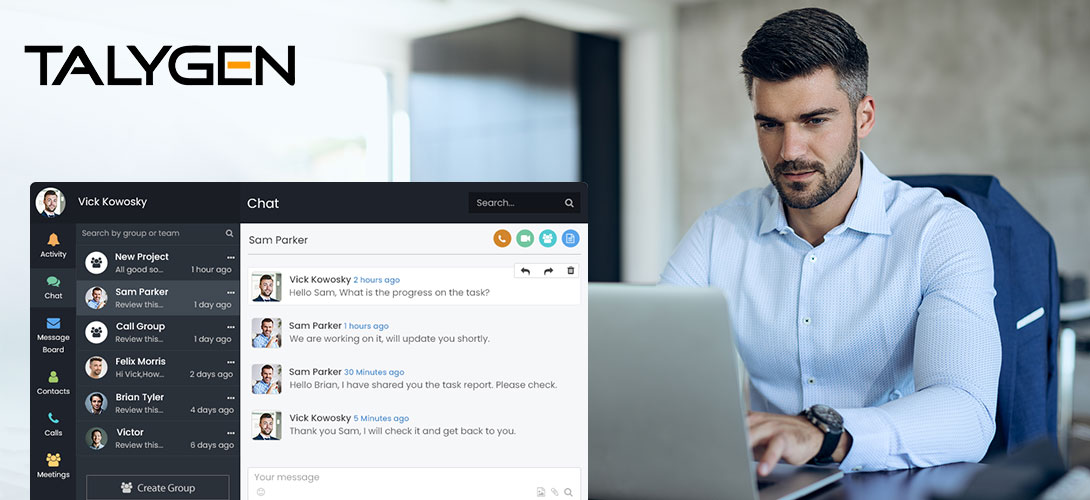 Even with the rise of remote work and work from home (WFH) software, employees still need to connect and communicate with each other. Unified communications are systems such as voice calling, video conferencing, and instant messaging. Many business software companies such as Talygen, Zoom, Microsoft Teams, Google Meet, Slack, and Cisco WebEx offer unified communication systems. Unified communications software systems allow users to have all of their communications, from email to video calls to instant messaging, in one centralized location.
Software Companies that Offer Unified Communications
1. Talygen
Talygen allows companies to offer users a wide range of unified communication options. The voice call feature increases productivity and teamwork among employees. Talygen allows users to join a voice call by using a laptop, tablet, or smartphone. Users can also seamlessly go from a voice call to a video conference while instant messaging a fellow user notes or inquiries from the meeting. Talygen's video calling feature allows long-distance meetings, office-wide meetings, and webinars. The instant messaging features allow users to send messages to either a group or an individual. Creating group messages are helpful for specific departments or when some people in the office are working on a project or proposal together. Talygen's unified communications software also has a chat log so users can easily access information relayed in previous instant messaging conversations. Managers can also use the chat log feature to gain insight into the various projects assigned to a particular department or regional office. The instant messaging module includes translations so users can easily communicate with international clients and co-workers. Talygen's messaging options are closed and secured, so users won't have to worry about privacy concerns. Also, Talygen includes time and screenshot tracking modules so managers can perform remote employee monitoring. Talygen's user-friendly interface, easy access, and range of personalization make it an excellent choice for companies of all sizes to use as their unified communications software system.
2. Zoom
Zoom allows users to have video conferences with each other. Up to 100 participants can be on a Zoom call. On Zoom, users are given the option to have a video conference or keep the call voice-only. Users can also privately message each other while on a Zoom call. Zoom has a screen sharing feature so managers can showcase their employees a presentation or website while still on the video conference. Finally, Zoom allows users to split the call into various breakout rooms so different departments can split into having individual meetings following the conclusion of the company-wide meeting. However, the Zoom app can take up a lot of space on a company-issued computer.
3. Microsoft Teams
Microsoft Teams is Microsoft's all-in-one unified communication platform. In Microsoft Teams, users can perform voice calls, video conferences, and text messaging with each other. Microsoft Teams can also integrate with other Microsoft services such as OneDrive and PowerPoint. The integration features allow multiple users to collaborate on projects together seamlessly. Like Zoom, Microsoft Teams also offers the breakout room feature so individual groups can have individual discussions as needed. However, Microsoft Teams will not notify a user if they try to create a group with a preexisting name, which can lead to confusion among team members.
4. Google Meet
Google Meet is a part of the Google Workplace dashboard but can also be accessed by anyone with a Google Account. In Google Meet, users can host video conferences with up to 250 participants. Like Zoom, Google Meet also has a screen-sharing option so that an individual can show information on a website or presentation to the entire meeting room. However, this screen-sharing option can glitch, especially if it is being used during a large meeting.
5. Slack
Slack's video conferencing feature also allows for screen sharing. Slack can integrate with other unified communication apps such as Zoom and Microsoft Teams. This feature is helpful for companies collaborating with other organizations that may not be using Slack. However, teams may hesitate to use Slack since it has a notification-based system similar to social media sites. Some users may become distracted by their Slack notifications and not do their work.
6. Cisco WebEx
Cisco WebEx offers voice calling, video conferencing, and text messaging options like other unified communication software systems. Cisco WebEx offers a wide range of options for users to call into a meeting, such as using a direct dial-in number, a VoIP (Voice over IP) system, or being contacted by the meeting host. Like Talygen, Cisco WebEx allows users to participate in conferences using laptops, tablets, or smartphones. However, Cisco WebEx has a clunky user interface, which may cause some users to look elsewhere for a unified communications software system.
Conclusion
Business managers have many unified communication software services to choose from when communicating with employees across offices or using remote employee monitoring. With unified communications, users can seamlessly use voice calling, video conferencing, and instant messaging services. Talygen is an excellent unified communication software service option due to its secure, easy-to-use interface. For more information and a product demonstration, visit www.talygen.com/Socialize.