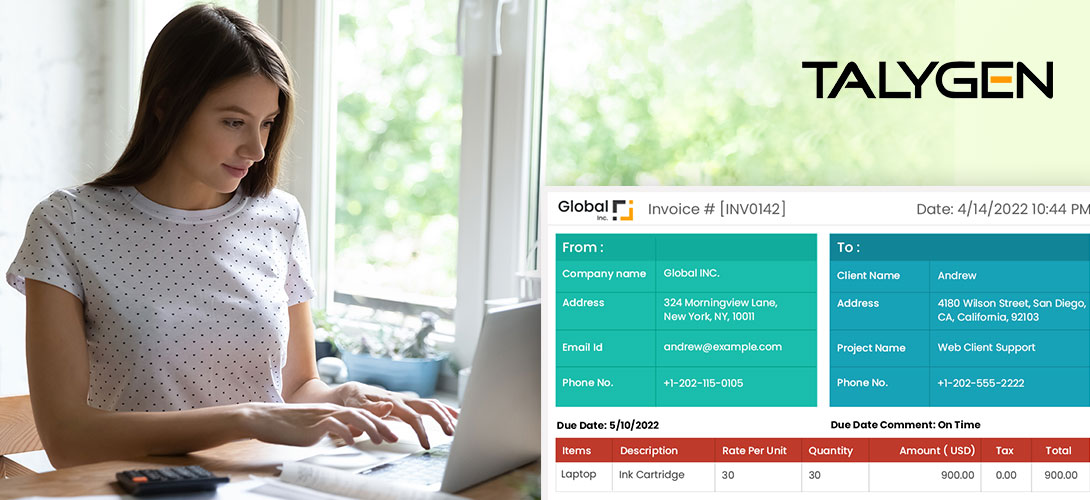 Billing and invoicing is often a tedious and time-consuming process. However, by using online invoicing software, businesses can make this process a lot easier.
Online billing and invoicing software is a cloud-based solution to manage multiple project billing and invoices with just a few clicks. The software has brought a new wave in the corporate world with its feature-rich functions and results. No business can run smoothly and expect an increase in productivity when billing and invoicing consumes a major portion of time and manual recording.
This is where Talygen's project invoicing software comes into the picture to simplify the invoicing process and enhance the operational efficiency rate of businesses.
Here are the top reasons business managers should invest in an online invoicing software like Talygen.
1. Paperless
Businesses worldwide have started thinking of ways to reduce their paper usage. Using less paper helps save time and increases efficiency. Employees don't need to spend hours billing their different projects and manually record every transaction on paper. Talygen's online invoicing software automatically bills your clients and generates invoices for bulk projects in minutes.
In addition, the software cuts down on office stationery expenses, which helps the business save money. Online invoicing is a secure and user-friendly method to replace tedious invoicing tasks with a stress-free activity where employees don't have any risk of data loss and theft.
2. Customized Invoices
It is complicated for businesses to meet the varied requests of every client and individually generate invoices. Talygen's project invoicing software solution offers customization accessibility to create invoices per your business needs. Custom invoices provided by project Invoicing software allow companies to meet customer requests and generate invoices per the customer requirement within a few minutes. As a result, businesses would increase productivity alongside better customer experience.
3. Support Multiple Payment Gateways
Accessibility to multiple payment gateways can greatly benefit businesses in accelerating their invoicing process. Talygen's online invoicing software supports multiple and easily accessible payment gateways that directly allow clients instantly make payments with mailed invoices. As a result, it would benefit both businesses and customers by saving time, user-friendly payment processing, and accelerating operational efficiency.
4. Automated Alerts and Reminders
Talygen's project billing software has built-in functionality of automated alerts and reminders that allows you to keep your clients updated on every invoice. The software will send automated reminders and alerts to your client; if there is any delay in response or invoice clearance and upcoming invoices. It also assists employees in effortlessly maintaining an updated check on every invoice and sending alerts without wasting any moment.
5. Mobile and Web Desktop Compatibility
Talygen's automated Online Invoicing Software supports mobile & web desktop accessibility that allows employees to generate Billing and Invoices anytime and on any device. The software has a user-friendly mobile app that provides an effortless experience of generating in-bulk project invoices within minutes on your smartphone.
Employees just need a device and Internet network to log in by entering their username and password to generate multiple project invoices on the go.
6. Eliminate Human Error
With the automated and cloud-based functionality of project invoicing software solutions, there is no chance of human error or any omission. The advanced solution replaces the tedious Billing and Invoicing process with error-free and accurate solutions.
As we know, administrative errors are one of the commonly found issues in invoices, but you can make it a matter of the past with a renowned Online Invoicing software system like Talygen.
7. Quick and Automated Invoices
Generating the same Billing and Invoices repeatedly for clients is known as recurring Invoices. The activity consumes a lot of time and human effort. Using Talygen's project invoicing software system, users can automate their invoices, ensuring minimal manual effort and saving a lot of time.
With the Online Invoicing software, all you do is enter basic details and update costs to generate new invoices in just a couple of minutes.
Conclusion
With the evolving world of business, the advent of advanced technology, and increasing cut-throat competition push every organization to go for modern solutions. These new developments are why online invoicing software has become the smartest key for businesses to streamline financial operations and boost productivity.
Are you wondering about choosing the best online invoicing software for your business? Talygen would prove a worthy choice.
Talygen is an industry-leading project invoicing software solution with built-in fully functional features and the latest technological solutions for businesses of all sizes and industries. The software is a one-stop solution for all your billing and invoicing needs, from the smart dashboard, invoice management, uploading invoices in bulk, a mobile app, and much more. Talygen includes many other helpful modules such as time tracking, asset management, project management, and customer relationship management. To learn more about Talygen, check out https://talygen.com/.