Tuesday, February 28, 2023 | Employee Management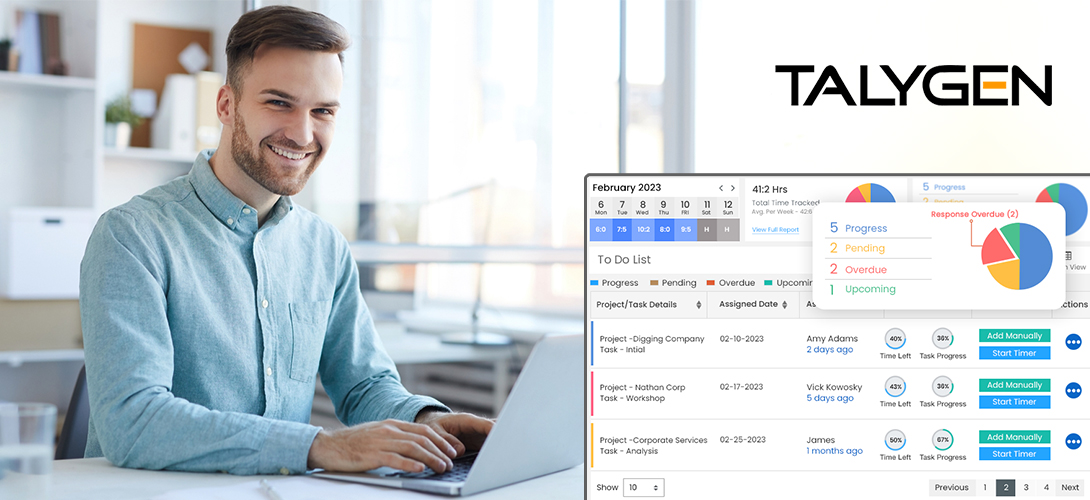 The modern business world is highly competitive, so companies need to have efficient methods to track employee productivity. Employee task tracking software helps managers keep a pulse on what each team member is working on and provides data-rich visibility into the progress of projects. Businesses can boost productivity, reduce chaos and improve overall workflow efficiency by using employee task tracking software. Let's discuss the top tips to maximize efficiency with employee task management software!
Top 8 Tips for maximizing the efficiency of your employee task tracking software
1. Assign Clear and Specific Tasks
The first step in maximizing efficiency with employee task management software is to ensure that each task is clearly defined and specific. Assigning clear and specific tasks will help employees understand what they are expected to do and how their work fits into the larger picture. When creating tasks, include all necessary information, such as deadlines, resources needed, and any specific instructions. Including all of this information will help prevent misunderstandings and reduce the need for follow-up questions.
2. Use a Centralized Platform
Having all tasks in one centralized platform makes it easier for employees to see what they are responsible for and what has already been completed. It also makes it easier for managers to track progress and ensure that projects are running smoothly. It also saves a lot of time that could be contributed to other core operations. Managers should look for employee task tracking software that supports third-party integration to ensure all details are in one location.
3. Set Deadlines
Deadlines are essential for keeping employees on track and ensuring that projects are completed on time. When setting deadlines, ensure they are realistic and consider the time each task takes to complete. It's also important to prioritize tasks and assign deadlines accordingly so employees can focus on the most important work and proceed with accurate prioritization.
4. Have Real-Time updates
Regular updates on the status of tasks and projects can keep employees motivated and on track. It encourages employees to provide regular updates on tasks and projects and ensure this information is available to all team members. Having real-time updates will help ensure all resources are on the same page. Managers can instantly take corrective action and handle the situation if anything goes wrong.
5. Encourage Collaboration
Encouraging collaboration between team members can also maximize efficiency in your employee task-tracking system. By working together, team members can share ideas, resources, and knowledge, which can help streamline processes and saves a lot of time. Consider using collaboration tools, such as instant messaging and video conferencing, to make it easier for employees to work together.
6. Use Notifications and Reminders
Notifications and reminders help keep employees on track and ensure that tasks are completed on time. Consider setting up notifications for important deadlines and reminders for projects that must be completed. Using notifications and reminders will help ensure that nothing falls through the cracks and that employees know what they need to do.
7. Evaluate Consistent Performance
Regular evaluations of employee performance help identify areas for improvement and ensure that the employee task tracking system is working as it should. Consider using metrics, such as the number of tasks completed on time, to evaluate employee performance and identify areas for improvement. Regular progress evaluation will help ensure that the system works effectively and that employees meet their goals.
8. Get Feedback
Finally, it's important to get employee feedback on the employee task tracking system to ensure it works effectively. Encourage employees to provide feedback on the system and make changes based on their feedback. Regular feedback will help ensure that the software meets employees' needs and is effective in maximizing efficiency.
In conclusion, employee task tracking software is essential in improving operational efficiency and productivity. Using these tips, project managers and employees can benefit from reliable employee task tracking software.
If you seek the best employee task management software, Talygen would be the best option. Talygen is a globally-renowned platform trusted by clients worldwide. The software includes features such as task planning and scheduling, resource allocation, Gantt charts, and a centralized dashboard.
To learn more about Talygen's employee task management, sign up today and request an online demo at www.talygen.com/requestdemo.