Tuesday, July 21, 2020 | Time Tracking Software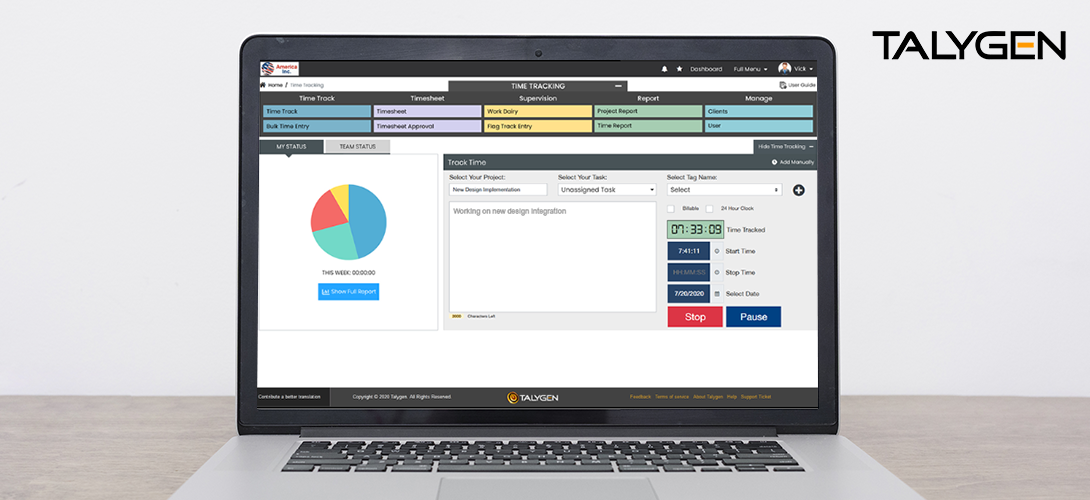 Online time trackers help businesses and employees in increasing their productivity and helps them in being more creative in their approach towards the work.
It has been found that time tracking tools can decrease productivity problems by up to 80%. In the past few months as companies were adapting to work from home style of work, time tracking tools helped them to keep an eye on remote employees and ensure timely delivery of tasks and work.
Online time trackers offer a lot of benefits to businesses, as well as to their employees. Not just in the long run, but online time trackers have some great instant benefits as well, such as:
1. Improving Estimates and Quotes
Offering quotes and estimates are one of the trickiest and most important part of running any kind of business. Online time trackers can actually tell you how much time a particular task takes to help you calculate an accurate estimate.
2. Adjusting Priorities
Adjusting priorities becomes easier for the employees by using online time trackers. Modern online time trackers have features like Timesheets, Manual Time Trackers, Pause/Resume, Bulk Time Entries, and so on that can help employees manage and prioritize work as per deadlines.
3. Real-Time Performance Review
Reviewing the performance of an employee becomes much easier with stats and numbers. Using online time trackers, managers can have a real-time glance at the progress of a project and the time been taken by different employees to complete certain tasks.
4. Time Tracking Tools on the Go
One of the biggest advantages of time tracking is that employees can track time online from different kinds of devices. Modern online time trackers are offering mobile apps for major kinds of operating systems, such as iOS, Android, Windows, and Blackberry.
5. Work Scheduling
Online time trackers can help you improve your overall work schedules as you will have much more precise information regarding the usual time taken by your employees to do a particular task.
6. Track Time Online Across the Globe
Another very prominent feature of an online time tracker is that you can track the time of your employees residing in some other country with different time zones.
7. Quick Reports and Insights
Modern online time trackers offer in-depth details and reports regarding each and every project whose time has been tracked. This can help you improve the flaws in your overall productivity.
8. Quick Invoice Generation
Online time trackers can help you make invoices much more accurate than ever before. You can have a detailed report of the time taken to complete a particular task, as well as the variation between the actual and planned cost.
Concluding
Online time trackers are there to help you grow your business. With promising long-term goals, online time trackers offer amazing instant benefits as highlighted above.
Talygen's Online Time Tracker offers you some highly-productive features, such as Timesheets, Detailed Reports, Mobile App, Activity Logs, Screenshots, and more. Your team can keep logs and track time online for different projects at the same time.
Sign up now for a Free Demo!