Tuesday, August 09, 2022 | Project Management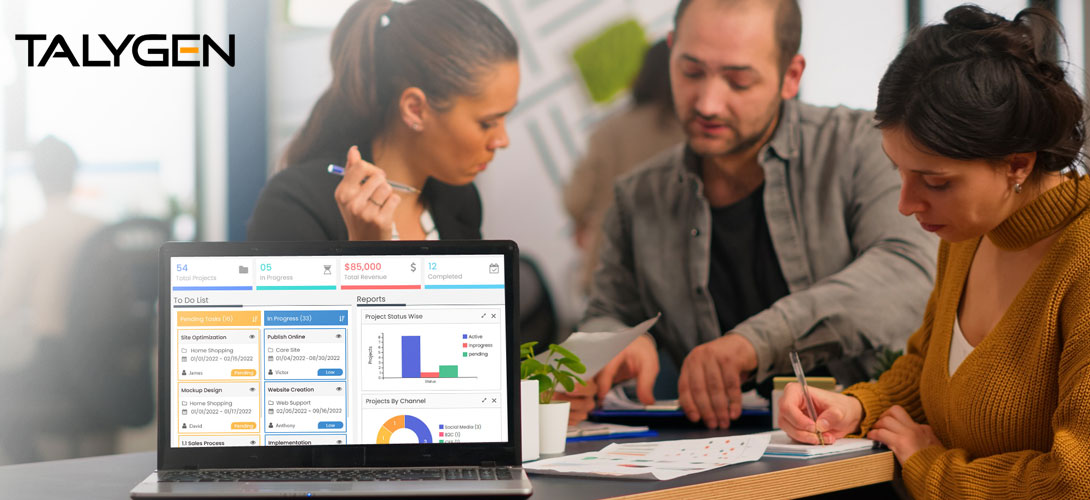 The marketing industry is constantly experiencing growth and changes. These changes also bring across new challenges in the industry. These challenges include a lack of new hires and struggling to gain new clients across channels. Managers of marketing agencies can overcome these obstacles by using all-in-one software systems. Talygen is a software solution with many different modules that marketing agencies can use, such as a CRM system, an employee management software system, a client portal, and a project management software system.
Overview of Talygen Modules
One way marketing agencies can use Talygen is its CRM (customer relationship management) system. A CRM system helps companies manage their current and potential clients' information. Talygen's CRM system includes an advanced dashboard that contains information on customers, leads, deals, contacts, and activities. Users can create custom reports on this data and add widgets to the dashboard as needed. Another feature of Talygen's CRM system is the account management module. The account management module guides users throughout the pre-sales funnel. Notes and attachments related to the client on hand can also be uploaded to the system. Users can also use the campaign management module and email notification system to send automated email campaigns to current and potential clients. The CRM system can integrate with IMAP or POP3 email systems such as Gmail, Outlook, and Yahoo. Users can access their email without having to leave Talygen. By using a robust CRM system, marketing agencies can gain and retain new clients more efficiently.
Another way that marketing agencies can use Talygen is through its employee management software system. An employee management system allows managers to keep a record of the company's staff while hiring new talent. The talent requisition module will upload job postings to the company's website and to third-party job boards. The employee management system can then be used to train new hires either in-person or virtually. Another benefit of using Talygen's employee management software is that employees can access the portal to request time off. Leave requests can be designated as vacation days, sick days, or federal holidays. The leave requests can be approved or denied by management. Managers can also track the attendance of their employees by viewing the times they clock in and out of work. With an efficient employee management system in place, marketing agencies can easily hire new talent and improve communication among their current employees.
Marketing agencies can also use Talygen's client portal service. A client portal is a secure online gateway that clients can access to communicate directly with the company. A key benefit of Talygen's client portal service is that clients and team members can communicate with each other via telephony services, video conferences, and instant messaging. Team members and clients can also use Talygen's document storage system to share important files with each other. Clients can also monitor team members' work and time entries and reject or approve these entries. Clients can also use the client portal to view and pay their bills. The invoicing system accepts payments from various payment gateways and international currencies. By using a client portal system, marketing agencies can improve their client satisfaction and retention.
Finally
Marketing agencies can benefit from using Talygen's project management software. A project management software system enables users to oversee a project's progress from beginning to end. Clients can access the project management software via the client portal to provide project feedback. Clients can also access the marketing firm's knowledge base, asset catalog, and calendar from the project management dashboard. Talygen's project management software also works alongside other Talygen modules such as time tracking, screenshot tracking, and resource scheduling. Time tracking and screenshot tracking can be used to measure the team's productivity. Users turn on the time tracker upon starting a task and turn it off upon completion. Managers can use the screenshot tracker to ensure that team members consistently stay on task and do not go on non-work-related websites. The screenshot tracker can be turned on or off at the manager's discretion.
Talygen's resource scheduling module is used to schedule and assign team members to tasks. Talygen's project management software also includes Gantt charts so clients and team members can easily view data. Tasks can also be viewed in card and Kanban views. When marketing agencies use an employee project management system, they can increase their overall productivity and the quality of their projects.