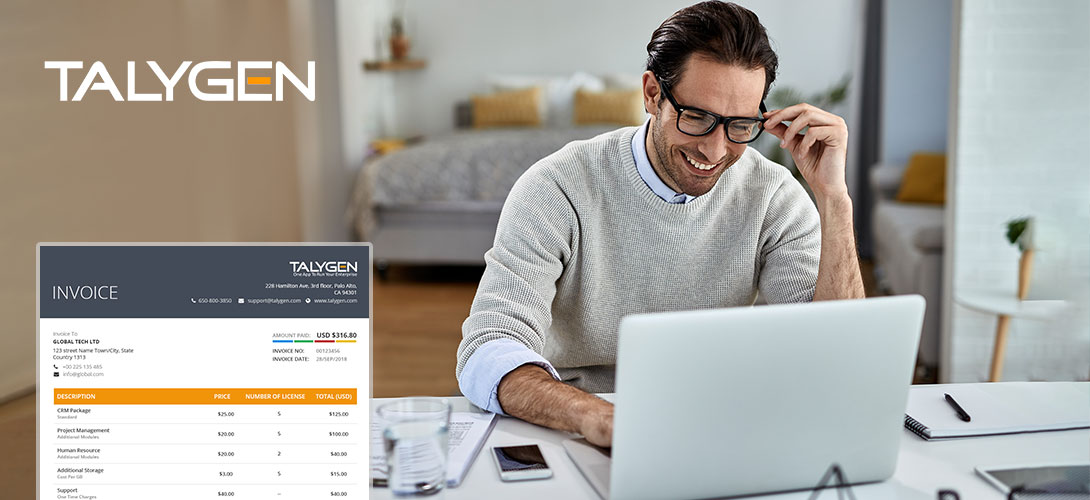 Getting paid on time for your services is crucial to the growth of your business. Accurate financial management is an integral part of thriving businesses, and with online billing software, you allow your business to compete with these companies.
Your organization can use human efforts for other crucial projects by reaping the benefits of online invoicing and automation. Consequently, you'll reduce human error while managing your business finances more efficiently with project invoicing software.
What Can Online Billing Software do for Small Businesses?
Like many other business owners, you may also think that invoicing can be a time-consuming and uncomfortable task. Business people despise asking for money; some take advantage of it and make late payments. So, it wouldn't be wrong to say that the whole process is cumbersome.
How do You Solve this Problem?
Online invoicing software enables companies of all shapes and sizes to eliminate the tension around billing by automating the whole process. For instance, if you are missing a payment, it will automatically send reminders to unpaid invoices. Plus, with comprehensive invoicing software, you don't have to transcribe financial entries manually. At the same time, you'll be enhancing accuracy and saving your valuable time and hard-earned money.
One way to ensure your company stays one step ahead of its invoice management, reimbursements, and payments are to integrate a cloud-based, secure project invoicing software like Talygen. Fast-growing businesses benefit significantly from user-oriented software that simplifies and automates complex tasks that need to be done daily.
However, that's not all. A project invoicing software can do a lot more for your growing business. Let's find out what it can do:
Key Features of Online Invoicing Software
Invoicing software makes it easier to track services rendered, which clients are billed, when you shared the invoice, and whether you received the payment. Apart from that, it automates the creation of invoices, processes payments securely, and sends reminders about missed and upcoming payments.
In addition, Talygen's billing software collects and organizes all the data related to your billing and company's financial workflows while allowing related tasks to proceed naturally. Recording and tracking your economic activities lets you get ahead of tax season, track all your expenses, stay compliant year-round, and lets you predict your financial future. These payment histories also enable you to compare prices you've paid for various vendors and services, which further helps you to set standards, budgets, and expectations for future business activity.
As mentioned earlier, online invoicing can help automate mundane, recurring tasks and decreases human error, which often happens when managing finances manually. Your life can become much easier when you stop making manual spreadsheets and create expense reports manually every time. Project billing software automates these tasks for you and ensures they are accurate. You'll put less effort and experience better results.
Some significant uses and advantages of invoicing software are as follows:
You enjoy the benefit of faster payments
You can easily track invoices and their status
You provide your clients with flexible payment options.
Automated reminders can help clients make payments on time, enabling you to maintain a proper and regular cash flow, eliminating any issue of late payment.
Your brand reputation improves as it makes a name for itself for always paying vendors on time.
Sensitive information shared between you and your clients stays safe from online data theft.
Types of Businesses That Must Use an Online Invoicing Software
Simply put, almost every business in the service industry can take advantage of online invoicing software. Here are some examples:
Engineers
Accountants and CPAs
Architects
Attorneys
Government contractors
Private consultants
For all these professionals, billing software generates valuable business analytics, records essential tax-related information, sets up online payment gateways, and automates invoices to receipt follow-ups and periodic expense reporting.
Regardless of the business size, the manager must know that creating clear invoices for the services rendered to clients is essential if you want to make them pay on time. Since the business industry is hugely client-dependent, you must ensure that your firm gets steady and continued payments.
Small business owners miss achieving their targeted revenue when they cannot manage their expenses. A platform like Talygen combines invoicing with project management tools, which could increase your project revenue after a few weeks of working with the software.
Online Invoicing Software by Talygen
Talygen offers an advanced project management tool with an inbuilt invoicing system to eliminate any complications that may arise during the billing process – resulting in a steady cash flow in the organization. Talygen's features include automated payment reminders, time tracking, billing, expense tracking, CRM, FSM, and more to streamline your business operations.
Talygen is a highly customizable platform with easy-to-use dashboards and reporting system that offers your insight into the business future. Talygen is accessible via both the web and your smartphone. So, it doesn't matter if you are at home, office, or on a business tour. You can always keep track you're your business expenses.
Talygen's customer services team is available to help you 24/7 and is always willing to enhance customer experience with their guidance. Learn more about Talygen and try a free demo today.