Tuesday, November 02, 2021 | Field Service Management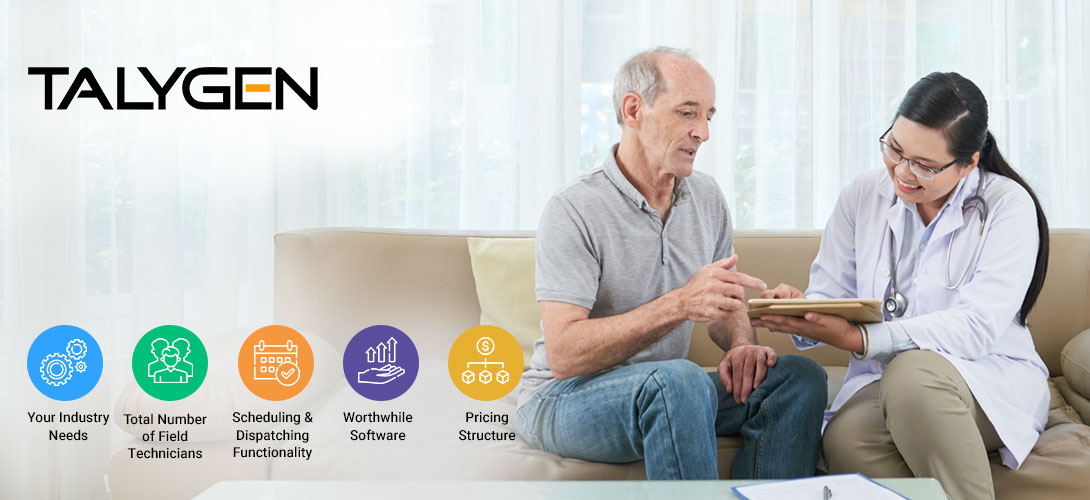 Are you seeking the best Field Service Management Software for your Healthcare Organization? You should make this selection more concise & careful because Healthcare is a highly regulated Industry. One should consider number of factors and requirements that can easily meet needs of both present-day and into the future.
Well, finding effective and efficient field service management software is quite complicated and highly demanding, but after choosing the right Field service management software turn those challenges into valuable opportunities.
So, let's narrow down few factors, so you can make a right choice of Field Service Management Software. Well, be ensure to consider the below mentioned factors while making your final decision.
Let's take a glance below!
Your Industry Needs
As we know, every field service management businesses require different functionalities as per their nature of work. Here, one should consider the specific features and functionalities for the concerned industry.
You will find number of field service management software offering industry-specific solutions. Such software can prove more beneficial because with your business growth, it becomes easier to use solutions that are particularly built for your industry only.
Total Number of Field Technicians
There are several FSM software providers limits the number of users as per the plan. Out of the plan, if you require access of more users, you have to pay extra charges over it.
Thenceforth, you should carefully understand exactly how many number of technicians access your business require before reaching at any final decision. Alongside, you must consider the timeline in which you want to proceed so that it can affordable for you.
Scheduling & Dispatching Functionality
Scheduling & Dispatching is one of the critical functions of FSM Software. Even, you can also say it a heart of the system. By determining the number of technicians, you might be beneficial with advanced route and automation features of dispatching.
The thing you have to consider is not everyone provides those mentioned functionalities, therefore you should prioritize these features while choosing a field service management software for your organization. Alongside, don't forget to consider other features like:
Live GPS Tracking
Video Tracking
Real-time route details
Digital Appointment booking
Smart Scheduling
Worthwhile Software
While choosing the best field service management software that can improve customer experience, must consider it also simplify your team's work & reduce their burden.
There is several FSM software also present a self service functionality where users can schedule their appointment by their own. So, you must choose as per your business strategies and customer's expectations that perfectly suit you.
Pricing Structure
Every Field Service Management service provider has their different pricing structure. Some are charging as per number of technicians, while others charge for the tasks you have completed.
And, Talygen offers you customizable pricing structure where you can pay as per your convenience.
In this way, you will find varied pricing structures amongst you can choose the best-suited one for your organization.
Recapitulation
So, these were few of the methodologies that will help you choose the best field service management software for your organization. Don't forget right field service management software can only simplify your field work. So, you should make a smart choice.
Our Recommendation
Talygen is our #1 recommendation for majority of users. It built-in robust features and packed with everything you require to smoothly streamline your field tasks. Moreover, the best things it perfectly works for all business sizes.
So, don't waste anymore time and get a free demo trial by sign up at www.talygen.com/freetrial.