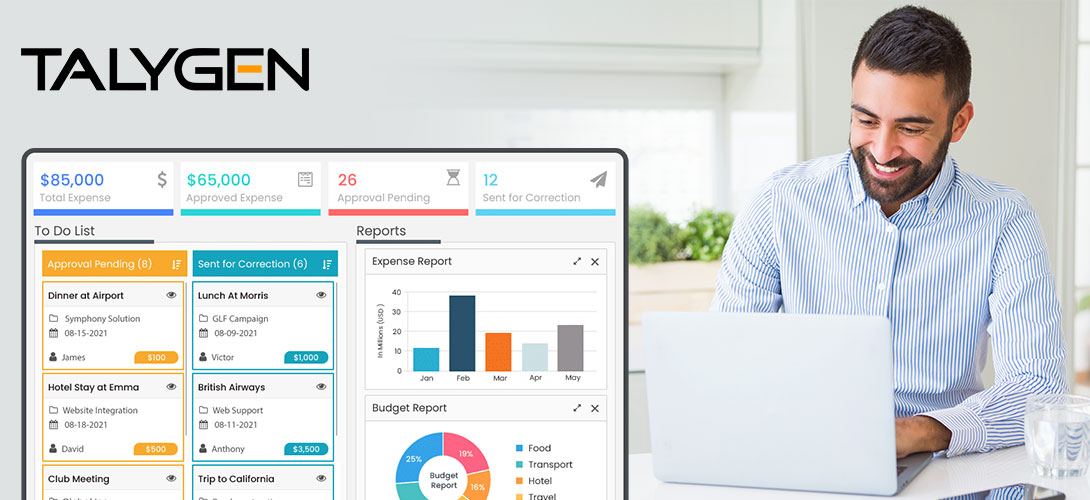 Managing an organization's business expenses can be a tedious and drawn-out process. Nonetheless, it is a vital component of running any profitable business. Fortunately, there are many options for online expense software that aim to simplify expense tracking for companies of all sizes. Some of those options include QuickBooks, Expensify, Rydoo, Talygen, and Concur Expense.
With so many options for expense tracker software on the market, it can be difficult to decide which software is the best fit to meet your business needs. We have compiled a list of the most important features you should look for when considering expense-tracking software for your business.
1. Cloud Integration
Some expense-tracking software is cloud-based. One of the benefits of using cloud-based software is that it enables you to access your financial data from a web-enabled smartphone or mobile device anytime. The ability to manage expenses on the go means you can stay up-to-date on important financial matters and make critical financial decisions for your business even if you are not in the office. For industries where fieldwork or business travel is common, consistent remote access to financial data is essential to ensure smooth business operations.
QuickBooks, Talygen, and Rydoo are examples of expense tracking software that provide mobile support so you can access your data from wherever you are.
2. Digital Uploads
The ability to upload digital attachments and images is a standard feature of any successful online expense software on the market today. The ease by which document scanning can be done via a mobile device or application makes it effortlessly possible to keep a record of receipts, invoices, or other important financial documents for future reference. Keeping a comprehensive record of business expenditures is necessary for companies to remain profitable.
Some expense tracker software, such as Rydoo, go the extra mile by extracting the most important data from uploaded receipts and organizing the information based on defined projects and categories. This saves you time from having to manually enter and organize data into spreadsheets.
3. Data Security
One of the most critical considerations to make when considering expense tracker software for your business is data security. Vulnerable financial information can lead to disastrous consequences if it falls into the wrong hands. Adopting online expense software that prioritizes protecting your sensitive data is a worthwhile investment for any company.
Concur Expense and Talygen are two examples of expense-tracking software that promise corporate-grade security. Talygen guarantees PCI-compliant security in addition to compliance with GDPR and Privacy Shield requirements.
4. Compliance Standards
The best expense tracking software not only simplifies the tasks of documenting and tracking finances but also makes it easier for companies to remain in compliance with state and federal tax standards. This is an important consideration for any business to remain in good legal standing and avoid unwanted fines.
QuickBooks offers sales tax tracking capability that is compliant with tax standards while Concur Expense analyzes your financial data to ensure compliance with tax rules and regulations.
5. Financial Summary
The main reason any company or business should consider utilizing expense tracker software is to gain insight into business expenditures and financial reports. Real-time dashboards available with online expense software, such as QuickBooks, Talygen, or Concur Expense, allow you to do just that. Gain a holistic understanding of your budgets and financial forecasts with software that offers automated data analysis. This valuable information equips you with the knowledge to make the best financial decisions for your business.
Conclusion
Expense tracking software is a game-changer for any growing business's finance and accounting operations. The best software for the job is one that streamlines processes, creates simple-to-use financial reports, and ensures first-class data protection.
Talygen is our pick for the most effective online expense software available to serve growing businesses today. Talygen offers a range of features that are advantageous for companies of any size to ensure smooth business operations, such as mobile integration, user customization capabilities, secure data protection, and easy-to-understand dashboards that give you insight into your financial summaries.
Other notable features include the ability to upload bulk expenses, define expense approval requirements, create and modify approval chains and workflows based on company structure, specify expense limits, and set overdue expense alerts. Talygen is truly the everything-in-one expense tracker software for businesses.
Interested in learning more about this software? Visit https://talygen.com/Online-Expense-Tracking-System to view more information or request a demo.