Windows 8 Mobile Project Management App
Talygen''s Windows Phone 8 business management app allows you to keep track of your billable time, work on the CRM (customer relationship management), track Expense via expense tracker, Management of leaves with HRM module and Raise Tickets with ticketing system. It has a very easy to use interface, saves time and allows you to work on different modules with ease. The Windows Phone 8 app works with the Talygen SaaS / Cloud / web application.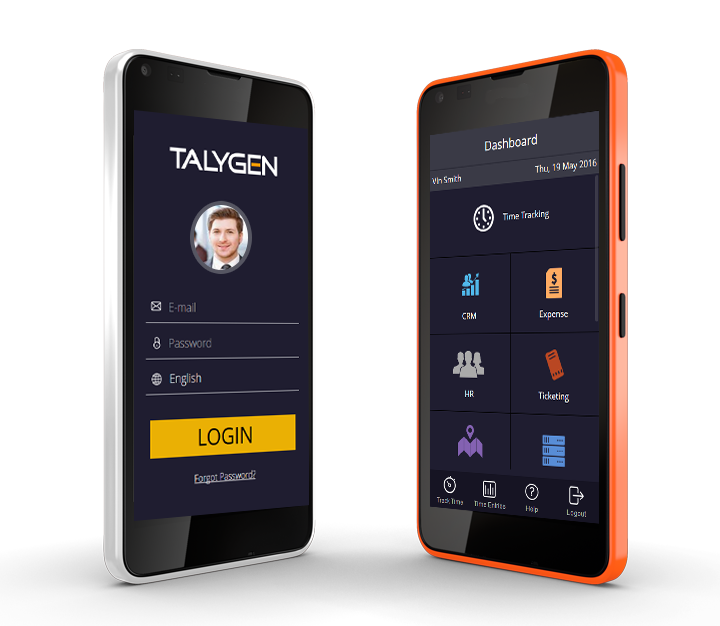 What is new in version 4.2.0?
It is designed to help users through each and every aspect of their business. Key focus has been to make the app more and more user-friendly and help functioning of one's business easier each day.
All the glitches that one faces in maintaining records/ fighting discrepancies/ creating new prospects are sorted in this version. It can help in clear storage and retrieval, ticketing and scheduling, tracking expenses and so on.
The version has features like expense tracker and CRM. Billable as well as non-billable tasks can be tracked.
There are options for shifts, breaks, priority and channel, status, department, user and so on in the company set up.
Individuals from various different sections of the company such as SEO QA, PhP, and statistics and so on can be tracked. You can view holidays and calendar, check history and make plans accordingly.
Tickets can be raised regarding any issues that the employees may be facing. Users can create folders and save data easily in the cloud storage system which is safer and easier to use than before. The synchronization with different languages is more efficient and understandable.
The CRM contains options such as prospects, leads, opportunities and communication. Basically this version allows more customization for the benefit of the customers, and aims at making day to day tasks easy and approachable for them.
Managing your business was never simpler; this version will guide you through the step by step process of assigning, reporting and management of tasks on a day to day basis.
User can view listing of time entries day wise for time tracking done via Windows Phone 8 project management app or web app.
View the details of the leads in the CRM
Track the expenses
Ability to generate advanced report and export them in .pdf and excel formats for all the tasks logged using Windows Phone 8 application through the web application
Apply for the leaves
Raise the tickets in case of any issue
Advanced functionalities like create clients, link with projects, users, departments and link with projects, add tasks etc and access them through your Windows Phone 8 application
Data is secure and saved in our cloud server storage
Supports background time tracking, while you access another application
What you need to get started?
Download the Talygen Windows Phone 8 time tracking application and login into the app to get started. or
Optionally you can login to web app and add project data, which can be used for specific project and task based time tracking in the app.
Various people who need to charge clients by the hour, whether it''s IT companies, photographers, lawyers, doctors, contractors or freelancers basically anyone who charges by the hour, use Talygen.
Data is stored online in a cloud server so whatever data you Update is Updated to our online server, therefore your data is always safe, you can also track time through the web app, Windows Phone 8 app that we have, and using the web app time tracker you can export various types of reports in .pdf or excel formats. Using these reports you can charge your clients, on hours spent on their work.
As Talygen Windows Phone 8 application is cloud based even if your Windows Phone 8 is not with you, all your data will be safe online, you just need to download Talygen Windows Phone 8 application on any Windows Phone 8, sign in using your account details and voila your data will be back.
Talygen allows you to keep track of your employees. If you are running a company you can create Talygen accounts for your employees and if they move offsite they can keep track of their time using the web app or Windows Phone 8 to punch in and punch out of a project, you can see real time Updates of your employees through the web app, and bill your employee''s time to your clients.