Talygen iPhone Application
Talygen's iPhone Business Management Application allows users to keep track of their billable time, manage relationships with customers via CRM tool, and track expenses via expense tracker, manage leaves via HRM and raise Tickets through ticketing system. It has an easy-to-use interface which saves your time and allows you to work on different modules with an ease. The iPhone app works with the Talygen SaaS/Cloud/web application.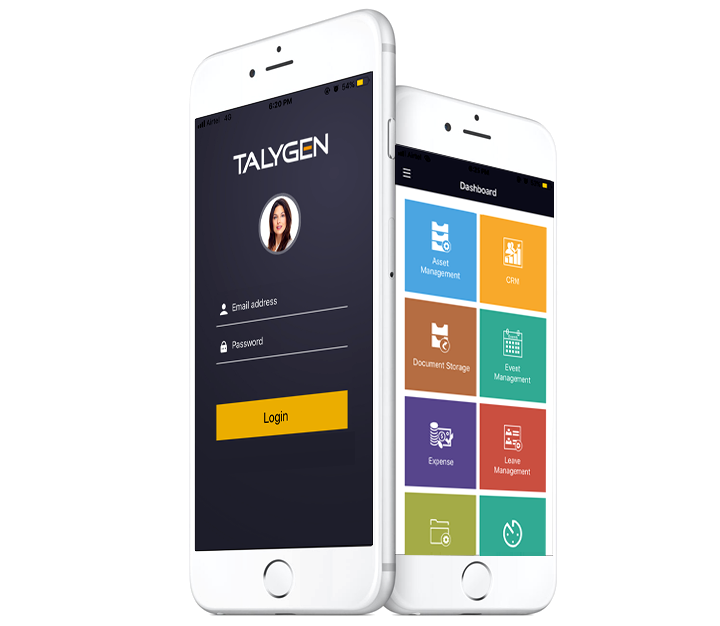 What is new in version 5.1?
Users can now choose a Subscription-Based Dashboard in which they can select the best out of many available subscriptions as per their requirements. They will get a customized package along with the modules as per their choice.
A Sliding Menu Option which enables users to scroll the menu and look into the different modules as per their requirements. It helps users to get into a particular module effortlessly.
Entire application has now been upgraded with enhanced designing insights. Full Menu has been improved with better color combinations. Users have now various options to access different functionalities of the application.
The application is highly user-friendly. Users can simply use the application on iPhone operating systems.
Users can now experience native look in application. They will get different controls according to the operating system (iPhone) they are using.
Asset Management has now completely transformed with innovative features.
Two new features have been added to Ticketing Solution, i.e. Ticket Detail which allows users to view in-depth details related to ticket and Ticket Reply with Attachment which enables users to reply on the submitted ticket along with a relevant attachment (file).
What you need to get started?
Download the Talygen iPhone time tracking application and login into the app to get started.
Optionally you can login to web app and add project data, which can be used for specific project and task based time tracking in the app.
People, who charge clients on hourly basis, manage leaves of their employees, holidays, tickets, leads etc. use Talygen for their business needs. We cater clients from different domains such as IT companies, photographers, lawyers, doctors, contractors or freelancers etc.
The data is stored online in a cloud server so whatever functionality you use from your iPhone application, it is always safe. By using the web app you can export various types of reports including billability reports in PDF or Excel formats and can charge your clients accordingly.
Talygen's iPhone Business Management Automation is a cloud based application which assures the security and safety of your online data. You just need to download Talygen Business Management Automation iPhone application on your device, sign in using your account details and your data is back & you can track time easily.
Talygen allows you to keep track of your employees. If you are running a company, you can create Talygen accounts for your employees. If they move offsite, you can keep track of their time using the web app or iPhone to punch in/out of a project. You can see real time updates of your employees through the web app and can bill your employee's time to your clients.